Jered Weaver No-Hitter: 5 Reasons the Angels Are Still Legit Playoff Contenders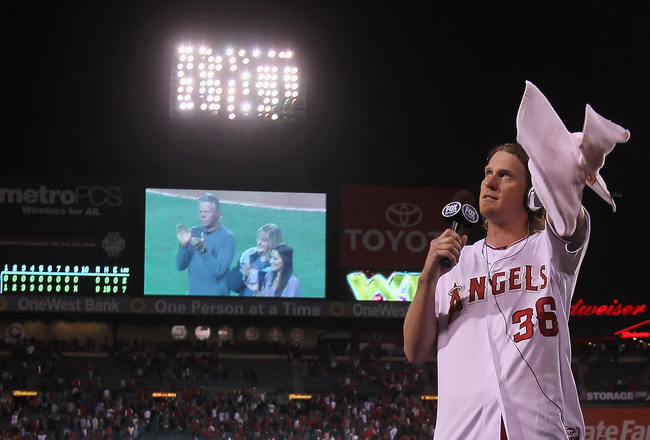 Jeff Gross/Getty Images
The no-no's keep coming out of nowhere this season, first with Phillip Humber of the White Sox throwing a perfect game against the Mariners on April 21, and now Angel's ace Jered Weaver hurling a no-hitter against the Minnesota Twins.
It'll be a night to remember for the 29-year-old Weaver, but it could also mark a turn around for the struggling Angels. The team has failed to live up to their lofty expectations so far this season after committing mega bucks to free-agent stars Albert Pujols and C.J. Wilson.
The Angels get a much needed win in Weaver's no-no, but will need a lot more production from its roster should they want to catch the Rangers atop the division or steal a wild card spot.
Do they have a shot in 2012? Well, simply put, yes, and here a few reasons why.
It's Still May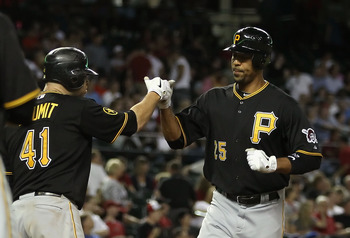 The Pirates looked promising for much of the first half in 2011 before fizzling out after the All-Star break.
Christian Petersen/Getty Images
Baseball is one of the most unpredictable sports on the planet. With 162 games on the schedule, the cliché "it's a marathon not a sprint" cannot apply more.
The Angels might be dwelling in the cellar after 25 games, but they have plenty of time to rise among the AL West totem pole. Oakland is in an obvious rebuilding phase and the Mariners just don't have the talent on their roster right now to think about contending this season.
May baseball is a poor indicator of how teams will fare throughout the season. Remember how the Pirates faded in the second half last season after being the turnaround story of 2012? Pittsburgh went on to extend their streak of consecutive losing seasons at 19 when the season came to a close in September.
It's too soon to write off the Angels.
Hello, Mike Trout!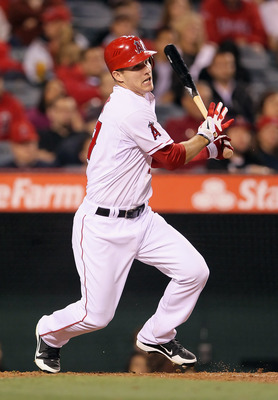 The future looks bright in Anaheim with Mike Trout in centerfield.
Jeff Gross/Getty Images
The Angels' top prospect finally got the call up this week, and while he hasn't been spectacular in his debut week, it's only a matter of time before the kid starts producing.
A bona fide five-tool player and probable Rookie of the Year candidate, Trout showcased his abilities this spring and appears to be a sure thing at the major league level.
The Angels desperately need outfield help with Peter Bourjous struggling at the plate and Bobby Abreu getting the axe on April 27, and Trout appears to be the long-term solution for the Angels going forward.
Absolutely Nasty Rotation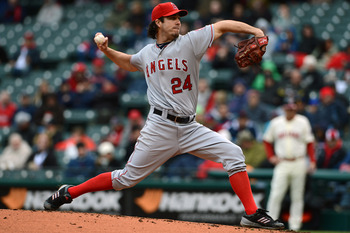 Dan Haren is another top of the rotation starter who should help carry the Angels to a playoff berth in 2012.
Jason Miller/Getty Images
Weaver is the team's clear staff ace, but stands just a small tier above fellow studs Wilson, Dan Haren and Ervin Santana.
Haren and Wilson have looked superb this season and worthy of the combined $23 million committed to them, but Santana has struggled a bit out the gate. He already has seen his ERA balloon to a 6.16 ERA, complementing an 0-5 record.
However, the hard throwing ground ball pitcher should eventually settle down and post somewhere near his career ERA of 4.26 as the season wears on. He's allowed 10 home runs this season already due to poor control with his fastball, but he has plenty of time going forward to settle down.
The AL West Is Terrible (excluding Texas)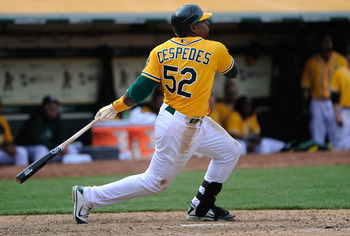 Sorry Yoenis, but your team is terrible.
Thearon W. Henderson/Getty Images
Did I mention that the Angels get to play the scoring anemic Mariners 18 times this season, as well as the equally-if-not-more offensively anemic Athletics 14 more times this year? Los Angeles completely overwhelms both of those clubs on paper, and should win the majority of those games.
Texas looks as sharp as ever this season, but with the league expanding to a six-team playoff format with two wild cards, it's difficult to see the Angles not punching a playoff ticket come October with the roster they have in place.
Other early wild card contenders like the Orioles, White Sox and Tigers all play in extremely competitive divisions and will face much tougher schedules come crunch time for the playoffs.
Should the Angels start to heat up a bit and find themselves in a tight race down the stretch, it could be the strength of their schedule (or lack thereof) that plays the deciding factor in playoff positioning.
Albert Pujols Will Eventually Heat Up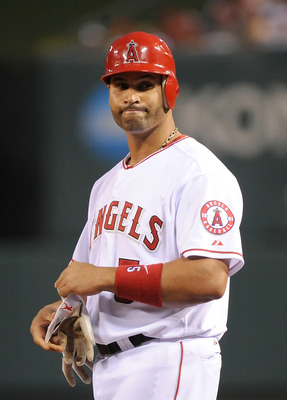 Patience, Halo faithful. It's only a matter of time before Pujols starts smacking them out of Angel Stadium routinely.
Lisa Blumenfeld/Getty Images
The question should not be when will Pujols start producing with the Angels, but more so when.
Yes, Pujols is coming off the worst season of his career in St. Louis, hitting below .300 for the first time since…well, ever for him. Yes, his 99 RBI in 2011 were also a career low.
So what?
Pujols still is one of the best and most revered hitters in the league. He's been putting the ball in play with just 14 strikeouts on the season, and appears to be more of the victim of bad luck (or adjusting to a new ballpark in the American league) than poor performance.
End of the day, there's no way Pujols is going to hit around .200 with no home runs for the rest of the season. Zero percent probability for a 32-year-old with a 1.030 career OPS. Zero, zilch, none. Bet on it Angel's fans, Pujols will produce like a $254 million man should.
Keep Reading

Los Angeles Angels: Like this team?