UFC Undisputed 3 Prediction: Jim Miller Narrowly Beats Nate Diaz at UFC on FOX 3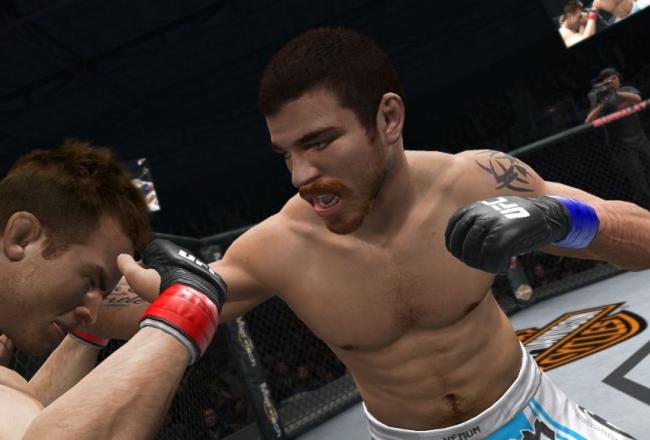 Out of 25 simulated fights on UFC Undisputed 3, Jim Miller beat Nate Diaz 13 times. (Image via THQ.)

How do you predict Nate Diaz vs. Jim Miller at UFC on FOX 3?
In the lead-up to the third UFC fight card on FOX, there has been an interesting shift in fight predictions for the main event. While Nate Diaz has looked nothing short of unstoppable in wins over Takanori Gomi and Donald Cerrone, many MMA pundits think that Jim Miller will most likely walk away with a tidy decision win. Indeed, the recipe for Diaz's defeat looks very similar to his matchups against Clay Guida, Gray Maynard, Rory MacDonald and Kim Dong-Hyun—elite ground specialists who can take a punch as well as they dish them out.
But while there's no way to test-run the headliners against each other ahead of the actual event, there is one valuable fight prediction tool that hasn't been utilized since UFC 144 in Japan: UFC Undisputed 3. Considered as the "Madden" of mixed martial arts games, the THQ and Yuke's product has been used several times to simulate popular fights and predict winners based on large data sets. For the most part, it's been a successful tool, correctly picking the victors in 6-out-of-8 UFC events.
With no UFC Undisputed 3 fight prediction for Jon Jones vs. Rashad Evans (or any other UFC fights since then), I took the time to simulate the upcoming fight between Nate Diaz and Jim Miller in a similar fashion to the methods used by the game's developers and producers for past UFC events:
Each match set between two CPU-controlled fighters
Simulated 25 total fights
Each fight set at five rounds
CPU difficulty set to "Ultimate"
Game rules set to "Competition"
Energy settings set to "Simulation"
And after running the data over two days, UFC Undisputed 3 predicted that Jim Miller defeats Nate Diaz, albeit by the most razor-thin margins possible.
How will the main event at UFC on FOX 3 go down?
Not only did the majority of the 25 five-round fights go to a decision, but the judges' scorecards often read 48-47 across the board. In total, the simulations gave Jim Miller 13 wins out of 25, with Nate Diaz picking up the other 12 victories. In fact, the last simulated fight proved to be a tie-breaker, as both fighters were dead even after 24 simulated bouts.
Here's a look at the data from the fight simulations, with the full tables visible here and here:
13 wins (10 via Unanimous Decision, 2 via KO, 1 via TKO)
Miller attempted an average of 11.8 takedowns per fight, and landed an average of 4.6
Miller landed 114 takedowns out of 296 attempts (in 25 fights)
12 wins (12 via Unanimous Decision)
Diaz threw/landed more strikes than Miller on average (punches, elbows, kicks, knees)
Diaz was only knocked down 3 times in 25 fights
Notable Trends:
Neither fighter won or lost by Submission
Miller and Diaz threw a combined average of 255.1 strikes per fight
24 out of 25 fights made it to the fifth round
Both fighters are rated very closely in UFC Undisputed 3, but a clear edge seems to go to Miller's takedowns and Diaz's simulated inability to stop them.
The Bottom Line:
Unlike Donald Cerrone, Jim Miller doesn't seem like the type to abandon the type of gameplan that will serve him best, no matter how many middle fingers the younger Diaz brother dishes out in-between rounds. Although it's unlikely that Nate Diaz can be stopped on strikes, the most likely situation—as most have guessed—is that Miller will outwork Diaz just enough to win on the judges' scorecards. As the UFC Undisputed 3 data suggests, a decision is guaranteed either way, but a win for Miller will only come on the razor's edge.
[McKinley Noble is an MMA conspiracy theorist and former writer for GamePro, PC World, and Macworld. Follow his Twitter account for crazy talk, 1990s movie references, and general weirdness. Or you could just stalk him on Google.]
This article is
What is the duplicate article?
Why is this article offensive?
Where is this article plagiarized from?
Why is this article poorly edited?