EPL: What Are Arsenal's Chances for 3rd After Wins for Spurs and Newcastle?
May 2, 2012

Clive Brunskill/Getty Images
Arsenal are in a dicey situation after impressive wins for both Tottenham Hotspur and Newcastle United. Spurs are back in fourth, with just a point separating them from bitter rivals Arsenal with two matches yet to play.
The same difference in points separates Newcastle from Arsenal, and only an inferior goal difference confines them to fifth place at the moment.
But Newcastle, with Manchester City in their path, aren't really Arsenal's problem. Optimism and hope would predict a difficult match for Newcastle against City—a loss or draw—which would suit Arsenal's purposes just fine.
After Manchester City on Sunday, Newcastle will face Everton on the final day of the season.
Surely, Newcastle are bound to drop a point or two from these matches—which is why Newcastle won't be a threat to Arsenal's ambitions for third place in the long run.
But again, I'd suppose that a number of pundits, and even Gooners, would have tipped Newcastle to lose points at Chelsea. Few reckoned that Newcastle would decide to win.
It was an impressive win through two impulsive goals by the new-boy-in-town, Papiss Demba Cisse. I like the name, but I could do without his poacher's instincts.
Chelsea refused to do Arsenal a favor, and who knows? Maybe it was deliberate.
Maybe they've measured the stars and have found that they'll win the Champions League this year. So what better way to poison the collective fount of Arsenal than to ensure that Arsenal don't finish in third place this season, and, as a result, get bumped out of the high places of European football?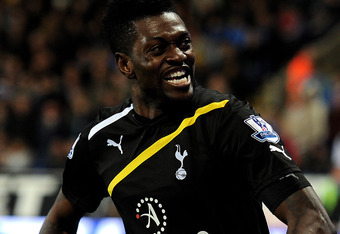 Michael Regan/Getty Images
Or maybe it wasn't a calculated loss, and even now Roman Abramovich is plotting his revenge against Roberto Di Matteo for daring to lose a match—and at Stamford Bridge, no less?
Chelsea, though, aren't Arsenal's problem right now, either. The problem is Spurs, who scored four goals at Bolton to narrow the goal difference to a measly one.
Away at disappointing Aston Villa next and then at carefree Fulham, the omens are with Spurs. They can pull off an upset.
Arsenal, meanwhile, host Norwich City, a match that Arsenal should win on paper. But again, who thought Arsenal would throw away games against QPR and Wigan Athletic?
On the final day, Arsenal will travel to West Bromwich Albion.
Those who follow my writings would recall that I have expressed dread for this last match. I believe it could prove to be a spoiler, especially if Arsenal only manage a draw and Spurs win their remaining matches.
A draw is my best guess for Arsenal at West Brom, but I don't mind being wrong.
Sometimes, results of matches are based on luck.
I know some readers don't like luck, but like I'm wont to say, luck is that X-factor that makes your opponent decide to sew up their goal mouth to frustrate you, or the "thing" that makes them inexplicably to play an open match when a close shop would be their best bet.
It is the "thing" that makes the ball hit the bar and the post and then again in a match, instead of finding the back of the net. It is the "thing" that makes the referee award phantom fouls and penalties. It is also the "thing" that makes your every ball on target a goal.
Some say this is purely random—I prefer to call it luck. It is a legitimate factor in a match.
But as far as third place is concerned, the equation is simple. Win the remainder of your matches and you are home and dry.
But as we know with Arsenal, simple things aren't simple.
It is why Saint Totteringham's Day is in severe danger right now. But what do you think—will Arsenal survive this?