LSU Football 2012: Bold Predictions for the Tigers' 2012 Season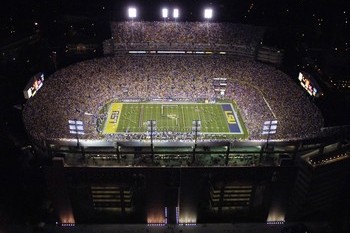 Last year's season didn't have a good ending for the Tigers. They got beat by Alabama 21-0 in the BCS National Championship Game. They were not prepared for that game, and they faced the consequences. But this year should have a different ending.
The Tigers' 2012 season should be even better than the last for many reasons. The main reason being their offense, complemented by their new quarterback, Zach Mettenberger.
Begin Slideshow

»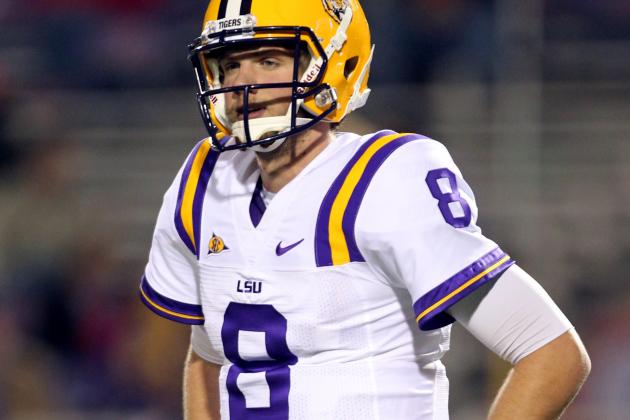 Joe Murphy/Getty Images

If you haven't heard of Zach Mettenberger yet, you might want to get to know him a little, because you will be hearing a lot about him when football season comes around. Mettenberger transferred to LSU from Butler Community College last year and got some playing time in last year's sophomore season.
Next year he'll be a junior and the Tigers' starting quarterback. I think that he has potential to be a great quarterback. Maybe even a Heisman Trophy candidate. He has a rocket for an arm, and he makes smart decisions in the pocket. He knows the game very well, he can read defenses and call a good audible.
That is something that LSU has had trouble doing the last couple of years with Jordan Jefferson, who had been the Tigers' starter for the last three seasons. The only thing that people are questioning is his mobility. I think that he will improve on that this offseason, and as we go deeper into the football season.
In high school, he was invited to the EA Sports Elite 11 camp, a football camp for some of the best high school players in the country. Two years ago, he played at Butler Community College.
At Butler, where he started all 12 games, he threw for 2,678 yards with 32 touchdowns and only four interceptions. He went 11-1 and led Butler to the 2009 Junior College National Championship Game.
He also did very well at the 2012 LSU Spring Football Game, throwing for 270 yards, including a 56-yard touchdown pass.
So as you can see, he has had some success in his past. The other thing that people are questioning about him, along with his mobility, is his leadership. People question this because, in 2008 when he played for Georgia, he was expelled from the team for violation of team rules.
Many think that he can't be a good leader because of this. Well, think again. At the 2012 LSU Spring Football Awards, he was awarded the Eric Andolsek Leadership Award for outstanding leadership. He was also awarded most improved player. Even though he has had a rough past, he has changed.
I think that he has proven that he can lead this football team and do a great job at it. I think you have to give people an second chance, and I think that he will take advantage of the chance that he gets. He says that his goal is to go 14-0, and I think that he will fulfill that goal.
So now that you know Zach Mettenberger a little better, here are my predictions for this upcoming season. I think that he has the arm and the accuracy to throw for over 4,000 yards this season. I also think that he will be a legitimate Heisman Trophy candidate.
The last Heisman Trophy winner to play for LSU, you ask? Billy Cannon in 1959. It's been that long. I expect a breakout season for Mettenberger this year and for him to prove his critics wrong.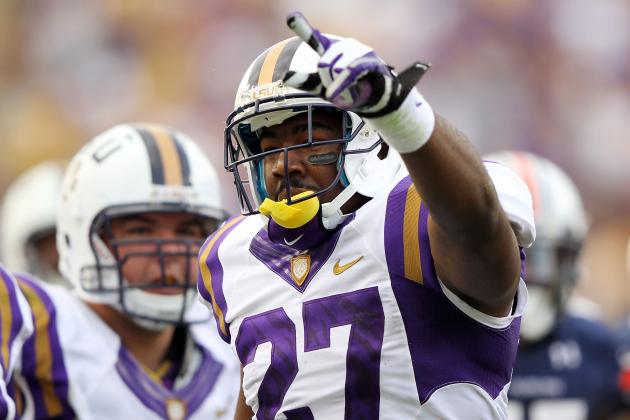 Jamie Squire/Getty Images

LSU will be stacked with running backs this year, and I'm expecting an incredible season from all of them. There will be many running backs competing for the starting job next season, and all of them have a shot.
Spencer Ware, Kenny Hilliard, Alfred Blue, Terrence Magee, Michael Ford and even freshman Jeremy Hill make up the list of running backs that will be competing for the starting job.
Ware was the starter last season, and did not do that great of a job. He ran for 707 yards on 101 carries. He was supposed to do a much better job than expected, but still has a shot to be the starter coming into this next season.
Hilliard came on the scene at the LSU-Auburn game last year. He played in this game because Ware was suspended. In the Auburn game he rushed for 65 yards and two touchdowns on 10 attempts. He caught the eye of many people that game.
In the Arkansas game, he rushed for 102 yards and a touchdown on 16 carries. He is also very strong and physical. When he carries the ball, it's hard to pull him down. I think that he has the best chance to start at the running back position for the Tigers' next season.
Blue rushed for over 500 yards last season and seven touchdowns. He wasn't very consistent though. Some games he would rush for over 100 yards, and some he would just rush for 10. I think he will not have a good chance to start next season because of these inconsistencies.
Ford was LSU's second-string running back last season, and was the Tigers' leading rusher with 756 yards and seven touchdowns. Many thought that he was the best running back on the team, and could very well be the Tigers' starting running back next season, but with Ware and Hilliard improving, I don't think that he has much of a shot.
Terrence Magee hardly played last season, only getting 27 carries. On those carries, he rushed for 133 yards and a touchdown. He has a slim chance to be the Tigers' starter this upcoming season, but could be the Tigers' starter in a couple of years.
Jordan Hill committed to LSU when he was a Junior, and was a 4 star commitment. He got into some trouble in High School, and had to sit out a year. He will be joining the Tigers this season, and should be a big threat.
Overall, I think that Kenny Hilliard is the best running back on this team, and I think that he will be the starter this upcoming football season. I think that he has the aggressiveness to rush for over 1,000 yards this season. It will be very hard to bring that guy down.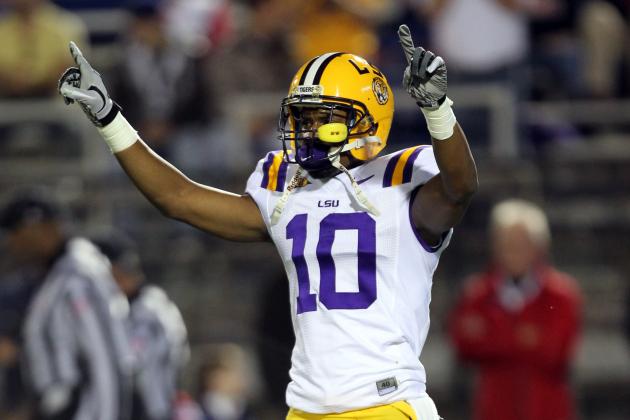 Joe Murphy/Getty Images

Now that Rueben Randle is gone, the wide receiver position is now a big question mark. But do not fear LSU fans, because now you'll have Russell Shepard, Odell Beckham Jr. and Jarvis Landry catching passes.
Shepard was suspended the first three games last season and had many expectations going into his first game. Many thought that he would be the best wide receiver for LSU. He had a disappointing season, only receiving for 190 yards on 14 catches. I believe that he will finally have the breakout year that everybody's been waiting for, and that he'll be a great wide receiver for the Tigers.
Landry has impressed me the most out of all of LSU's receivers so far this offseason. He was ranked the No. 1 wide receiver prospect in the country in high school by MaxPreps.com, and got MVP for his team at the 2010 High School All-American game.
He only had four receptions last season for 43 yards but did have a 31-yard punt return versus Northwestern State. He caught for 120 yards in the 2012 LSU Spring Game, and showed that he can be an elite wide receiver. He should not only be a threat as a wide receiver, but also as a punt and kick returner. I can't wait to see what he does for the Tigers this season.
Beckham Jr. caught for 475 yards last season and two touchdowns. He really impressed me with his quickness and breakout speed. He ran a 4.4 in the 40-yard dash, beating the average time for a wide receiver at the NFL Combine by a .1 second. That is truly incredible. He should also not only be a threat at the wide receiver position, but also at returning kicks and punts. LSU's special teams will be loaded!
Those are LSU's three main wide receiver for this upcoming season. All three of them will do a sensational job this year. I think that LSU's starters will be Shepard and Landry. I'm not saying that Beckham will not play much, because he will play a lot. LSU's wide receivers should surprise some people this year.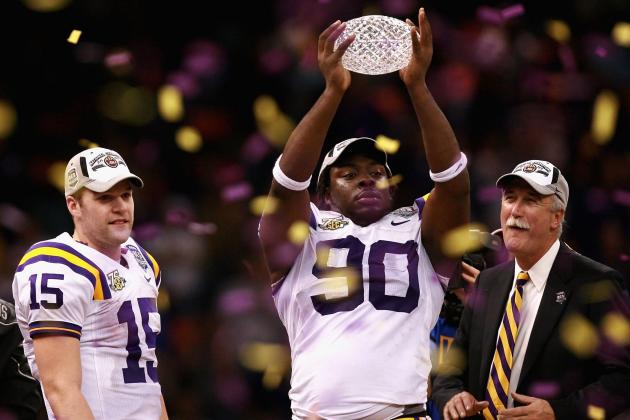 Doug Benc/Getty Images

The main question going into this season is, "Can LSU make it to the BCS National Championship again?" I think they not only have the tools to make it to the BCS National Championship game, but I also think that they have the weapons to win it.
The reason the Tigers did not win the title last year was because of their quarterback situation. Solution to that? Zach Mettenberger. The reason their receivers did not do that great last year was because of their quarterback. Solution? Zach Mettenberger. Zach Mettenberger will solve most of their problems going into this season.
It's just not LSU's defense that people are raving about; it's their offense too, which is something that has not happened to LSU in a long time. Their offense will be loaded.
I'm expecting an outstanding season from Mettenberger, Jarvis Landry, Russell Shepard, Odell Beckham Jr., Kenny Hilliard, etc. LSU, with its weapons on defense, and offense, should have one of the best teams, maybe even its best team ever, and get back to the BCS National Championship Game. This time just win it.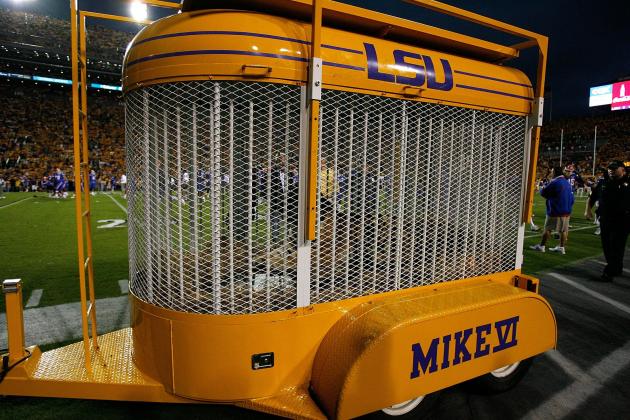 Kevin C. Cox/Getty Images

I made many bold predictions for this upcoming season for the Tigers. I think that LSU will just dominate. They have that kind of a team this year. It should be interesting to see how Zach Mettenberger responds to being the Tigers' starter. I am looking forward to seeing that, and I'm looking forward to kickoff!
William Scott, 13-year-old sportswriter
Follow me on Twitter! @wscottbr