Indiana Pacers vs. Orlando Magic: Live Blog, Analysis and Instant Reaction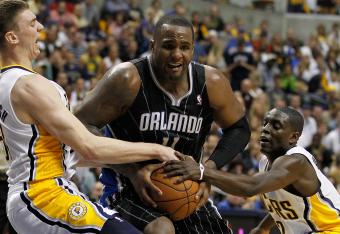 Gregory Shamus/Getty Images
The Indiana Pacers take a commanding 2-1 lead in their first-round playoff series against the Orlando Magic with an absolutely dominant road-win.
Danny Granger led the way for the Pacers with 26 points, nine rebounds, three assists, two steals and 56.3 percent shooting from the field.
Every time the Magic got with a few points of the Pacers, usually thanks to Glen Davis mid-range jumpers, the Pacers would calmly answer with timely shooting and an uncanny ability to find the open man wherever he was on the court.
The Pacers ended the game with 16 assists on the night, and 46.8 percent shooting from the field as a team. While their offensive performance was solid, the Pacers' biggest strength was their tenacity on the defensive side of the ball.
Aside from Davis, who accounted for 19 1st-half points and ended with just 22, the Magic had no other player that stood up and tried to carry the load for their struggling team.
If the Magic want to get back in this series they absolutely have to make some serious changes to their offensive flow, as without Howard, they often times look lost and confused when they have the ball in their hands.
Game 4 of this series takes place Saturday, May 5th at 2:00 pm ET., so look no further than Bleacher Report for all the live coverage you'll ever need of the Pacers vs Magic playoff series.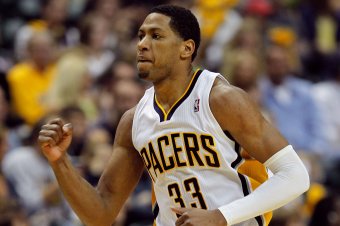 Gregory Shamus/Getty Images
Player of the Game:
Danny Granger: 26 points, nine rebounds, three assists, two steals on 56.3 FG%
Andy Lyons/Getty Images
Uhoh. Indiana fans aren't going to be happy tonight. Even though the Pacers win, they don't get 100 points, which means no free corn-dogs for the city of Indianapolis. #Disappointed
Final Score - Indiana 97 Orlando 74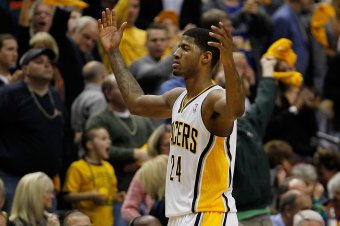 Gregory Shamus/Getty Images
Alright Indiana, let's see if you can get to 100 points. I'm sure something like free corn dogs, or free tacos depends on it tonight in Indiana ... Don't let your fans down!
Indiana 97 Orlando 72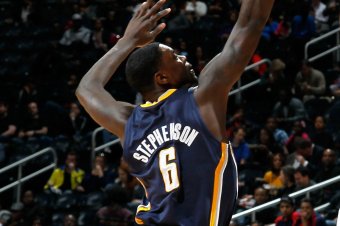 Kevin C. Cox/Getty Images
Lance Stephenson sighting ...
13 percent shooting from 3-point land in the regular season. 100 percent shooting from 3-point land in the playoffs.
Indiana 95 Orlando 68
What do you guys think? Is this performance by the Orlando Magic a sign of things to come for the Magic, or is it just a mirage?
- I think it's a sign of things to come. They just don't have an identity without D12, especially when Glen Davis and J.J. Redick are the only players in double-digits -
Indiana 90 Orlando 66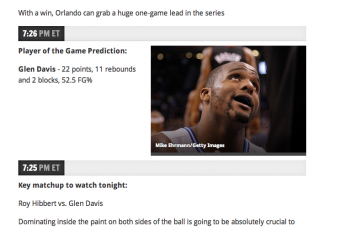 I'm just saying, I was close with Glen Davis's pre-game stats ... Here's the proof.
Current G. Davis stats - 22 points on 55.5 percent shooting
It seems about the right time for the 9th, 10th, 11th and 12th guys on the bench to start getting their first playoff minutes tonight ...
#ScrubTime
Indiana 85 Magic 64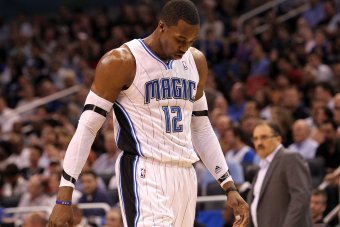 Sam Greenwood/Getty Images
Rebounds stats:
Indiana: 40 rebounds
Orlando: 24 rebounds
That, my friends, is exactly why the Orlando Magic miss Dwight Howard ...
Indiana 85 Orlando 64 #Comeback?! - No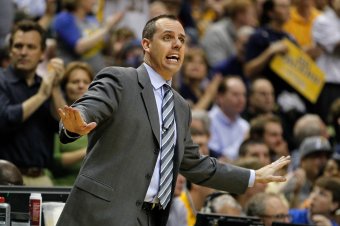 Gregory Shamus/Getty Images
The Pacers are up 25 points with 8:33 to go in the 4th and head coach, Frank Vogel, says:
"Guys this one's not over yet."
#Pessimist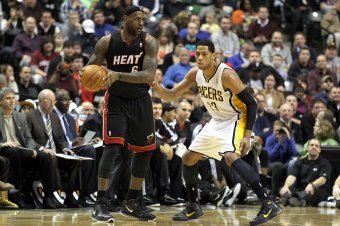 Andy Lyons/Getty Images
This Just In ...
Bad news for the winner of this series. They have to play the Miami Heat, which isn't a winnable series for either team.
Indiana 82 Orlando 57
Stat of the night -
Glen Davis: 1st Half Points - 19, 2nd Half Points - 3
Make that a 24-point lead for the Pacers ...
The Orlando Magic are averaging 18.3 points per quarter, so even if the Pacers didn't score this quarter, the Magic wouldn't be able to win.
#Dominance
Indiana 76 Orlando 55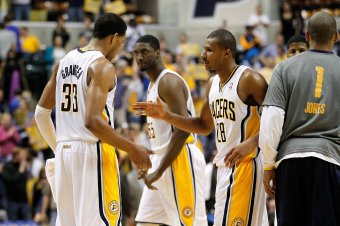 Gregory Shamus/Getty Images
Top four scorers for each team:
Pacers: Danny Granger (20), Roy Hibbert (16), George Hill (13), Paul George (11) - Total = 60 points
Magic: Glen Davis (22), J.J. Redick (11), Jameer Nelson (8), Jason Richardson (5) - Total = 46 points
Indiana 76 Orlando 55 - Heading into the 4th quarter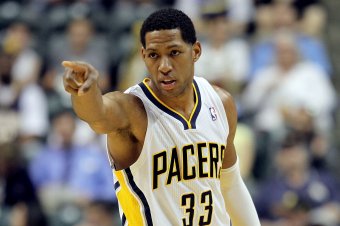 Andy Lyons/Getty Images
Danny Granger's catching fire, with five straight points, helping the Pacers take a 21-point lead over Orlando.
*Is it time for subs yet?*
Indiana 72 Orlando 51
The Magic's biggest problem tonight, aside from not being able to score, is their inability to protect the ball. Silly turnovers are going to be the end of them tonight.
Indiana 70 Orlando 51
Nothing to start a run like a solid air-ball on the opening possession out of a timeout!
Good work Orlando.
Indiana 67 Magic 51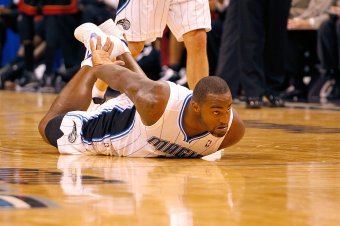 Mike Ehrmann/Getty Images
Glen Davis is the only Orlando Magic player in double-digits, with 22 points.
Next closest player is J.J. Redick with 9 points. Nelson clanks TWO free-throws. #D'oh!
Indiana 67 Magic 51
To say that the Indiana Pacers are dominating the boards would be a massive understatement -
Indiana - 32 rebounds (9 offensive)
Orlando - 19 rebounds (4 offensive)
Indiana 63 Orlando 51
As Glen Davis gets called with the offensive foul, sending Hibbert to the line.
The refs are really letting both teams play tonight. Well, aside from Hibbert's massive elbows to the face. Other than that though, fairly called game ...
Indiana 59 Orlando 48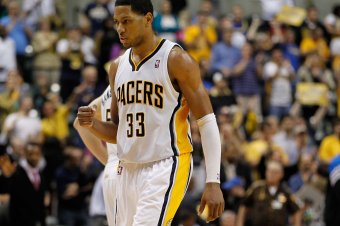 Gregory Shamus/Getty Images
Let's break down the last two possessions for Danny Granger:
1. Takes an ill-advised layup on a 4-1 break. End result = MISS
2. Shoots a fadeaway 20-foot jumper with 19 left on the shot clock. End result = MISS
#You'reNotJordan
Indiana 57 Orlando 45
You'd think the Pacers would start to guard Glen Davis out around 18-feet from the basket.
Indiana 54 Orlando 43
Paul George to the line with 11 points on the night.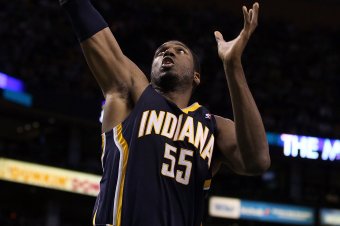 Elsa/Getty Images
Roy Hibbert needs to realize that he's about five inches taller than everyone on the court and stop throwing that big-man elbow in the paint.
Two offensive fouls for Hibbz
Indiana 50 Magic 39 (Magic have just one point in the 2nd half so far)
Orlando needs to hire some new media guys. Their idea of clever music during timeouts is this -
#WOW #PleaseStop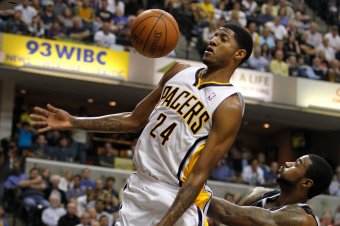 Gregory Shamus/Getty Images
Indiana up 12 points, as the Magic look like they left their game in the locker-room.
#LetDown
Indiana 50 Orlando 38
This article is
What is the duplicate article?
Why is this article offensive?
Where is this article plagiarized from?
Why is this article poorly edited?