Newcastle United vs. Manchester City: Live Stream, Start Time and More
May 2, 2012

Alex Livesey/Getty Images
This game is bigger than the derby against Manchester United. If Manchester City lost, their celebrated win against the Red Devils won't mean anything. (I am assuming Man United will beat Swansea.)
Man City must win against the Magpies and against Qeens Park Rangers if they are to claim the Premier League title thanks to better goal difference.
Newcastle United, on the other hand, are fighting for the fourth spot, which means Champions League next season. Newcastle is in fierce competition for fourth place with Chelsea and Tottenham.
If any of these three teams lose, that will practically be the end of their hopes of settling the final Champions League spot.
Needless to say, a lot is at stake. Both teams are going for the win and nothing less. That probably means we are going to see a lot of aggressive plays and offensive football. That will certainly happened whenever a team scores. It's essentially "all or nothing" for the opponent.
Where: Sports Direct Arena, St James' Park, Newcastle, England
When: Sunday, May 6, 2012 at 8:30 a.m. ET
Watch: FOX Deportes, Fox Soccer Channel
Man to Watch: Howard Webb
I don't know what the Premier League was thinking appointing Howard Webb as the referee for a game that could be the most important one for Man City (United's arch-rival) or Newcastle.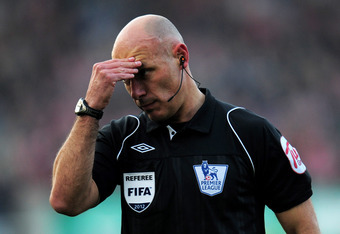 Shaun Botterill/Getty Images
I am not going to go into the technicalities about he awarded the Red Devils two penalties against Chelsea or about any other United game he has referred, but it cannot be denied that he is a controversial referee when it comes to important moments for Man United.
Webb's every call will be scrutinized. That will put tremendous pressure on him, even though, on the surface, the South Yorkshire official doesn't seem to be bothered.
The tension is certainly building up among fans. It probably is among the Citizens as well. I won't be surprised if they argue a lot on the pitch, which may result in unnecessary bookings for Man City.
Recent Meetings:
The Citizens beat Newcastle 3-1 in the fall. It was their first Premier League defeat of the season. Granted they played away, they had a few good opportunities to score but were certainly the worse team on the pitch. Every time they seemed to gain a momentum, Man City scored and killed it all.
The last time the Magpies hosted Man City was on Dec. 26, 2010. The citizens won again. They beat them 3-1 again.
The numbers are certainly not the Newcastle's favor. Their last five meetings at St. James' Park ended one draw and Man City winning three times.
In fact, for those of you who look only at the hard facts, Man City has beaten Newcastle eight out of their last 10 games. The other two were a draw.
Prediction: Newcastle 1, Manchester City 2
I definitely think the Citizens will win. Both teams are equally motivated, but Man City are just the better team. (Despite the fact that a defender, Vincent Kompany, scored the winning and only goal against Man United earlier this week.)
I also believe in Newcastle forward Papiss Cisse. He has scored 11 goals in 11 games. That's a record I would pay attention to.