John Mayberry vs. Juan Pierre: Why Big John Must Start for the Phillies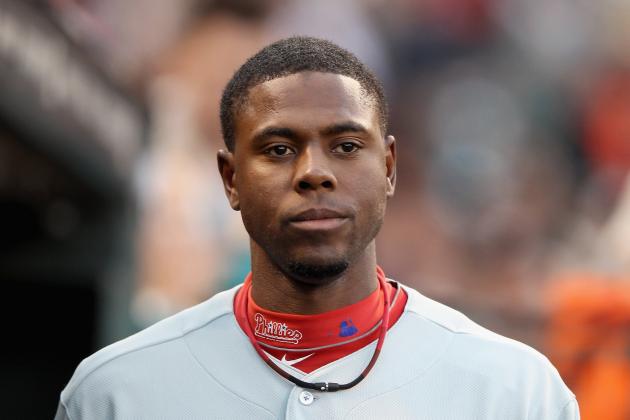 Ezra Shaw/Getty Images

Many people, including myself, looked at John Mayberry Jr this year and saw Jayson Werth circa 2008: the right side of a platoon that would play so well Charlie Manuel would have no choice but to play him every day.
Needless to say, that hasn't happened—yet. So far this season, he's hit .226 with no homers and only two RBI. Accompanying those numbers are a whopping 18 strikeouts in 53 at-bats.
On the other hand, his main competition for the starting left field job, Juan Pierre, is hitting .313 with four RBI. Ty Wigginton's sterling early-season form has also meant fewer starts for Mayberry at first base than originally thought.
As Ryan Howard's comeback tour finally starts swinging into gear, Mayberry's best place for playing time will undoubtedly be left. However, manager Charlie Manuel has fallen in love with Pierre and is denying Mayberry the playing time he desperately needs to round into form.
Don't let the numbers fool you. The Phillies are better served with Mayberry getting the lion's share of playing time in left. Here are some good reasons why.
Begin Slideshow

»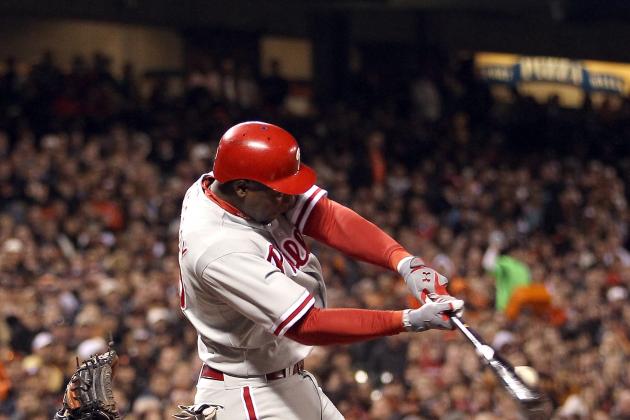 Ezra Shaw/Getty Images

Compare the stats of Pierre and Mayberry and you'll find that despite hitting nearly 100 points lower, Mayberry has more extra-base hits. He's notched three doubles this year, while Pierre's lone extra-bagger is a triple.
Juan Pierre simply does not have power. If you took a close look at the way the Atlanta Braves played their outfield when he pinch-hit against them the last two nights, you'd notice them playing absurdly shallow. Like the way they play the girls in a corporate softball game shallow.
In a lineup that is in desperate need of another power threat to take the pressure off Hunter Pence—who is obviously pressing to provide such power—having a guy like Mayberry in the lineup is critical. Playing him behind Pence in the lineup provides a level of menace that is lacking in the lineup right now, as opposed to having a guy who has 20 singles out of 21 total hits.
Drew Hallowell/Getty Images

April is never a good month for players like Mayberry. The cold, heavy April air often keeps balls that would be gappers or goners in the yard and playable for outfielders.
In the first half of the season a year ago, Mayberry hit .244 with five homers and 19 RBI. In the second half, working in warmer air, he hit .299 with 10 homers and 30 RBI. His BABIP shows that the early-season air didn't help him either: .275 in the first half as opposed to .308 in the second. He hit .296 or better in July, August and September.
The Phillies are full of players—Ryan Howard and Cole Hamels to name two prominent ones—who are historically slow starters. Give him playing time as the season goes on, and we could start seeing fly-outs turning into doubles and homers.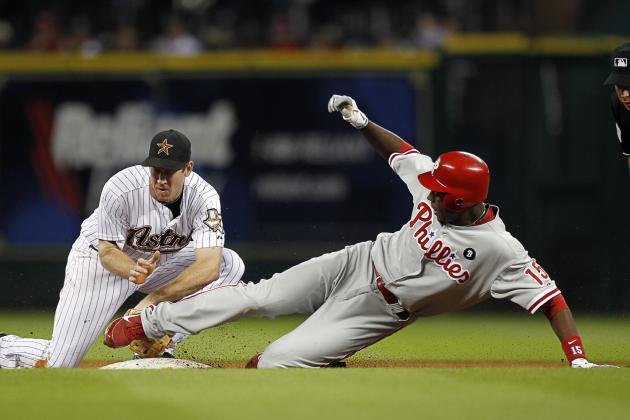 Bob Levey/Getty Images

The illusion of Juan Pierre as an elite baserunner has been exposed for years. His career stolen base percentage is 74.4, a completely unacceptable number for a player who is expected to hit at the top of the lineup and get himself into scoring position for the run producers.
Pierre is only 4-of-6 this season, including a terrible attempt against the Cubs over the weekend when he was thrown out despite the ball bouncing in front of the plate and getting a good yard and a half or so away from the catcher.
Last night against the Braves, he attempted to steal after walking to lead off the ninth and would have been thrown out easily had Brian McCann not bounced the throw to second.
Mayberry is not the most skilled of base-stealers—he's 8-of-12 in his career in the big leagues—but his success rate is not terrible for a player that will be hitting out of a spot closer to the middle of the order. Mayberry is also younger and flat-out faster than Pierre is at this moment in time.
Starting Mayberry over Pierre may not be a way to rake in stolen bases, but it may end up preventing the Phils from needlessly running themselves out of innings when (not if) Pierre gets caught on the basepaths.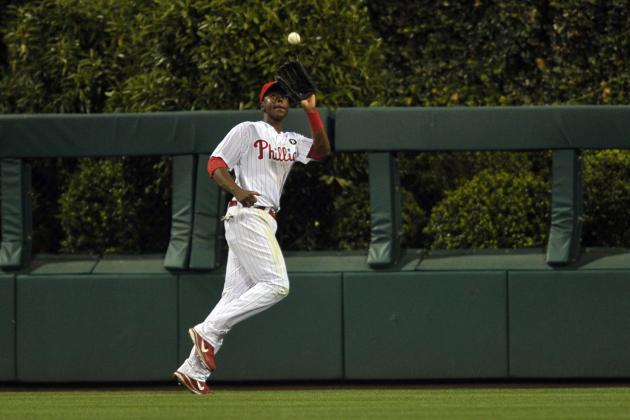 Drew Hallowell/Getty Images

When Juan Pierre dies, he should donate his left arm to science. That way we can find out how all the glass got in there.
Pierre has the absolute worst throwing arm of any outfielder in the league. A friend of mine recently challenged this by mentioning Johnny Damon, but even he could throw a guy out now and then. Heck, even Raul Ibanez threw out a few runners at the plate last year.
The wet noodle attached to Pierre's left shoulder is a massive weakness for a team that, until Howard and Utley return, will rely heavily on pitching and defense to keep them in contention.
Fortunately, Charlie Manuel does seem to recognize this, as he has brought Mayberry—who is superior to Pierre in both arm and range—on to replace Pierre in left when the team has a late-inning lead. But there will come a time where the game will be tied or close at Pierre will unleash a 10-hopper to the plate from left, and the result will be a one-run loss.
It is better for the team—particularly at this juncture of the season—to play the superior defender more often.
Mayberry is also far more versatile than Pierre and is able to play all three outfield positions.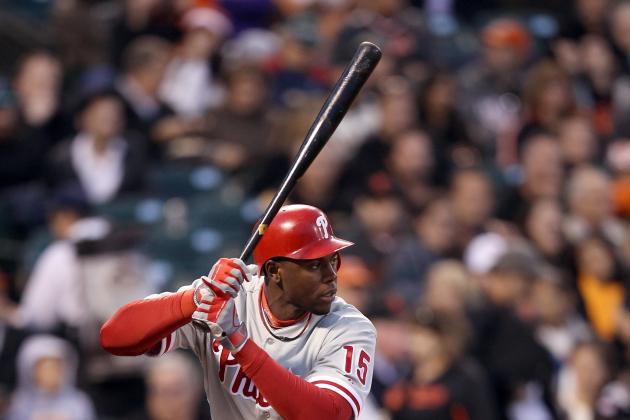 Ezra Shaw/Getty Images

A year ago, the Phillies sent Mayberry down to Lehigh Valley to get more consistent at-bats when he struggles in May and June. This year, they do not have that luxury.
Like Domonic Brown, Mayberry is out of options, meaning that if the Phillies try to send him to Triple-A this season they will have to expose him to waivers—and the likelihood that he would be claimed by someone is probably high. To lose Mayberry in this fashion would be the height of stupidity.
His versatility, as mentioned in the previous slide, could be a huge help to the Phillies should they be unable to re-sign Shane Victorino in the offseason. Besides that, he is close to a true breakout.
Pierre's consistent playing time has forced Mayberry off the field and, like Brown before him, slashed his at-bats. Players need consistent time at the plate in order to be effective—just look at what happened to Jim Thome this year.
Another example: Greg Dobbs in 2008. Injuries and ineffectiveness on the part of Pedro Feliz caused Dobbs to get a larger than usual share of at-bats at third base. The result was not only a great overall season, but an historic year off the bench.
Dobbs set the team record for pinch-hits in a season with 22, hitting .355 in the pinch with 16 RBI. In '09, however, Feliz got off to a fantastic start and kept that form going for most of the year, while Dobbs hit just .247 overall without the regular at-bats. Placido Polanco's arrival in 2010 cut into his playing time even further, and he was sent to Lehigh Valley twice before leaving as a free agent at the end of the year.
Mayberry needs these at-bats. He is, in the long run, a superior player to Juan Pierre and must be allowed to work himself out in the lineup. The results can be a huge boon to the Phils' scuffling offense.