Kentucky Derby Odds 2012: Alpha and Long Shots Worth the Risk
May 2, 2012

Rob Carr/Getty Images
What's the fun in picking a favorite?
Horse racing's biggest event is just around the corner, and as of Wednesday afternoon, Union Rags (5:1), Bodemeister (9:2) and Gemologist (7:1) are the three favorites to win. There isn't any value there. In a race that can be determined by playing a glorified game of Pin the Tail on the Donkey, here are three long shots worth taking a stab at this Saturday.
(Odds for all 20 horses can be found here)
Alpha (12:1)
The reason the oddsmakers aren't in love with Alpha is because of his sometimes volatile personality, but make no mistake—this horse is a speed demon.
Alpha's long strides have taken her to three wins and two second-place finishes in six career starts. Trainer Kiaran McLaughlin is experienced with hyper-active horses like Alpha and has slowly increased the length of races to ensure the horse will be peaking at Churchill Downs.
Obviously the post-position draw will be a huge factor, but there is a lot of value to be had with Alpha.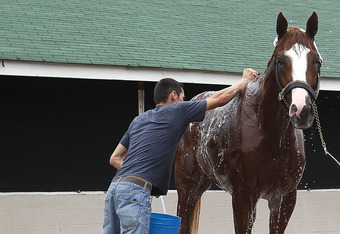 Matthew Stockman/Getty Images
El Padrino (20:1)
Trainer Todd Pletcher didn't want to disturb the routine of El Padrino, so he didn't fly in the horse until Tuesday after the animal had endured a full work load at Palm Meadows last week.
The three-year-old was incredibly impressive in two wins earlier this season, but a poor performance in Florida put the brakes on the excitement around El Padrino.
This is a horse that excels at a wet track, so if rain is in the forecast, strongly consider this horse.
Daddy Long Legs (20:1)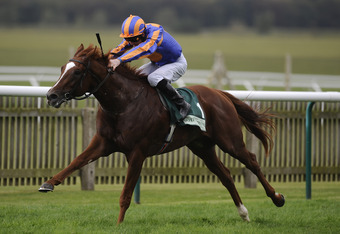 Alan Crowhurst/Getty Images
Another three-year-old that comes to the Derby hot, Daddy Long Legs is a very dangerous horse in this race. After finishing 12th out of 13 horses in last year's Breeders' Cup Juvenile, the horse has steadily improved to the point where his odds have jumped from 30:1 to 20:1.
If he is able to handle the raucous American crowds that pale in comparison to the serenity of European races, this is one of the key horses to watch on Saturday.