2012 Olympics: Anthony Davis Should Be Top New Option for Team USA Basketball
May 2, 2012

Ronald Martinez/Getty Images
The NBA injury bug has finally caught up to the United States men's basketball team in its quest for a second consecutive Olympic gold medal.
Team USA Basketball chairman Jerry Colangelo told ESPN's Marc Stein Tuesday that he's considering adding "one or two players" to the team's preliminary Olympic roster.
Citing sources close to the situation, Stein says second-year centers Greg Monroe and DeMarcus Cousins are both "under consideration," along with former University of Kentucky standout Anthony Davis.
Based on those names, it would seem Colangelo wants shore up the interior following injuries to Dwight Howard and LaMarcus Aldridge.
Mind you, none of the aforementioned three have been added to the roster. And even if they were, that wouldn't guarantee a trip to London. There are 15 healthy, active players on Team USA, and they, along with whomever Colangelo adds, will compete for 12 spots on the final Olympic roster.
That said, one would assume Colangelo intends to select players he thinks have a chance to make the national team. Why else engage all the hype and speculation?
So under the assumption that these late adds will at least have a good shot to make London, who fits best?
Here are my top five in order from most desirable to least.
1. Anthony Davis
In 2008, when Team USA won gold, scoring wasn't a problem. The offense ran through the perimeter, and the team averaged over 106 points per game. Starting center Dwight Howard averaged around 10 points a contest—hardly a focal point of the team's attack.
Based on that formula, the Americans don't need a premier post-scoring threat to replace Howard. He wasn't giving them much on offense anyway.
What they need is a defensive maven that can scare teams out of the paint. Davis is that player. His singular defensive presence led Kentucky to the national championship, and he's already more advanced as a shot blocker than any of the other available bigs.
Having Davis in rotation with early roster selection Tyson Chandler would give the Americans enough interior juice to match up with longer teams like Spain and Brazil.
Which is to say, Davis doesn't need to be a starter or play big minutes. He's a difference-maker you can bring off the bench, the kind that causes other teams to adjust. That's a wonderful luxury to have at the back end of your rotation.
2. Roy Hibbert
I'm surprised Hibbert wasn't mentioned by the source in Stein's article. He's one of the game's most complete bigs: a competent scorer, passer and defender. In a January showdown against the Lakers, he held Pau Gasol to eight points on 4-of-12 shooting. More of the same in London would be a great boon to Team USA.
Update: Well, this is embarrassing. You haven't heard about Roy Hibbert lacing it up for Team USA because the rules forbid it. According to hoopsrumors.com, Hibbert represented Jamaica at a 2010 senior-level tournament, thus preventing him from ever donning the stars and stripes. At least in basketball. America's loss.
3. Greg Monroe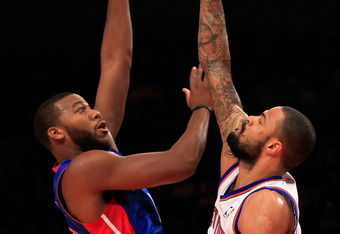 Chris Trotman/Getty Images
Obscured by the gloom around him in Detroit, few took note of Greg Monroe's quantum leap in this his second NBA season. Monroe's PER jumped from 18 to 22, along with significant upticks in his nightly scoring, rebounding and assist averages. I'm particularly impressed with his work on the offensive boards. His offensive rebounding percentage (a calculation of the percent of available offensive boards a player grabs) ranked seventh in the league. He's the kind of athlete, like Howard, that can clean up a teammate's mess.
4. DeMarcus Cousins
Cousins is an even better offensive rebounder than Monroe, but he slides below the Pistons star because of persistent off-court drama. We could argue all day over whether or not Cousins has moved past his much-publicized petulance, but that's beside the point. Why incur risk for a bench player? Cousins can help, but Team USA isn't desperate for his talents.
5. The Veteran
I'm leaving this last spot open to make a point. Why haven't we seen more older players in the late-addition conversation?
A few names to consider: Kevin Garnett, Tim Duncan, Carlos Boozer.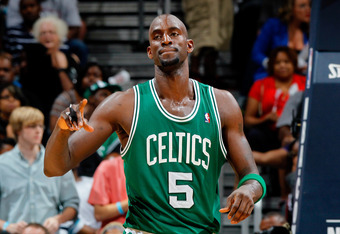 Kevin C. Cox/Getty Images
Garnett and Duncan in particular had pretty productive years, and Garnett remains well above-average on the defensive end. I suppose you worry about what each would have left in the tank after the NBA playoffs, but it's not like Colangelo would need more than 10 or 15 minutes a game out of his back-up center/forward. I think Garnett could manage, and teammates love his energy.
If you're not going to go super young and super athletic with Davis, why not get some guile?