What Sharks' Statement Means for GM Doug Wilson and Future of Franchise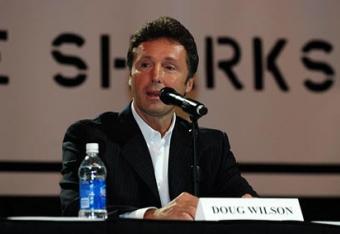 The San Jose Sharks issued a statement apologizing to the fans on Wednesday for the unexpected lack of success from this season's team. More than that, the statement fully backed Doug Wilson as general manager of the team.
Up until now, it was unclear as to who would stay with the team and who would go. Wilson was on the hot seat, as is coach Todd McLellan, but on Wednesday the Sharks shot one of those rumors down and will be going with Wilson at least for this coming offseason.
Here is the statement issued Wednesday morning:
"The on-ice results of our team this season are not acceptable to our fans, our organization or our ownership group. We will not lower our expectation that every San Jose Sharks team we put on the ice is capable of winning the Stanley Cup. Despite the fact that our team has experienced a tremendous amount of success over the past eight seasons, we are not satisfied with those results and neither is Doug. The ownership group has confidence that Doug will make the necessary changes to ensure our club remains among the NHL's elite franchises."
The statement tells us several things, but the bottom line is that Wilson's job is safe, and it should be.
Wilson has provided for this franchise a winning team year after year with key offseason pick-ups for the past several seasons. They were Stanley Cup contenders up until this last season, and the Sharks are prepared to give him a second chance in that aspect.
However, the underlying meaning to this statement is that the pressure is now on Wilson to produce now that he has been given the green light.
Will Todd McLellan be the coach of the San Jose Sharks next season?
This is currently not a Stanley Cup-contending team on the ice for San Jose right now. The franchise knows that and Wilson knows that. It is now up to him to "make the necessary changes" to put the Sharks back on top of the Western Conference.
That begins this offseason.
Wilson has a lot to work with in that department. Rick Nash and Zach Parise appear to be the most notable of players on the market this offseason, and we can expect Wilson to make plays for both players.
Another aspect to this whole statement issued by the Sharks on Wednesday is McLellan's current job security.
The statement supported Wilson as GM, but not McLellan or the players as being safe at all this offseason. McLellan had a team on the ice fully capable of better productivity than they showed, and that does not fly in the NHL without some sort of job threat.
The ball is in Wilson's court on this topic. Does he keep McLellan, who has led the team to back-to-back Western Conference Finals? Or does he fire him in hopes of changing the style of hockey this team plays?
And with whom would Wilson replace McLellan?
These are all questions that will be answered in the near future, but absolutely no one's job is safe in San Jose right now. Wilson needs to make changes to this team because his job depends on it, and no one is standing in the way of that.
Reading in between the lines of this statement, it is not hard to see that the Wilson and the Sharks will be having one crazy offseason. The free agent and trade market will be Wilson's playground for the next several months, and we can expect him to be wheeling and dealing in hopes of saving this franchise from another disappointing season.
Follow me on Twitter @ScottSemmler22
This article is
What is the duplicate article?
Why is this article offensive?
Where is this article plagiarized from?
Why is this article poorly edited?

San Jose Sharks: Like this team?