WWE Diva Diagnosis: Where Do Divas Go with Layla as Champ and the Bellas Gone?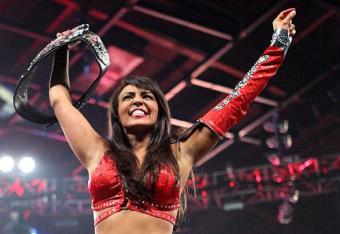 Photo courtesy of WWE.com

The WWE Divas division essentially just traded Layla for Beth Phoenix and the Bella Twins.
I'm a Layla fan and don't particularly care too much for Nikki or Brie, but even I know that losing three Divas and gaining one doesn't exactly leave the Divas division in a desirable state.
With Beth Phoenix sitting on the sidelines with a storyline injury and the Bellas no longer under WWE contract, the Divas are now under the guidance of new Divas Champion, Layla.
I never though I'd say this, but—although I won't miss them at all—the Bella Twins' departure, coupled with Beth's absence from TV, has left the WWE with a gaping hole in the Divas division.
On the face side, the only Divas who really seem to matter at all are Kelly Kelly, Alicia Fox, AJ and Layla, and on the heel side, we've got, well, Eve, with a "hey, I'm not sure what you really are" Natalya sprinkled in there somewhere.
That's a pretty pathetic Divas division, and in fact, hardly even qualifies as one.
You've got a baby face Champion, but the only bona fide heel (Eve) has settled into a non-wrestling role as John Laurinaitis' assistant.
Needless to say, that's a big problem, one that needs to be fixed. But how do we do that?
The obvious solution is to bring back Kharma in some sort of a tweener role, where she just destroys every Diva in her way, whether they're a heel or baby face.
But no one seems to know for sure what is going on with Kharma at the moment, so until she does return, we're going to need someone to step up on the heel side of the Divas division.
My solution? Turn AJ heel, and bring Maxine up from NXT.
I don't watch NXT a whole lot, but when I do, it's clear to me that Maxine is one of the best overall characters on the show, and that includes the male superstars.
She's a very good heel and could instantly become the top heel Diva in a division that really needs one.
It's time to get Maxine off of NXT and bring her up to Raw, where she can become more familiar to the WWE fans who don't watch NXT and build herself up as the best female antagonist in the WWE.
Meanwhile, I think a heel turn for AJ could work extremely well, too.
Over the last couple of weeks, we've seen AJ's relationship with Daniel Bryan take a huge toll on her, and as a result, she's absolutely snapped on both Natalya and Kaitlyn.
AJ looks and comes across like your prototypical baby face Diva, but like a heel turn did wonders for Bryan's career, I think it could do the same for AJ.
She seems to be performing well in her "I'm going crazy even though I don't want to" role, and a potential heel turn and feud with Layla would give us something fresh from the Divas while we wait for the returns of both Kharma and Beth.
This all seems to make perfect sense to me, but knowing the creative team, we won't get much effort into the Divas division for the foreseeable future.
Drake Oz is the WWE Lead Writer for Bleacher Report. You can follow him onTwitter and ask him any wrestling-related questions (to be answered in the B/R Mailbag) on Formspring.
This article is
What is the duplicate article?
Why is this article offensive?
Where is this article plagiarized from?
Why is this article poorly edited?