St. Louis Rams: Wednesday's Rams News and Notes at Noon
May 2, 2012

Welcome to Wednesday's St. Louis Rams "News and Notes at Noon," the one-stop destination for all major Rams headlines and other news and notes of interest to Rams Nation. 
Rams and CVC Negotiations Should Remain Private for Now, According to Columnist
Bryan Burwell of the St. Louis Post-Dispatch suggests in this column that it is best for the Rams and the St. Louis Convention and Visitors Commission to negotiate the lease in regard to the Edward Jones Dome privately, for now. 
Although it would be nice to see the details of the Rams' counteroffer that came forth yesterday, keeping negotiations behind closed doors makes for the least disruptive environment, keeping out extra political elements and eliminating potential bickering or public commenting from the Rams or the CVC that could theoretically complicate matters.
With negotiations remaining behind closed doors, both parties have the best opportunity to remain laser-focused on the goal of hammering out a positive, pro-St. Louis resolution in the most timely manner possible.
When one takes a look at the massive mess that continues to evolve in Minnesota, it lends support to the idea of maintaining a low-profile, private negotiation process, for now.  
Some Feel the Rams Counteroffer Should Be Made Public Now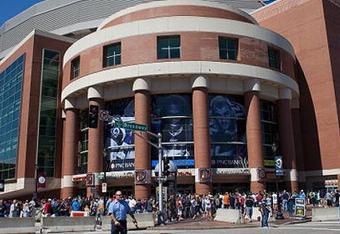 According to an article by Matthew Hathaway and Jim Thomas for stltoday.com, some feel the Rams should release the details of its counteroffer, including St. Louis Post-Dispatch editor Arnie Robbins:
It's outrageous that taxpayers are being kept in the dark when hundreds of millions of dollars invested in a public facility are at stake.
Obviously, opinions vary, but it seems best (for reasons stated above) that information is kept behind closed doors at this time.  
Rams and NFC West Focus on the Air in 2012 NFL Draft 
Mike Sando of ESPN looks at the propensity of NFC West teams, including St. Louis, to focus offensive and defensive draft picks to the passing game in this piece. 
Sando breaks down what seems to be a divisional shift from the run to the air, something that has already taken place across the NFL as a whole. 
Rams Beat Writer Q and A 
Jim Thomas of the St. Louis Post-Dispatch answered a multitude of questions from Rams Nation during a chat yesterday, as found here.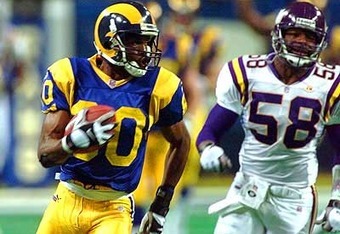 Thomas answers questions regarding the wide receiver position, last week's draft and the aforementioned lease, among other things, in the above-linked chat.  
Join Isaac Bruce for Fundraising Efforts
Former St. Louis Rams great Isaac Bruce will be at the Hall of Fame Bar and Grill in St. Louis on May 18 to raise money for the Isaac Bruce Foundation, according to this piece from stlouisrams.com. 
Bruce will be signing autographs and taking photos that evening.  Raffle items will also be available.
Have a great day as always, STL Rams Nation.  
Shane Gray covers the St. Louis Rams daily as a Featured Columnist for Bleacher Report. You are encouraged to check out the rest of his work here. Gray also owns and operates stlramscentral.com.