New York Yankees: Aaron Cook Is a Perfect Fit for Starting Rotation
May 2, 2012

The New York Yankees are accustomed to winning, whether they jump out of the gate and dominate the competition early, or they struggle to make it until the end, but still ultimately find a way to win.
It seems as if they always have just the right amount of power and their sluggers seem to take turns being hot and carrying the load. Critics never really worry about their hitting because they will always break out of their slump at some point.
Their starting pitching is what fans should worry about this season, especially since Freddy Garcia was just demoted to the bullpen after he fell to 0-2 with a 12.51 ERA (19 earned runs in 13.1 innings) over his four outings.
Not only is Garcia no longer in the starting rotation, but they are still without phenom Michael Pineda as he is still on the DL for another year. Phil Hughes, who was roughed up last night against the Orioles, is struggling as he is just 1-4 with a 7.48 ERA over his five outings.
So, what's the answer?
Well, it might not be Aaron Cook, the former Colorado Rockies starting pitcher, but he could help get the Yankees back on track in the American League East. According to Jon Heyman of CBS Sports, one agent thinks the Yankees "would jump" at picking up Cook.
Currently, the Bronx Bombers are 10th in the American League in ERA at 4.36, while they are first in home runs with 38, third in average at .270 and third in runs with 121. Obviously they need to turn around their pitching staff, and in particular, their starters.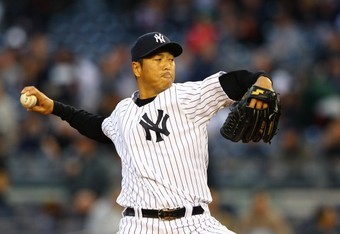 The Yankees have only used five starting pitchers all season, but with the exception of newly-acquired Hiroki Kuroda, each of their ERAs is currently northward of four. Even ace CC Sabathia features an ERA at almost 4.60 (4.58) on the year.
Collectively, these five starters have tossed 126.2 innings over their first 23 contests—that only averages out to be about 5.47 innings per outing by the starter. If the Yanks are going to make a run at it this season, they are going to need to find ways to eat up more innings.
As a group, their starters have surrendered 82 earned runs over 126.2 innings (5.85 ERA). However, their bullpen has been superb. In 80-plus innings of work, they have allowed just 20 earned runs on the season. The highest ERA by a reliever is 3.86 (Clay Rapada).
I think it is time for the Yankees to go out and search for another arm, or else it will be too late in the season, and before they know it they will be out of the playoffs, especially with the resurgent Baltimore Orioles.
Cook, although not the fastest pitcher, or the most successful, has experience pitching under pressure and has had some success in his career. Plus, he has only pitched in Colorado since breaking into the major leagues in 2002, so a move might be in his future.
Over his 10-year career with the Rockies, Cook accumulated a 72-68 record with a respectable 4.53 ERA, especially since he pitched half of his games in the thin air out in Denver. Cook struggled last season, but did miss some time as he only made 17 starts, yielding a 3-10 record with a 6.03 ERA.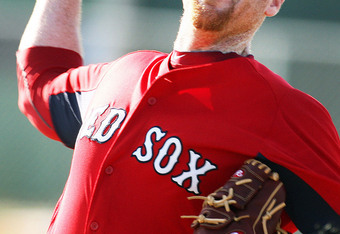 Even with those very high numbers, he has still managed to garner attention across the American League. If the Red Sox cut ties with Cook, the Yankees could possibly be interested.
You might be asking yourself why the Yankees would want to go after a pitcher with such a high ERA. Well, last year was an off season for Cook. In 2008, he broke out and won 16 games for the playoff-bound Rockies. Not to mention, he finished with a 3.96 ERA that year. The year after, he won 11 games and finished with a 4.16 ERA.
Overall, he has had some tough years with the Rockies, but anyone would tell you that pitching in Denver is not a walk in the park. I'm not sure if pitching in New York will yield better results, but why not take a chance on a low-risk player like Cook? The Yanks really do not have that much to lose, and the results could yield much better results that previously imagined.
The Yankees have so much money to spend and they can easily go out and trade for someone else if worst comes to worst and Cook does not work out. Plus, since he is coming from the Red Sox, it would hurt that much more if somehow the Bronx Bombers could get him to reverse his fortunes.
I do not think Cook will hurt Brian Cashman's purse strings too much and he could be a great asset for them come playoff time. In both 2006 and 2008, he tossed more than 200 innings and in '07 he finished with 166.1—he is an innings-eater and I think he can find a great home in New York.
Follow me on twitter: @Alex_VanRees