Mayweather vs. Cotto Preview: 5 Ways to Beat Boxing Legend Floyd Mayweather Jr.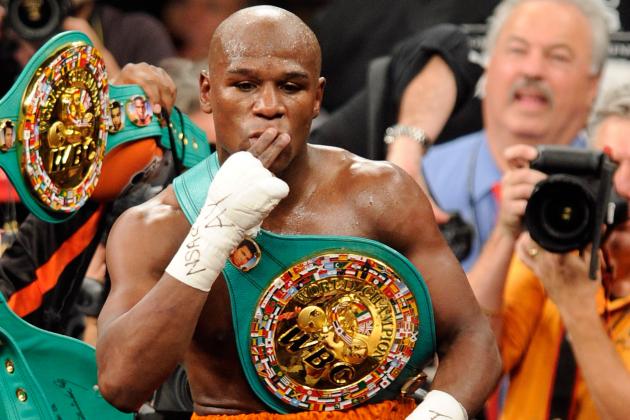 Ethan Miller/Getty Images

Floyd Mayweather Jr. will tell you he's the best boxer of his generation, arguably of all time. Self-promotion and bombast aside, he might just be right.
Mayweather has stood across the ring from 42 different opponents in professional bouts. On 42 different occasions, from Mississippi to Idaho, he's had his hand raised high. Nine major world titles have been strapped around his waist, and his list of victims reads like a list of future boxing Hall of Famers—Corrales, Castillo, Gatti, De La Hoya, Marquez and Mosley.
Saturday night in Las Vegas, at the MGM Grand—where he's competed on eight occasions—Mayweather will look to add Miguel Cotto to that list. But it's far from a done deal. Mayweather may have never been beaten—but he's not unbeatable.
Past opponents have laid the groundwork for how to beat him. There is a game plan that, if executed perfectly, can lead an opponent to victory. I'm not saying Miguel Cotto is going to beat Floyd Mayweather. But if he does, this will be how.
Begin Slideshow

»
In April 2002, an undefeated Mayweather journeyed into uncharted territory. After nine defenses of his super featherweight world title, Mayweather moved up to lightweight to face the formidable Jose Luis Castillo.
The lightweight champion was an impressive 45-4-1 at the time, with 41 knockouts. And he showed Floyd why his was a name feared by every man in the division. After a slow start, Castillo chased Mayweather around the ring, putting pressure on the young star, trying to trap him against the ropes and do work to the body.
Make no mistake—this isn't an easy strategy to execute against Mayweather. He's lightning-quick and a dangerous counterpuncher. He wants his opponent to pressure him; it's his bread and butter. On this night, however, Castillo showed that you can beat Mayweather at his own game, especially if you come into the fight with a significant weight advantage the way Castillo did.
Both fighters were docked a point by referee Vic Drakulich, who made himself a constant presence in a great fight. Drakulich's presence was so overwhelming that commentator Larry Merchant went crazy, going after the referee with a viciousness that was surprising even for the acerbic announcer (8:12 of this video):
Calm it down? It's a fight! Referee's telling two fighters who wanna fight to calm it down? You calm down! Nobody paid to see this referee!
In the end, Floyd won the bout. It was, and remains, the most controversial and closest fight of his career.
No one is really sure where the visually spectacular "52 Blocks" style of fighting comes from. Some suggest the art, which contains an inordinate amount of hand waving, was a fusion of English pugilism and traditional African martial arts. Others call it "jailhouse boxing," a product of hard men doing hard time.
No matter where it comes from, it can work in moderation, as Zab Judah showed in his 2006 fight with Mayweather. He knocked Mayweather down with a punch, though referee Richard Steele inexplicably called it a slip, and fought the champion close.
Of course, when it comes to the bizarre in boxing, no one fits the bill better than Emanuel Augustus. His awkward style in victory—or more often, in defeat—led to many mesmerizing fights on ESPN. Augustus was erratic and hard to figure out—maybe because he himself had no idea what was coming next.
Despite his mediocre record, Augustus gave Mayweather one of his toughest fights, and is testament to the power of the unpredictable against a precision machine like Floyd.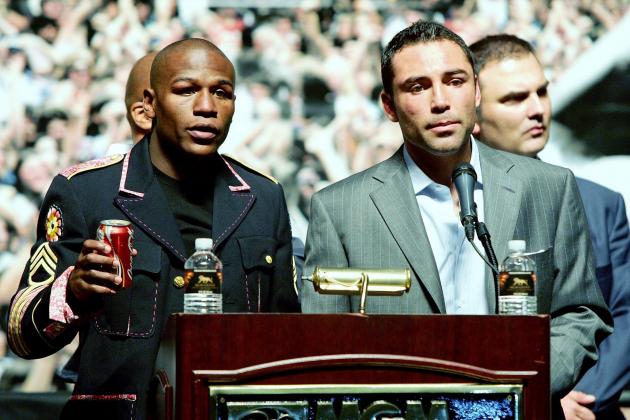 Ethan Miller/Getty Images

Oscar De La Hoya made Floyd Mayweather a star. It's easy to forget that now, as Floyd has been a constant presence in our lives for five years. But before Oscar, his pay-per-view peak was a scant 375,000 buys against Zab Judah. De La Hoya took him to the next level as an impact player in the world of sports.
The fight set records live at the box office and on pay-per-view, and the first appearance of the hit HBO reality show 24/7 changed fight promotion forever. While economics were all anyone wanted to talk about before or after the bout—a fight that was supposed to save boxing—De La Hoya surprised many by keeping things competitive against the younger man.
Using his size advantage and a crisp jab to back Mayweather up, De La Hoya did some serious work against the ropes with his left hook. Only a strange late-fight strategy shift, going into a crouch that negated his height advantage, allowed Mayweather to eke out a split decision.
Who can forget Floyd Mayweather's now-legendary bout with Victor Ortiz? A huge underdog, Ortiz was almost handed a gift when an angry Mayweather decked him as he came in for a bro hug. It was a life lesson for Ortiz to keep your hands up at all times. It was also a lesson future Mayweather opponents can learn from.
Frustrating Floyd should be tops on anyone's mental list of ways to beat the best. Make him mad. Get ugly. Make it a war. You never know what might happen.
The great Roy Jones got frustrated against Montel Griffin and hit him when he was clearly down on the mat. It was the only loss of his fighting prime.
It's worth noting that Mayweather isn't the only one who is prone to lose his cool. After a brutal low blow from Zab Judah, Floyd's uncle and trainer Roger Mayweather charged into the ring. Only the presence of a very lenient referee, Richard Steele, allowed Floyd to continue in the fight.
Would that be the ideal way for a proud fighter like Cotto to win? Of course not. But angering Mayweather serves a dual purpose. As he's gotten older, Mayweather has become more likely to exchange with opponents.
If he can egg him on and make it a slugfest, Cotto has a chance.
Cotto has all the tools to replicate the successful strategies that others have used to stymie Floyd. He's capable of Castillo's pressure, Oscar's brutal left hook and Ortiz's dirty tactics. To beat Mayweather, he will have to push him to the breaking point.
Hitting him in the clinch, on the break, to the body, will be key. Walking through his hard counter rights, taking the risks inherent in coming forward again and again, will be paramount. He isn't as big as De La Hoya was at 154 pounds, but he should have the size to bully Floyd. He'll need to use it.
Miguel Cotto is one of the 10 best fighters on the planet. If he can utilize his tools, minimize Mayweather's strengths and continually press the action, Saturday could be one interesting night in Las Vegas.