When Will the Cleveland Browns Ever Learn How to Develop a Quarterback?
May 2, 2012

Jared Wickerham/Getty Images
It has been said that those who don't learn from history are doomed to repeat it. The Cleveland Browns are a perfect example of that. Since they came back into the NFL, the Browns have been looking for that franchise quarterback. Their first attempt was with Tim Couch. He is still the only quarterback to lead the Browns to the playoffs since they were reborn.
Unfortunately, he got hurt in the last regular season game and Kelly Holcomb came in and had a fluke of a game. The Browns then ignored the fact that Couch was actually developing and started Holcomb the next year and he was a bust. The point is they gave up on Couch way too early.
Since then, they have had Charlie Frye, Derek Anderson, Brady Quinn and now Colt McCoy—none of which have panned out. I am not sure about Frye, but Anderson, Quinn and McCoy are all guys that have honestly not really been given a chance to grow and develop. The Browns mishandled all of them and gave none of them a chance to grow.
First up was Anderson. He got his chance after Frye was traded but really was only expected to keep it warm for Quinn. Instead, Anderson went on to have a Pro Bowl year. He did begin to fade late in the year, but still the Browns made a commitment to him, kind of. 
They gave him the big contract and made him the starter, but they didn't try to trade Quinn. All that did was make the fans scream for Quinn after every interception and constantly had him looking over his shoulder.
By mid season, Quinn was the quarterback. He played pretty well in his first two games against Denver and Buffalo. Unfortunately, he broke his finger and struggled against Houston. Still, Head Coach Romeo Crennel named him the starter for the next season. They had to go back to Anderson who also got hurt his first game back only to have fans cheer his injury.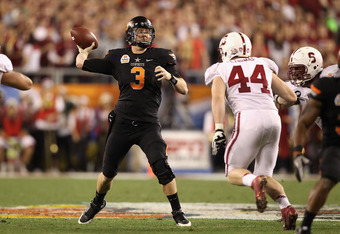 Christian Petersen/Getty Images
Unfortunately for Quinn, Crennel was fired.Then Eric Mangini took over and completely mishandled the whole situation. He had both Quinn and Anderson and he wasn't the one who made any promises. He needed to make a commitment one way or the other and a trade one way or the other. Instead, he let them fight it out and split reps. 
All that did was divide the team and the fans. He properly prepared neither of them and wondered why they both struggled. All he did was hurt both of their careers. Ironically, Quinn is now back with Crennel who promised him that starting job. It will be interesting to see how that plays out. 
I have always believed that Mangini had a reason for not making a commitment to either Quinn or Anderson. The previous year he was the coach of the New York Jets and let Chad Pennington go for an older Brett Favre who didn't really want to be there. Pennington had a great year in Miami and Mangini looked foolish. He didn't want to commit to one guy here and look foolish again.
Then both Quinn and Anderson departed and in comes Colt McCoy who was not expected to play right away. He would learn behind veteran Jake Delhomme his first year. Unfortunately both Delhomme and Seneca Wallace got hurt relatively early and McCoy was forced into action by mid-season.
Ironically they had a good formula. Pound the ball with Peyton Hillis and throw conservative passes with McCoy. That took a lot of pressure off McCoy. Going into his second year and his first year as a starter, the formula would have been much the same.
Unfortunately, Hillis had injury and contract issues and became a locker room cancer. Some irony to the story is that Hillis is now in Kansas City and on the same team as Quinn (who he was traded for).
That put McCoy in a position where he had to do more than he was really ready for. Now they are ready to give up on him too early like they did with Couch, Anderson and Quinn.
The Browns next attempt is Brandon Weeden. Sure enough they aren't really committing to him and say they won't trade McCoy. It will be Anderson and Quinn all over again.
Neither guy will get properly prepared and both will ultimately be hurt more than they are helped. Wallace is a good enough backup so there is no need to keep McCoy. It will cause more harm than good.