Grading All of Arsenal's Players for the 2011-12 Season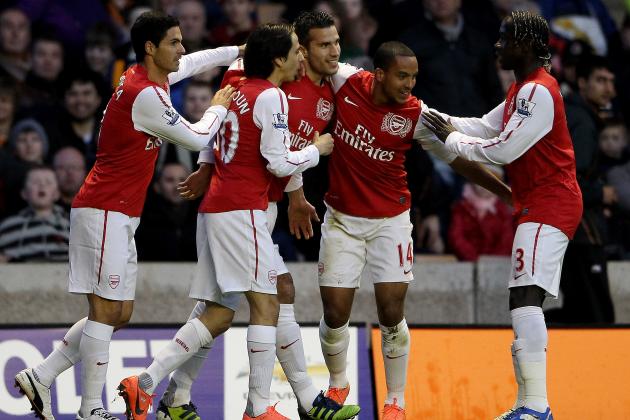 Scott Heavey/Getty Images
We did well.
In the following slides, I'll review the performances of Arsenal's first XI in the just concluding season, excluding players from the reserves.
As always, grading players' performances is a subjective endeavor. I, however, accompany each grade with a brief commentary.
For the most part, I hope this is a foretaste to a lively conversation. I examine the players within their given space of specialty.
Begin Slideshow

»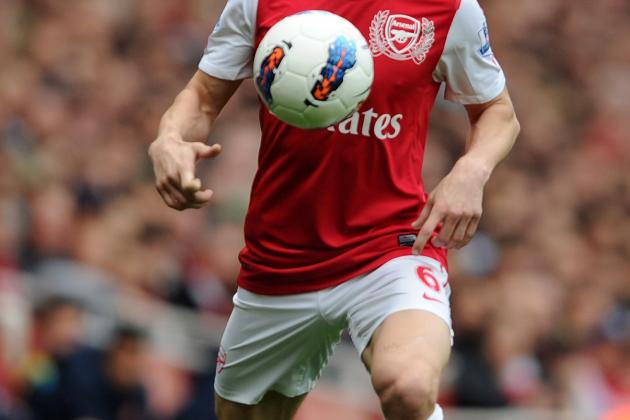 Michael Regan/Getty Images

Łukasz Fabiański
Fabiański has had limited appearances this season for Arsenal and these have been limited to cup games. He is a capable backup.
Grade: 6.0
Wojciech Szczęsny

This has been a solid season for Szczęsny, with only a few wobbles, notably against Swansea City, Fulham away and Spurs away.
His standout performance was against Liverpool in March, when he singlehandedly kept Arsenal in the game. It was here he made a double save from a penalty by Dirk Kuyt.
Another notable performance was against Udinese at the Stadio Friuli, where he made a crucial penalty save to ensure Arsenal progressed to the group stage of the Champions League. It also helped mitigate the crisis situation at the time at Arsenal.
Another notable game was against Sunderland at the Emirates, where an important save ensured Arsenal got maximum points in that match. This also helped dissipate the crisis atmosphere at Arsenal at the time.
Grade: 9.4
Sébastien Squillaci
Squillaci has had a worse season than last. He was infamous in the Fulham loss at Craven Cottage, when he provided the assist for Fulham's winner.
Prior to this, he had a solid game for Arsenal in the Carling Cup match against Manchester City. One thought that marked the turnaround in his fortunes at Arsenal.
As it is, he may be sold to this summer.
Grade: 2.5
Johan Djourou
Djourou helped out greatly during the full-back crisis, but never seemed assured in this role. He has given away two crucial penalties this season, one at Fulham and the other away at AC Milan.
His last two matches, though, have been promising.
Grade: 5.3
Per Mertesacker
Mertesacker is an enigma to some who don't seem to appreciate his game. But considering that he had to hit the ground running at Arsenal in a more physical league, he performed rather admirably.
Despite his lack of pace, he has a knack for anticipating developing situations in a game, which is why he's such a good defender.
But again, it is a fact that his critics don't see. It has been a good debut season for the German international.
Grade: 7.0
Thomas Vermaelen
Vermaelen, like Djourou, helped out with the full-back situation in the first half of the season. He reverted back to his preferred central position when Mertesacker got injured.
He has had solid performances this season, with the exception of the Arsenal-Fulham match at the Emirates, the AC Milan match at the San Siro and the QPR match at Loftus Road.
His most memorable match this season is the Newcastle match at the Emirates, in which he scored the winning goal on the final minute of added time.
Grade: 8.7
Laurent Koscielny
Koscielny has been Arsenal's most consistent defender this season. He has put in one solid performance after another.
The highlight of his season was his goal against AC Milan at the Emirates to kick-start Arsenal's quest for self-redemption.
The only blight to his record this season is the own-goal he scored against Liverpool at Anfield, which I put down to his simply wanting to match Vermaelen in the own-goal department. Vermaelen, as the reader might recall, scored an own-goal of his own against Fulham at the Emirates.
Grade: 9.4
Carl Jenkinson
Before injury, for the better part of the season, Jenkinson proved a capable deputy for the injured Bacary Sagna.
In fact, his crosses were eye-catching.
Since his return from injury, he has had little opportunity to improve his stock at Arsenal, but that the promise is there is without doubt.
Grade: 5.5
Bacary Sagna
Sagna's injury early in the season meant he would miss most of the season. His absence contributed to Arsenal's dip in form in the winter.
Aside from his difficult performance in the loss to Wigan, Sagna returned as if he hadn't been away at all. There's no doubt that he is the best right-back in the Premier League and one of the best in Europe.
His most memorable game this season must be the drubbing of Spurs at the Emirates, where his goal kick-started Arsenal's revival.
Grade: 8.0
Andre Santos
The good, the bad and the ugly describe Andre Santos.
The ugly is his knack at committing niggling fouls at the wrong moment of a match, which usually is in the dying minutes of a match Arsenal are winning, but must hang on to do so.
The bad are his defensive lapses which seem to arise mostly from lack of concentration than anything else.
A good example is the Chelsea-Arsenal match at Stamford Bridge, where Santos' first-half performance was riddled with misplaced passes, mistimed tackles and a lack of positional awareness.
The good is his uncanny ability to make clean tackles. The Chelsea match is still a good example, where Santos turned in an excellent defensive performance in the second half, winning all of his tackles, except when he committed a foul resulting Juan Mata's goal.
Another good, of course, is his offensive ability, which has seen him play twice in an advanced position.
Injury interrupted his adjustment to the team, but all things considered, this hasn't been a bad debut season for him at all.
Grade: 6.8
Kieran Gibbs
Gibbs' injury contributed to Arsenal's defensive crisis during the winter. The blight in his season is this problem with injury. Barring this, he is a very capable defender.
Grade: 6.9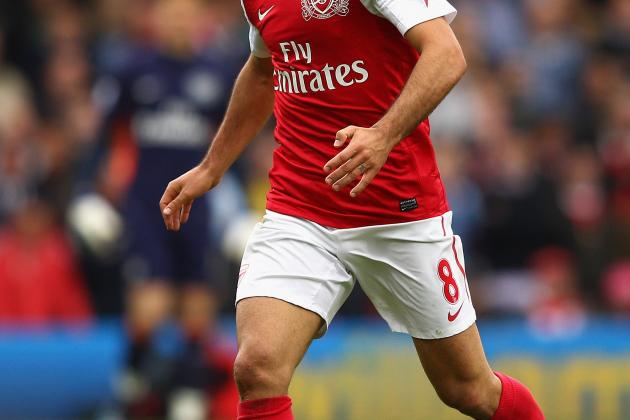 Richard Heathcote/Getty Images

Abou Diaby
Diaby has made just four appearances for Arsenal season, none as a starter. His injury setback has been more severe this season. His career seems to be at in a critical juncture.
Grade: 2.0
Emmanuel Frimpong
A solid performance against Manchester City in the Carling Cup saw Frimpong grow in status almost overnight.
But his tendency to be dispossessed in dangerous positions surfaced in the Carling Cup match against Bolton Wanderers at the Emirates. It was also at hand in the Villa-Arsenal match in December.
Thereafter, Frimpong was sent on loan to Wolves, where he gave very solid performances before a knee injury sidelined him for the rest of the season.
Grade: 6.9
Francis Coquelin
The dexterous defensive midfielder played most of his games this season as a full-back in the height of Arsenal's injury problems.
A lapse in the Carling Cup match against Manchester City exposed one of the player's weaknesses. His most difficult match was against Aston Villa at the Villa Park, where Charles N'Zogbia gave him a torrid time.
But these weaknesses apart, Coquelin demonstrated the range of his gift by adapting to the positions the manager asked him to play. This is a sign of a good player.
Grade: 7.2
Alex Song
The highlights of Song's season have been his pinpointed long passes to Robin van Persie.
This is remarkable, considering he is a defensive midfielder.
In fact, he may just be the only deep-seated roaming playmaker in the world. I say this well aware of the roles of both Xabi Alonso and Paul Scholes for their respective teams. Yann M'Vila also has this tendency, which might be the reason Wenger appears to be interested in him.
Song has made 42 appearances for Arsenal this season, in which he has scored one goal and made 10 assists. 10 assists are remarkable for a defensive midfielder. His passing success is 83.9 percent.
Grade: 9.2
Aaron Ramsey
This is Ramsey's first full season since his horrible injury. After a below-par beginning to the season, Ramsey turned things around by some eye-catching performances leading up to the unforgiving Christmas and New year fixtures, which took the spirit out of Ramsey's performances.
Since then, he has struggled to regain his form.
His performance against Stoke City was quiet but adequate. Although discontented fans have turned on him lately, there's no doubt that Ramsey is a very good player. What's more, he is a tireless worker. His big weakness is his poor finishing, which can only improve in the future.
As a midfielder, his passing success at 81.9 percent isn't bad at all. He has four assists this season. He has made 31 appearances for Arsenal this season.
Grade: 8.0
Tomas Rosicky
Rosicky's standout match was in the routing of rivals Tottenham Hotspur. He followed this up with an excellent game against AC Milan at the Emirates.
He has been a delight this season, having apparently shaken his injury problem at last. He has often been the most lively player in Arsenal's duller games. He has two goals, three assists in 21 appearances this season, 11 of which have been from the substitutes bench.
His passing success is 81.2 percent.
Grade: 8.7
Mikel Arteta
Arteta has been Arsenal's midfield stalwart this season. His ability to win tackles is remarkable. People complain about not seeing him in matches, which is because his role is such that it is necessary that he remains "silent," as in busy and efficient.
Whenever he has been out of the side, Arsenal have lost their assuredness and cohesion. He has made 38 appearances for Arsenal, scored seven goals and made two assists. His passing success is 88.9 percent.
Grade: 9.5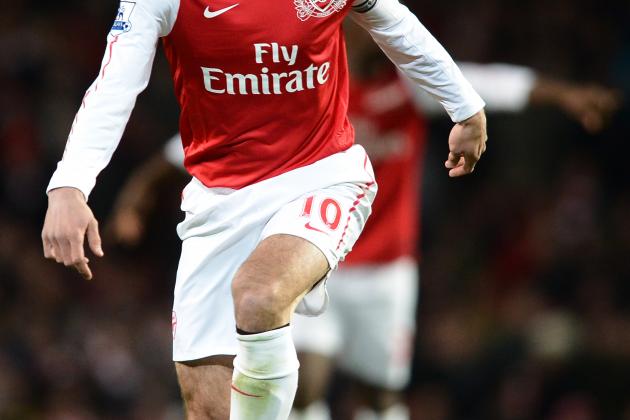 Laurence Griffiths/Getty Images

Yossi Benayoun
Benayoun has been a great utility player for Arsenal , especially in the false-11 position, which is why I've included him among the forwards proper rather than among the midfielders.
For a detailed examination of his game, see here.
Grade: 8.3
Alex Oxlade-Chamberlain
Alex Oxlade-Chamberlain has had a good season. He seems destined for good things. He marked his debut in the Champions League with a goal, and when he played against AC Milan in the midfield, he gave more than an adequate account of himself. He was directly responsible for Arsenal's third goal.
He most memorable match was in the 7-1 spanking of Blackburn Rovers at the Emirates, where he scored a brace. Prior to this, his lively performances in the defeat to Manchester United meant he'd quickly endear himself to Arsenal fans.
Grade 8.2
Gervinho
Gervinho has had a good debut season in the Premier League. He had early good games, blighted only by his poor finishing, but he more than made up for this with good assists. His contribution in the Champions League was good as well.
The African Cup of Nations affected his form, but he has shown signs of recovery in the last two games.
He has made 22 appearances so far for Arsenal, 11 as a substitute. He has scored four goals and made seven assists.
Grade: 8.0
Theo Walcott
For Arsene Wenger, this season has been Walcott's best:
He has had his best season yet. He gets criticism because he raises the level of expectation so much that when he has a disappointing game or doesn't make the difference, people straight away go at him because they expect something special.
Expectation of something special is, in fact, a big reason why Walcott gets a lot of stick.
Plus, most critics don't understand roles in a team due to a set understanding of what a particular player ought to do.
For example, Walcott is supposed to run behind the defense, but that cannot always be so, since most teams have found a solution for wingers, which means wingers often are constrained to adapt or adjust their roles.
In any case, Walcott is a very good player, even if a few fans might want to disagree.
Nine goals and nine assists in 39 appearances aren't bad for a player who plays out wide.
Grade: 8.5
Marouane Chamakh
Chamakh has had a tepid season and might move away from the Emirates this summer. Van Persie's form has kept him out of the team, as Wenger has reiterated throughout the season, but he isn't without his strengths, as his appearance against Stoke City showed.
He has made 11 appearances for Arsenal season, only four of which have been starts. He has scored just one goal.
Grade: 4.0
Park Chu-Young
Park Chu-Young scored a Thierry Henry-like goal against Bolton Wanderers in the Carling Cup, a goal that seemed to point to things to come.
But after a disappointing outing against Marseille at the Emirates in the Champions League, Park was quickly sidelined.
If he stays at Arsenal, his opportunity may lie in the future.
Grade: 3.5
Andrei Arshavin
Let's just say this wasn't a good season for Arshavin at Arsenal, which is why he took the opportunity to go on loan at Zenit Saint Petersburg, where he has since made seven appearances, starting in five.
At Arsenal, he came off the bench 11 times and started eight. He made one assist and scored three goals.
Grade: 5.5
Robin van Persie
Here are Robin van Persie's Premier League stats:
| | | |
| --- | --- | --- |
| 35 (appearances) | 28 (goals) | 10 (assists) |
He has 34 goals in all competitions for Arsenal this season.
His performance has been such that even Wenger himself has admitted that the team has over-depended on him. It is also no wonder that he won the PFA's Footballer of the Year award. Well deserved, I say.
Although he has had a dip in form lately, he is still giving the team his all. If he scores more goals in the remaining matches, he could win the season's Golden Boot.
Grade: 9.7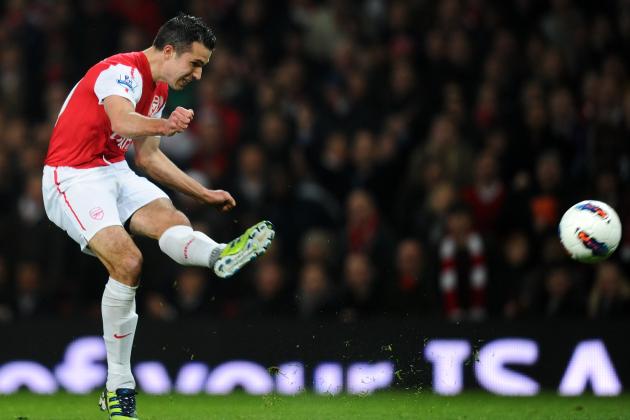 Mike Hewitt/Getty Images

Two matches are yet to be played in the season, so the grading and the stats may yet change.
Readers' opinions will be appreciated.