Nuggets vs. Lakers: Game 2 Highlights, Twitter Reaction and Analysis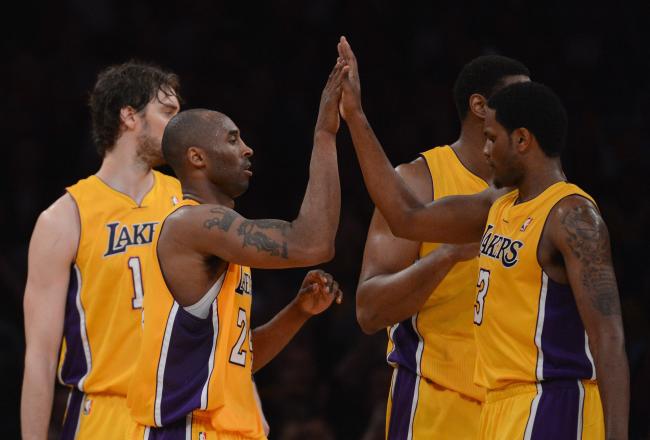 Harry How/Getty Images
For the second straight game, it was the stars that ended up being the difference in Los Angeles.
The Los Angeles Lakers defeated the Denver Nuggets, 104-100, on Tuesday night at the Staples Center, and Kobe Bryant and Andrew Bynum carried them.
Bryant exploded for 38 points, hitting every shot imaginable from impossible angles. Bynum did it all, scoring 27 points, grabbing nine rebounds and blocking two shots while playing suffocating defense.
The Nuggets kept it close with a 22-10 run to end the third quarter, and cut the lead to four in the final few minutes, but it wasn't enough after falling behind by as many as 19 points in the first half. Denver has yet to lead for one second through two games.
Denver was clearly trying to push the tempo, and it worked in bursts, but the Lakers' size ended up being the deciding factor for the second straight game. The biggest problem for the Nuggets, once again, was their inability to knock down open jump shots. When you shoot 4-of-19 from three-point land, you aren't going to get the job done.
Tweets of the Night
Kobe was on fire to start the game, setting the tone early. Nuggets leader Arron Afflalo was the victim of more than one of those shots. It's a bit ironic, as Sports Illustrated's Lee Jenkins reminds us:
Afflalo grew up in LA, idolizing Bryant for spurts just like that: 14 points in first quarter

— Lee Jenkins (@SI_LeeJenkins) May 2, 2012
The Nuggets' strategy was clear from the jump; they wanted to play at a frantic pace, and Sebastian Pruiti of Grantland tells us what the result ended up being:
The Nuggets strategy is really, hey, let's just throw it at the rim a bunch and see what happens...

— SebastianPruiti (@SebastianPruiti) May 2, 2012
Despite possessing plenty of tall guys of their own, the Nuggets were manhandled on the boards once again. CBS 4 Denver sports anchor Vic Lombardi was especially embarrassed by one third-quarter possession:
Now embarrassing. Six offensive rebounds on one possession for the Lakers.

— Vic Lombardi (@VicLombardi) May 2, 2012
When Denver cut the lead to four late in the game, the L.A. crowd wasn't exactly worried the Nuggets were going to come back. They were focused on something else, as ESPN LA's Arash Markazi reports:
I'm just saying it's a 4-point playoff game, any chant not having to do with free 99-cent tacos will suffice.

— Arash Markazi (@ArashMarkazi) May 2, 2012
Must-See Highlights
Kobe still can block a shot a la LeBron when he wants to. With Al Harrington sprinting down the court for what looked to be an easy bucket, Bryant raced back in time to swat the shot off the backboard:
What do you get when two seven-footers run the fast break? One thunderous slam:
Grades for Key Nuggets Players
Ty Lawson: B+
After a complete no-show in Game 1, the Nuggets' budding star rebounded quite nicely in Game 2. He scored 25 points and dished out seven assists. He was much more aggressive in transition and deadly from the elbow, with the slower Laker guards respecting his speed.
Mentally, this was a very important game for Lawson, and it's a positive sign for the Nuggets that their star was able to rebound quickly after a dreadful night on Sunday.
Arron Afflalo: D-
He has been awful this series.
The former UCLA star did not have the sort of homecoming he anticipated. On Tuesday, he shot a putrid 4-of-12 from the floor for 11 points while turning the ball over four times. The Nuggets were outscored by 12 points when he was in the game, as Bryant abused him on defense more often than not.
No wonder George Karl took him out midway through the fourth quarter and never reinserted him into the game.
Grades For Key Lakers Players
Andrew Bynum: A
His 27 points is a playoff career high, and it once again seemed as if Denver's bigs had no answer for him when he caught the ball in the paint. Offensively, he was incredibly efficient (12-of-20), defensively, he had two more blocks to give him 12 in the series, and he also collected nine rebounds.
Kobe Bryant: B+
Kobe was drilling three-point fadeaways with defenders in his face. So just another game for Bean.
Yet it certainly wasn't an all-around gem. He took 29 shots and registered just two assists. He also had a few too many ill-advised shots that ended up as either air balls or a deflections off the backboard.
Deciding Factor: Stars
The Nuggets are a very talented team—no question about it—but they are two losses away from heading home this summer because they don't have a player with the killer instinct of Kobe. They don't have a player with the natural talent of Bynum. They don't even have a player with the intelligence of Pau Gasol.
Until the Nuggets can find a star who creates his own shot consistently in the half-court set, this team is nothing more than a solid regular-season team that falls short in Round 1 of the postseason.
Game MVP: Kobe Bryant
Shocker, huh?
He had 34 points through three quarters and kept his team calm when the Nuggets made a run. He was the man once again, and his intensity was exactly where it needed to be.
What's Next
The Nuggets go back home to the high altitude of Denver to try to salvage this series. Technically, nothing has been decided yet, since the home team has yet to lose a game, but it's pretty clear the Lakers are the superior team in this series.
The series isn't over yet, but the Nuggets have to win the next two games at home.
This article is
What is the duplicate article?
Why is this article offensive?
Where is this article plagiarized from?
Why is this article poorly edited?