How Each Draft Pick Fits in Pittsburgh Steelers' Plan for 2012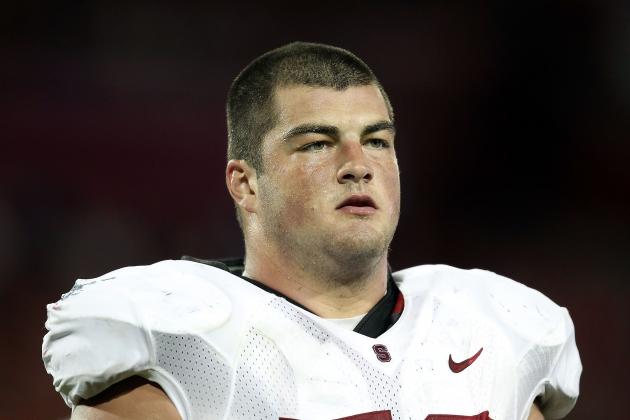 Christian Petersen/Getty Images

The Pittsburgh Steelers can consider their draft mission accomplished. They improved at key positions and were able to get younger and more talented in several areas. There's nothing about their draft class not to like. This may be one of Kevin Colbert's best jobs in recent seasons.
Here's a look at how each of the players Pittsburgh selected fits into the immediate plans for the 2012 season.
Begin Slideshow

»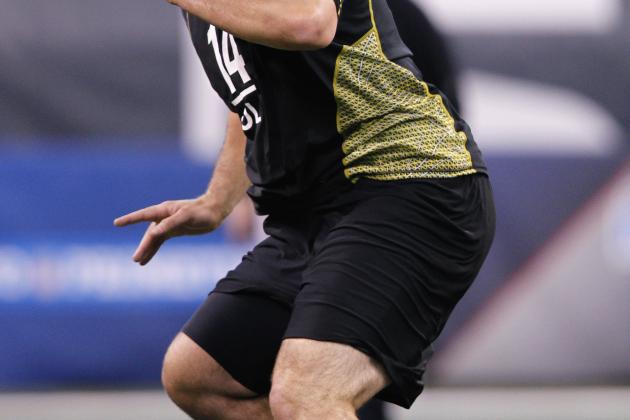 Joe Robbins/Getty Images

I would be surprised if DeCastro doesn't start from day one. He's a hard-working and an intelligent player. He also won't have to adapt too much to the Pittsburgh offense since the guard position at Stanford is very similar in scheme to what he'll find with the Steelers.
The question is whether he'll start on the left or right side. Mike Tomlin has indicated that his experience on the right in college won't limit him in the NFL. I wouldn't be surprised if the team works him in a left guard to give the team the Alan Faneca dimension they've lacked for several seasons.
I think he will be successful on either side, but the left suits the team better because it allows them the familiar pulling guard play that they've run for decades.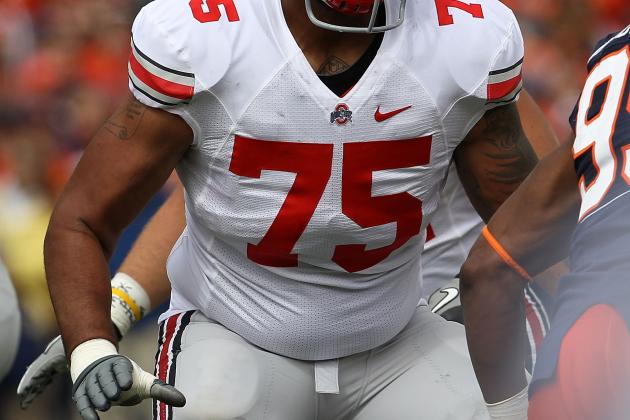 Jonathan Daniel/Getty Images

Certainly Adams has the talent to start in the NFL. There are some mechanical and technique concerns that have to be coached out (mostly his propensity to stand a little too tall to get good, consistent leverage). Those are minor issues.
The path to a starting job isn't as clear, however. I think Adams will be looked at as a potential franchise left tackle. That could eventually precipitate a shuffle along the line with Willie Colon or Marcus Gilbert sliding in to a guard spot, but for now, I think Adams will man the role of swing tackle and be available in the jumbo packages and as the top backup.
It's a good thing to have him, however. Willie Colon has a bad injury history. Adams could take the same path as Gilbert did last year and be on the field almost immediately.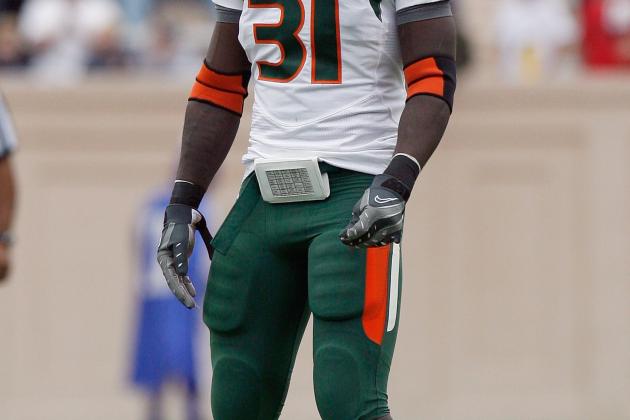 Kevin C. Cox/Getty Images

There's a bit of consternation around this selection because Spence is undersized for the position in a 3-4 defense. I still think he can be successful, but you can't view him, at least right now, as a starter in waiting.
The reason the Steelers likely selected him is that they needed some help with the run defense. Larry Foote is a run-stuffer, but his age is a concern and he's slowed some. James Farrior is gone. The Steelers had issues stopping the run in 2011. Spence can slide in a run-stuffing specialist and make the plays Pittsburgh has been missing.
I think this will be his role in 2012 and going forward. He'll be a situational player that doesn't play on passing downs (although he has the coverage skills to slide in during receiver-heavy sets if needed).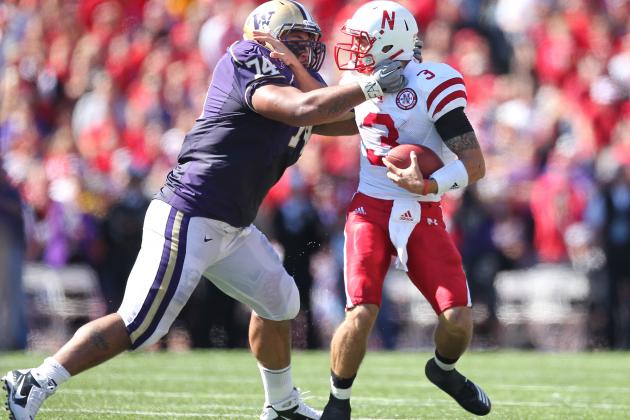 Otto Greule Jr/Getty Images

This situation, at least as far as 2012 is concerned, is going to bear some watching. The Steelers have long shown a caution with slotting defensive rookies into the lineup unless necessary. Dick LeBeau's system is complex and takes time to master.
The problem here is that Ta'amu might need to be on the field quickly. I would say he's already a better player than Steve McLendon. He will make more plays, particularly on quarterbacks in the pocket, than the veteran has the ability to make.
Whether he starts or not is going to depend on Casey Hampton's health. If Hampton can make it to camp recovered and ready off his ACL injury, Ta'amu will sit and learn from a master of the 3-4 nose tackle position. If he isn't ready, Ta'amu will probably battle with McLendon for the right to start in the middle.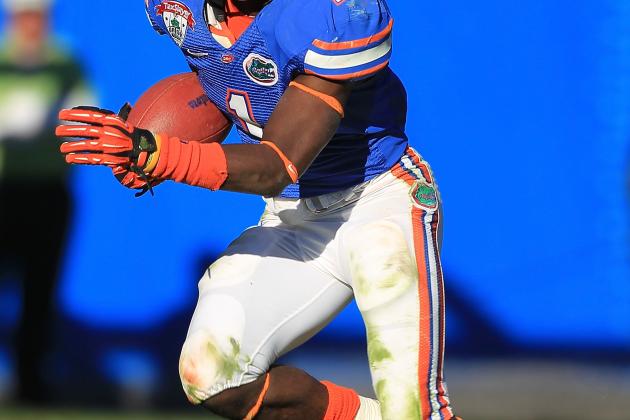 Scott Halleran/Getty Images

There are a variety of ways to use a back like Rainey during the upcoming season. He will get a chance to find his way into the rotation behind Isaac Redman provided that Rashard Mendenhall still will need time to recover from an ACL tear.
His speed makes him a threat to turn the corner, particularly behind this revamped offensive line. He can be a passing target out of the backfield too, with the ability to turn on the jets after the catch.
I think, however, the biggest area of opportunity will be in the return game. With Antonio Brown expected to start opposite Mike Wallace, the Steelers may want someone else to do some of the lifting on returns. Rainey has the speed to bust a big return. That should be his major role this year.
Jamie Sabau/Getty Images

Here's where the water gets a little more murky than before. The seventh round brings no guarantee of a roster spot with the team. In Clemons' case, however, the circumstances lend themselves to his being able to find a way onto the field.
The Steelers have four receivers sure to be on the field when the season begins. Beyond that, however, it's anyone's guess what will happen.
Clemons has as good a chance as any of the plethora of receivers in camp to make the roster. He does have great tools and speed. I think he profiles as someone who could end up being just as good as a healthy Emmanuel Sanders. That might come in handy if Sanders is hurt or Mike Wallace departs next season.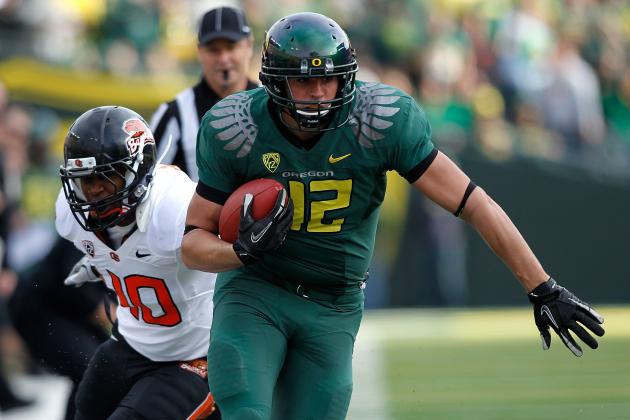 Jonathan Ferrey/Getty Images

I'll be the first to admit I'm not sure about this one. The competition at tight end is going to be intense now that they have five players for what should be three spots. You can guarantee Heath Miller being the starter, but beyond that, it could go any which way.
Leonard Pope signed a free-agent deal, and David Johnson is the fullback/tight end guy. That should put them squarely on the roster, especially Johnson. Weslye Saunders rounds out the veteran group, but he must serve a four-game suspension to open the season.
Paulson could be a special teams contributor, and he could help anchor the jumbo packages as an extra tight end, but first, he is going to have to beat out the guys already on the roster. That might be a tough job.
Sarah Glenn/Getty Images

This one is a bit easier to forecast. The Steelers lost a corner in free agency. Everyone moves up the depth chart by one spot. While the starting job is open for debate, it's going to be between the three guys who've been on the roster already.
Frederick now steps into that special teams/developmental guy role that Curtis Brown seemed to man for almost all of last season before his injury. He may not see the field much and may not dress for every game, but he should get a little time on the field and has a chance to solidify himself for the future.
His roster spot isn't guaranteed, but he looks like the best bet right now to land that last cornerback spot.
The Steelers were on a mission in the draft this year. That mission was to improve and solidify the offensive line. They spent three picks along the line and have put themselves in position to make that area a strength for years to come.
Beachum was the last piece of that puzzle. He has the skills to work his way into the equation, but he will probably end up on the practice squad this season if he doesn't make the final cut. The Steelers now have a lot of players along the line vying for back-up jobs instead of too few.
Beachum could work his way ahead of some of them, but he'll have to have a great camp and preseason to gain notice. Right now, I'd say he's a guy we might want to look for in 2013 or 2014 instead of 2012.