NBA Free Agents 2012: 5 Players Timberwolves Must Vigorously Pursue
May 2, 2012

Harry How/Getty Images
After contending for a playoff spot for much of the season, the Minnesota Timberwolves faltered down the stretch. But given their young nucleus of high-upside players and the fact that it was the first year in Rick Adelman's system, the T-Wolves made some strides.
This offseason will be a big one for the Timberwolves. They have their core players in Kevin Love, Ricky Rubio and Derrick Williams, but now they have to get some effective players to help this young team go from a team full of potential to an upper-echelon squad.
Here are five 2012 NBA free agents that Minnesota and GM David Kahn must pursue to make the 2012-13 season a success.
O.J. Mayo, Shooting Guard
One of Minnesota's biggest needs is shooting guard. The Timberwolves drafted Wesley Johnson with the No. 4 pick in the 2010 draft, and while he's only played two seasons, he's not performing up to expectations.
If the Timberwolves were playing for the future, then they might opt to give Johnson another year to develop. But this is a team on the cusp of contention that doesn't have the luxury of awaiting Johnson's potential.
Mayo is a restricted free agent, so there's no guarantee that he's leaving Memphis. Still, perhaps David Kahn and Co. put an offer on the table the Grizzlies would be unwilling to match.
Mayo would be a good fit with the T-Wolves. He would fit a need position and aid one of Minnesota's weaknesses, three-point shooting. A solid weapon beyond the arc, Mayo sports a career 37.5 three-point percentage.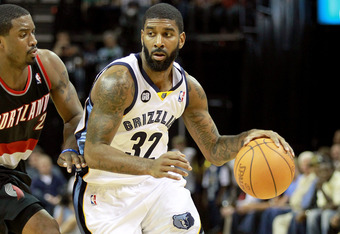 Andy Lyons/Getty Images
JaVale McGee, Center
The Timberwolves were 25th in defensive rating and 21st in field-goal percentage against. So shoring up the defense has to be one of the top priorities. Part of Minnesota's problem is that power forward Kevin Love and center Nikola Pekovic aren't great defenders.
That's where McGee comes in. McGee, like O.J. Mayo, is a restricted free agent. But he would be an excellent addition to Minnesota because his strengths are on the defensive end. McGee's a good shot-blocker and he has enough lateral quickness to stay with most NBA centers.
Courtney Lee, Shooting Guard
Courtney Lee is not a big-name player like O.J. Mayo, but he would fit in with Rick Adelman's squad. He's an established NBA player who would be ready to contribute right away. He's a better shooter than Mayo, posting a 40.4 percent three-point percentage over the last two seasons.
Lee is also an unrestricted free agent, and at 26 years old, he's still in his prime. Given his past experience coming off the bench, Lee wouldn't expect or need to start for the T-Wolves. He would also provide some much needed veteran leadership to a young squad.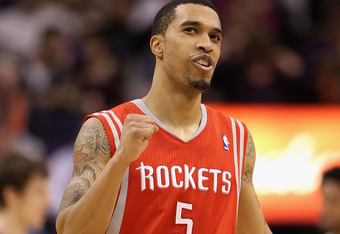 Christian Petersen/Getty Images
Eric Gordon, Shooting Guard/Small Forward
Gordan can play the 2 or the 3. But since Minnesota has Derrick Williams at small forward, Gordon would be a 2 for the T-Wolves. He's currently a restricted free agent and the Hornets would probably like to keep him. With only one year left until he reaches unrestricted status, one option might be to trade for Gordon, assuming he'd be willing to sign an extension.
He would give the Timberwolves a definite upgrade at shooting guard, and he would provide Minnesota a solid No. 2 scoring option behind Kevin Love.
Marcus Camby, Center
Camby is all about defense, and that's what the Timberwolves need most. The 2007 NBA Defensive Player of the Year would also provide a nice veteran presence and could form a nice platoon with Pekovic. As an unrestricted free agent, the Timberwolves could make a strong run at Camby.
But whether Camby wants to sign might be a different story, as the 38-year-old Camby may be looking to sign on with a championship contender well into the tail end of his career.