Chicago Blackhawks: The 15 Best Individual Player Seasons in Franchise History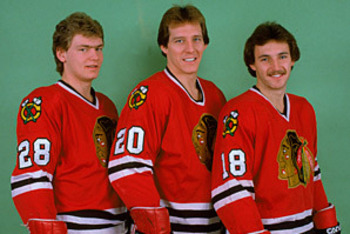 sportsillustrated.cnn.com
While 'Hawks fans are still reeling from another first-round exit, it is time to renew a love affair with players from the past.
Without a doubt, the 'Hawks have had a number of dynamic players come through the organization and with that, there have been some memorable seasons.
This list is dedicated to the players that made the most happen in any given year in Chicago. For this list, you will only see some star players with their finest season featured in order to recognize other notable men who wore the Blackhawks' crest. So do not expect six different slides on Denis Savard, Bobby Hull and Stan Mikita.
Here are the best 15 single-season efforts in Chicago Blackhawks history.
Tony Esposito 1969-70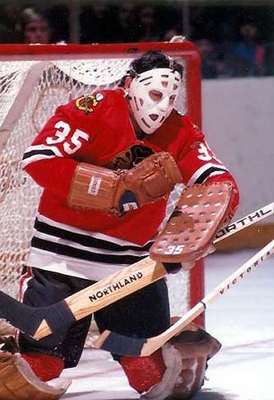 goaliesarchive.com
The 1969-70 season was Tony Esposito's first full season as a Blackhawk, and a memorable one at that.
"Tony-O" recorded 15 shutouts that season, a record that still stands today. He won his first of three Vezina Trophies, as well as the Calder Trophy in a regular-season campaign where he was impenetrable.
Duncan Keith 2009-10
Harry How/Getty Images
Duncan Keith's finest season as a pro was in the 2009-10 stretch.
Keith recorded 69 points and had a plus-21 rating on his way to winning the Norris Trophy. He continued his great play in the postseason with 17 points in 22 games.
'Hawks fans are still hopeful Keith can return to this form sometime very soon.
Pierre Pilote 1964-65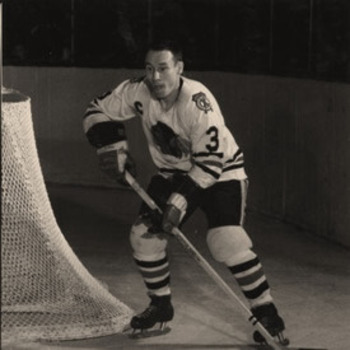 www3.jjc.edu
Pierre Pilote was a staple on the Blackhawks' blue line throughout the 1960s.
In the 1964-65 season, Pilote won his third consecutive Norris Trophy while registering a career-high 14 goals. Until Bobby Orr came to be, it was very rare to see a defenseman have that kind of offensive output.
Pilote's No. 3 now hangs from the rafters in the United Center.
Charlie Gardiner 1933-34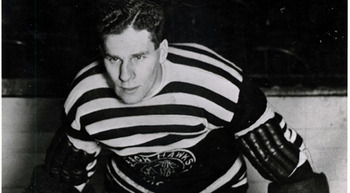 blackhawks.nhl.com
In what would be his last year as a hockey player, Charlie Gardiner won his second Vezina Trophy for his play during the 1933-34 season.
Appearing in 48 games for the 'Hawks, Gardiner posted a 1.63 GAA and led the 'Hawks to their first ever Stanley Cup victory.
Sadly, Gardiner died that summer of a brain hemorrhage. He was elected into the Hockey Hall of Fame in 1945.
Ed Belfour 1990-91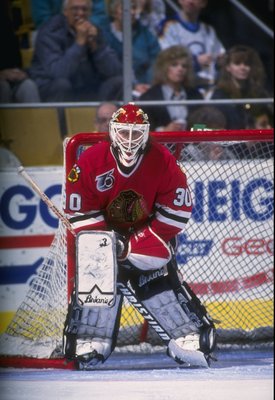 Rick Stewart/Getty Images
"Eddie the Eagle" arrived on the Chicago scene with a bullet in 1990. After performing admirably during the 1990 Stanley Cup playoffs, Ed Belfour left little doubt that he would be in the man in Chicago for some time during the 1990-91 season.
In a year when the 'Hawks would win the Presidents' Trophy, Belfour would take home the Vezina and Calder Trophies while winning 43 games.
Al Secord 1982-83
Mike Powell/Getty Images
Big Al Secord had a career year in 1982-83. Playing left wing alongside Denis Savard and rookie Steve Larmer, Secord reached the 50-goal plateau.
That season with the "party line," Secord pumped in 54 goals, while adding 32 assists for 86 points.
Glenn Hall 1963-64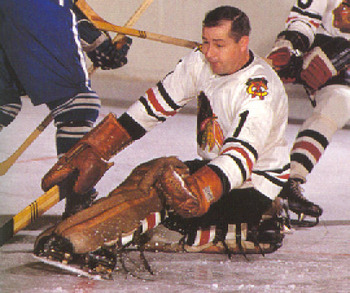 hockeygoalies.org
The legend, Glenn Hall had a number of terrific seasons during his unbreakable record of 502 starts in a row.
He won the Vezina Trophy three times and added a Conn Smythe and the Calder Trophy as well. Oddly enough, one of his best seasons in the NHL was one he received little recognition for.
In the 1963-64 campaign, Hall won a career-high 34 games while posting a 2.30 GAA. That season, the Vezina Trophy was given to the Montreal Canadiens Charlie Hodge with 33 wins and a 2.39 GAA.
While I was not alive at the time, Hall may have been robbed.
Denis Savard 1987-88
Rick Stewart/Getty Images
Hall of Famer Denis Savard had many memorable seasons, but the 1987-88 tilt was arguably his best in the Indian Head sweater.
That season, Savy registered a career-high 131 points, 44 of those points being goals.
Nobody in Chicago will ever dawn the No. 18 sweater again.
Bobby Hull 1968-69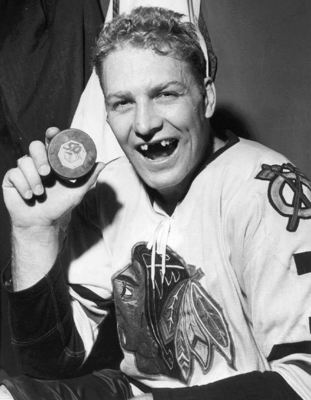 wbez.org
It's not easy to pick the best season for a five-time 50-gaol scorer, but in the 1968-69 season, Bobby Hull was unstoppable.
Hull recorded 58 goals and was one of the first three players in NHL history to record 100 points in a season. Phil Esposito finished with 126 points, Hull with 107 points and Gordie Howe registered 103 points.
Although Hull would not bring home any personal awards that season, statistically, that season was his best, and the only in which he recorded 100 or more points.
Doug Wilson 1981-82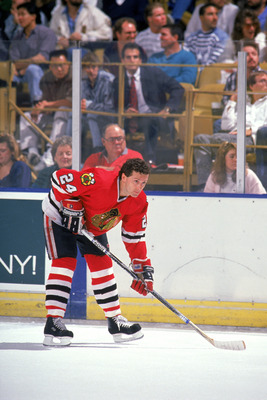 Mike Powell/Getty Images
Doug Wilson played 14 seasons for the Blackhawks. Always a steady defender, Wilson will always be remembered for his booming slap shot.
In the 1981-82 season, Wilson scored 39 goals and put up 85 points on his way to winning his first and only Norris Trophy.
Wilson's 85 points still stands as a single-season scoring record for a 'Hawks defenseman.
Jonathan Toews 2009-10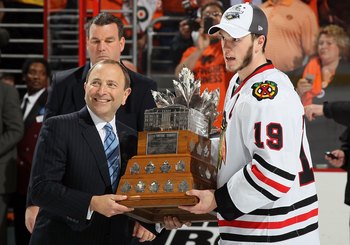 Jim McIsaac/Getty Images
Few people at the age of 22 can enjoy the kind of season Jonathan Toews had in 2009-10.
That season, Toews was selected as the outstanding forward in the February Olympic games while winning a gold medal with Team Canada. He finished third in scoring on the 'Hawks with 68 points. He then followed that up with 29 points in the 2010 Stanley Cup playoffs, a Conn Smythe Trophy for playoff MVP and was the first Blackhawk to hoist the Stanley Cup in 49 years.
A decent year, wouldn't you say?
Stan Mikita 1966-67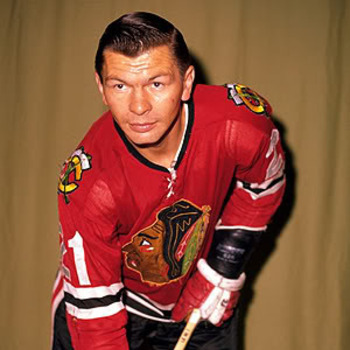 heritagehockey.com
Stan Mikita had a remarkable career. One season that really stands out is what he put together in 1966-67.
Mikita registered 97 points and won the Art Ross, the Hart and Lady Byng Trophies.
Stan the man had numerous terrific seasons in his 21 years with the 'Hawks, but the year he captured the triple crown may have been his best.
Steve Larmer 1990-91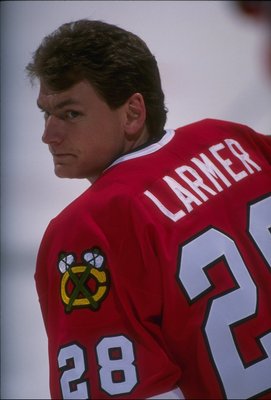 Rick Stewart/Getty Images
Steve Larmer was a sniper and one of the best in 'Hawks history.
In the 1990-91 season, he enjoyed his first and only 100-point campaign of his NHL career. With 44 goals, Larmer finished with 101 points.
With 406 goals and 923 points wearing red and black, it is a wonder why No. 28 is not retired in Chicago.
Chris Chelios 1995-96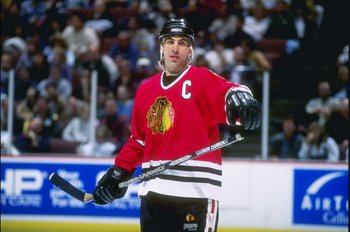 Glenn Cratty/Getty Images
While in Chicago, Chris Chelios won the Norris Trophy twice. The second of the two came in the 1995-96 season.
That season, the Chicago native and captain had 72 points and a plus-25 rating.
Even though Chelios was traded to our sworn enemy in Detroit, his best seasons were in the Windy City.
Jeremy Roenick 1991-92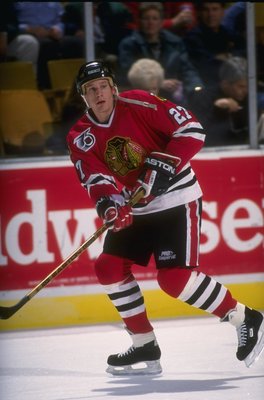 Rick Stewart/Getty Images
Another player whose best seasons were in Chicago, Jeremy Roenick had three 50-goal seasons as a Blackhawk.
In the the 1991-92 season, Roenick had 50 goals and 103 points.
That same season, the 'Hawks went to the Stanley Cup finals and Roenick posted 22 points in 18 games in that run.
Though he had some great seasons later in his career, this was surely one of his finest.
Keep Reading

Chicago Blackhawks: Like this team?