UFC on Fox 3: A Fan's Guide to Fight Night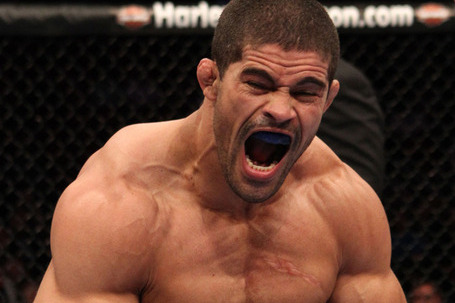 Zuffa/UFC
This Saturday, UFC on Fox 3 goes down in fabulous East Rutherford, New Jersey. If you follow MMA via one or more of the various tubes, you probably already know the matchups, the strengths, the weaknesses and the stakes.
To be sure, fighter news and "thoughtful analysis" and what not have their place. But I wonder: whither the important stuff? When did we lose sight of what really matters, is what I wonder. What about issues like, which fights are going to be boring enough so you can take a pee break during them? Who's getting knocked the fudge out? Who's going home with a new leg for the mantelpiece? Rousimar, I'm looking in your direction. No, Rousimar. I'm very sorry. I didn't mean to make eye contact. No! Stay back! HEEL! NO, NO, I DIDN'T MEAN THAT EITHER! LET IT GO, FOR GOD'S SAKE, LET IT GO!
This list addresses these hard-hitting questions and a great many more by ranking each fight from least exciting to most, and providing all the critical information in a nutshell.
Begin Slideshow

»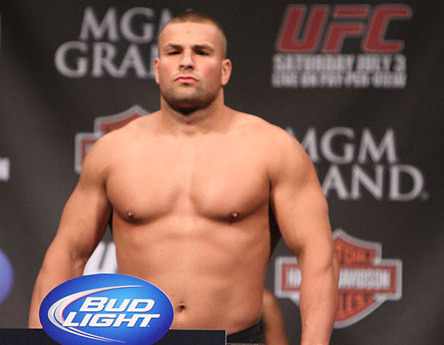 Scott Peterson/MMA Weekly
Middleweight bout
See it on: not on TV
Unless the Fox family of networks finds itself needing filler, fans not in attendance won't see this one.
And I think I want to take this opportunity to thank my lucky stars for that. We've got two decorated grapplers here, but it could be 15 minutes of horizontality, with the winner still not overly well positioned to factor at 185.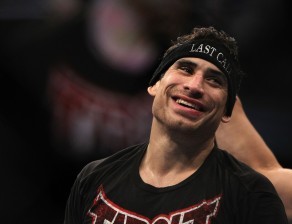 Donald Miralle/Zuffa LLC, via MMA Corner
Lightweight bout
See it on: Fuel TV
Because the New York metro area is his home base, it's easy to assume Cholish (8-1, 1-0 UFC) was hand-picked to please the locals.
Either way, I'd be surprised if he could really threaten Castillo, a Team Alpha Male wrestler who has won three of his last four, though not always in a manner fraught with fireworks.
Even if Cholish can pull an upset, he's a BJJ guy, so it's still a chess match. Or, as I like to call it, sandwich time.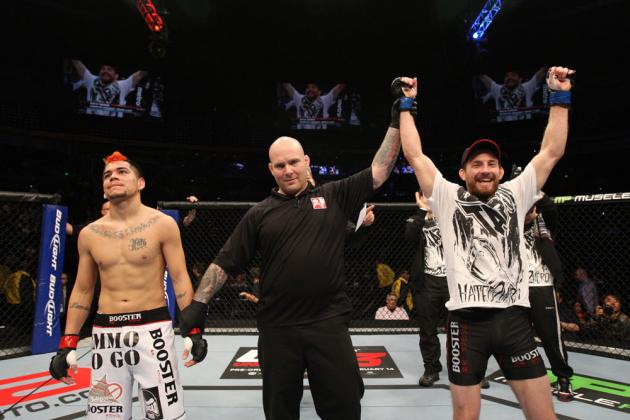 MM-eh.ca
Bantamweight bout
See it on: not on TV

I'm not going to sit here and pretend I'm super knowledgeable about Roland Delorme, who is an injury fill-in against Denis. But I'm not sure it matters. I honestly believe "The Ninja of Love" is gonna roll until he reaches the division's upper crust.
Caveat: if Delorme can stand up to Denis' power and beat him on the ground, all that stuff above is going to look kind of stupid, isn't it?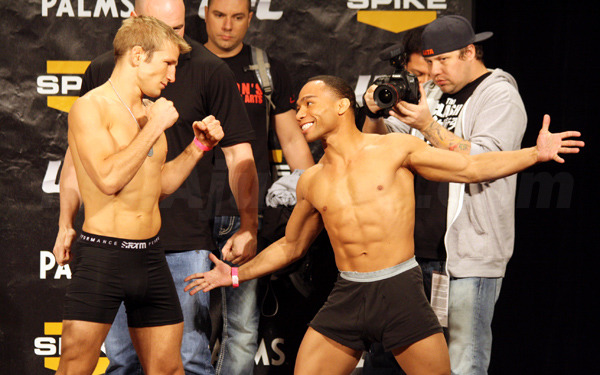 MMA Junkie
Flyweight bout
See it on: Fuel TV
Dodson, winner of The Ultimate Fighter's 14th season, enters the UFC flyweight division. Given that he was lightning quick, thunder strong and freezing fog annoying at 135, I can't wait to see what he does with 10 fewer pounds on his frame.
ESPN
Featherweight bout
See it on: Fuel TV
It must be spring around here. Because these two guys are skating on thin ice. BOOM.
In one corner of the night's first televised fight, we have the aggressive Bermudez, who has lost three straight "official" fights and is 0-1 in the UFC after losing the last featherweight match of TUF 14. In the other corner, we have Garza (pictured); he's 2-1 in the Octagon and probably not in any immediate danger of being cut, but he was also thoroughly handled by Dustin Poirier in his last fight and could stand to return to his postfight bonus-winning ways.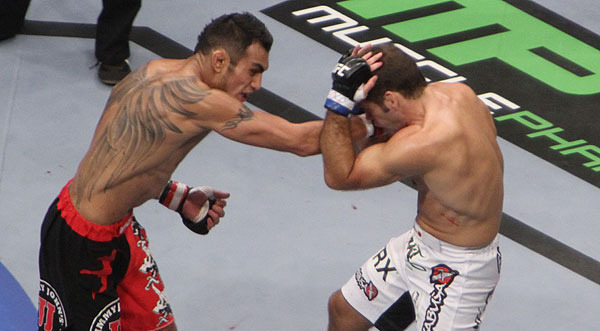 April Pishna/MMA Weekly
Lightweight bout
See it on: Fuel TV
A lot of Tony Ferguson's opponents get hurt. It's just that it usually happens during the fight.
This time, though, it happened before the action, and not once but twice. First Dennis Hallman bowed out with an injury, then replacement Thiago Tavares followed suit.
Johnson will try to use his wrestling and athleticism to take the edge off of Ferguson's head-hunting battle axe. Here's hoping, for the sake of sheer entertainment value, that Ferguson wins the style war.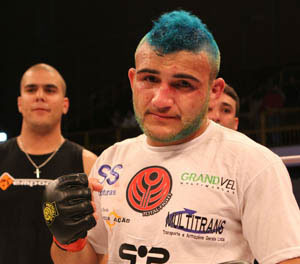 Super Lutas
Flyweight bout
Watch it on: Fuel TV
It's a matchup designed to flesh out the flyweight division. Might I add that it also takes place between two gentlemen of highly intrepid hairstyle decision-making.
Lineker (pictured) is a well-regarded but not widely known prospect making his UFC debut. Gaudinot, who is probably best remembered as that green-haired guy from The Ultimate Fighter 14, lost to Johnny Bedford in his own UFC debut and seems to have gotten this fight by virtue of being from New Jersey.
Not a massive amount of intrigue on paper. But if you look a little closer, you'll realize both these men are young, both are hungry, both are champions from other promotions, both are well-rounded and both have a nose for the finish (14 stoppages between them in 24 combined wins).
All the makings of one of those classically frenetic flyweight brawls.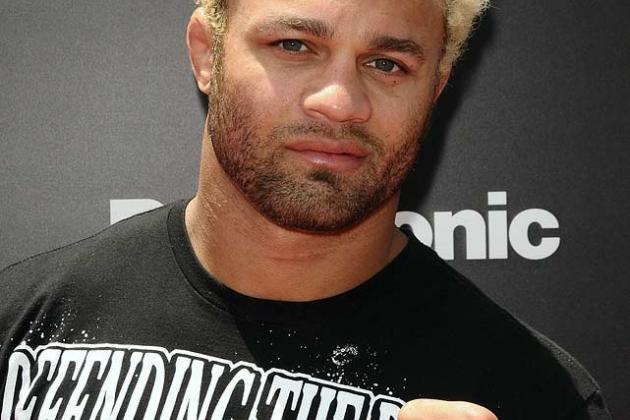 MMA Weekly
Welterweight bout
See it on: Fox
This one is hard to slot. If you think big-handed Hendricks has the edge, you may be compelled to rank the fight at or close to the top, since that would probably mean a more exciting stand-up fight ensued and that a more likable and, in the aggregate, promising fighter prevailed.
Its appearance in the fifth position, then, should tell you how I think it's going to go.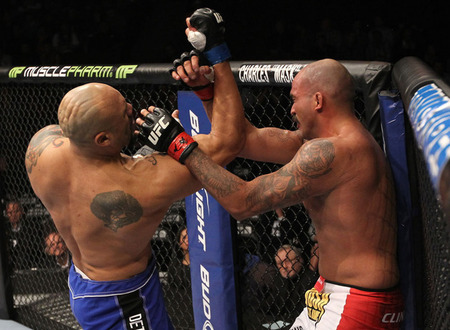 MMA Mania
Heavyweight bout
See it on: Fox
Whoa-ho-ho-hooooo.
That's the sound I make when two heavyweight strikers touch gloves in the middle of the cage. And it's the sound I'll be making when decorated kickboxer and massive fan fave Barry squares off with lesser-known but highly dangerous knockout machine Johnson.
Johnson has been mowing down chumps for quite some time, earning 15 of 16 wins by striking-related stoppage. We'll see if he's the real deal or just another can crusher when he picks on someone his own size in Barry.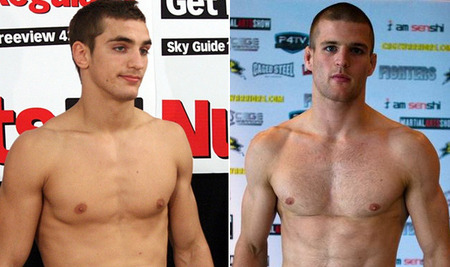 MMA Mania
Welterweight bout
See it on: Fuel TV

Now we're really talking. Actually, if it was up to me, this one would be on Fox. Also, rain would be made of beer, and Monday would be renamed Roller Skating Time.
Ah, but seriously, folks. Krauss, 25, is 10-0 and Hathaway, 24, is 15-1. Both have a full complement of weapons in the cage; true mixed martial artists in the new mold. Either man is capable of a stiff knockout punch or a slick submission move.
Yep, looks like some fertile ground for phenom-farming. Watch this one with both eyes.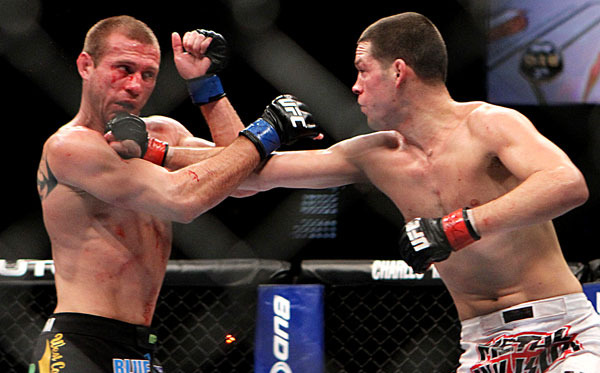 Tracy Lee for Yahoo! Sports
Lightweight bout
See it on: Fox

The main event of the evening is the main event of the evening for a reason.
Diaz might be the most upward-trending 155-pounder in the promotion, Miller its most respected veteran.
The irascible but oddly affable Diaz looks to box, but won't hesitate to employ his Gracie black belt if need be. The mild-mannered but fiercely competitive Miller looks to grapple, but won't hesitate to throw hands if circumstances warrant.
Diaz is coming off a decision win and Fight of the Night performance over Donald Cerrone. Miller is coming off his Submission of the Night win over Melvin "How Do I Get Out of This" Guillard.
Plus, the winner probably gets a title shot, if they can ever untie that Edgar/Henderson knot.
Bottom line: It doesn't matter how it unfolds. There's no way this won't be a spectacular fight.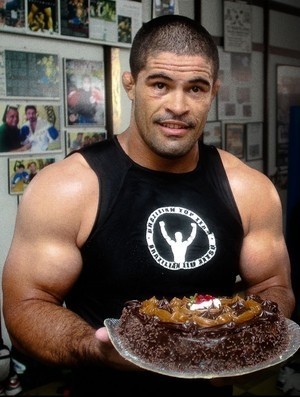 Cage Potato
Middleweight bout
See it on: Fox
I don't care what anyone says. Rousimar Palhares, aka Paul Harris, aka Toquinho, aka The Tree Stump, aka The New Chuck Norris, aka The Birthday Boy, is the most electrifying finisher in MMA today. That's especially impressive when you're talking about a submissions guy.
Belcher is great and all, but there's nothing you can do in practice to prepare for an anthropomorphic tree stump that can move around by itself and tear off your limbs.
All to say, Submission of the Night right here. And the Toquinho's Rein of Terror and Cake continues unabated. Where you at, Anderson?