Why the NCAA Is Wrong for Denying Tim Abromaitis a Sixth Year of Eligibility
May 1, 2012

Jamie Squire/Getty Images
As reported by Matt Fortune of ESPN, Notre Dame's Tim Abromaitis has been denied a sixth year of eligibility.
Abromaitis played his freshman season in 2007-08 for Notre Dame, but he wasn't physically ready to play college basketball yet. He was redshirted following his freshman season to develop his basketball skills.
He played all of his sophomore and junior seasons for Notre Dame, and averaged over 15 points per game during both. Abromaitis was a three-point threat and a key part of Notre Dame's offense.
Following a tremendous junior campaign in which he and Ben Hansbrough led the Irish to a No. 2 seed in the NCAA tournament, Abromaitis looked forward to becoming the featured player for coach Mike Brey's squad after Hansbrough's graduation.
After playing in just two games for Notre Dame in the 2011-12 season, Abromaitis tore his ACL, sidelining him for the rest of the season. It was a crushing injury for a player who would have been the leader of an eventual NCAA tournament team.
Still having only completed three years of playing basketball, Abromaitis was seeking one more year of eligibility. The possibility of this happening seemed realistic because Abromaitis still had not completed a fourth season of basketball, even though he had been at Notre Dame for six years.
His injury was similar to that of Purdue's Robbie Hummel, who was granted a sixth year of eligibility following his ACL tear. So, it would seem fair that Abromaitis receive equal treatment.
Abromaitis had his appeal heard by the NCAA today, hoping that he would be allowed to suit up for one last season under Coach Mike Brey.
The NCAA denied his appeal.
Abromaitis already has received two degrees at the University of Notre Dame, both a bachelor's and an MBA. He is an academic All-American and a true role model for the Notre Dame student body.
It is absolutely inexplicable and disheartening that the NCAA chose to punish this young man by ending his college career simply because he had to undergo the awful process of tearing his ACL.
It's completely sickening for the NCAA to deny his plea, and Abromaitis should be more than disappointed by the NCAA's action.
Abromaitis is not a detriment to the NCAA's reputation. He didn't redshirt in 2008-09 because he was problematic off the court or needed discipline. He had an unimpressive freshman season and just needed to polish his game.
Abromaitis more than lives up to the NCAA's academic standards. In 2011, he was placed on the NCAA Academic All-American team and recorded a 3.72 GPA in finance. He should be rewarded for such commendable achievements, not punished.
In no way is Abromaitis a bad human being, nor has he ever been, and he doesn't deserve this unjust treatment from the NCAA.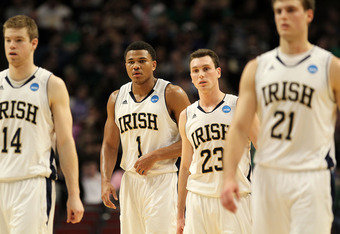 Jamie Squire/Getty Images
Fellow University of Notre Dame basketball player Scott Martin is also seeking one more year of eligibility. Martin transferred from Purdue after his freshman season, and blew out his knee before last season, meaning he has missed two years of basketball over the past six years.
Martin probably has an even better case to be granted his last year of eligibility, due to the fact that he was a transfer. The NCAA didn't necessarily like that Abromaitis sat out after his freshman season, because he played in the team's exhibition games before that decision was made to sit out.
If Martin is denied his plea for a sixth year of eligibility, the NCAA has some serious explaining to do.
The NCAA, once again, is just proving themselves to be a bunch of bullies, who don't have their student's best interests in mind.
And it's absolutely sickening.