WWE Raw Results and Reflections: Brands No Longer Matter, Bryan vs. Punk at OTL
May 1, 2012

Jim Rogash/Getty Images
After an amazing match between CM Punk and Chris Jericho at Extreme Rules, I tuned into Raw last night eager to find out who CM Punk would be working a program with for the next few weeks until their match at Over The Limit.
After brilliant back-to-back PPV bouts, will we get to see round three of Punk vs. Jericho? Now that he has injured John Cena, would Brock Lesnar set his sights on Punk and the WWE Championship? Dolph Ziggler is on the Raw roster; will he finally get another shot at the main event? They've already given him a victory over Cena, so maybe Lord Tensai will get an early push to headline a PPV. WWE creative has a lot to choose from on the Raw roster.
After the opening segment, in which WWE reminded us that Lesnar is still a total badass, regardless of whether or not he actually wins matches (I assume Brock "breaking" the COO's arm will set up a Lesnar/Triple H match for SummerSlam), Eve Torres reminds us of her new administrative role when she announces that the number one contender for Punk's title will be decided by a Beat The Clock Challenge (BTCC).
This is nothing new, although not a bad way of getting 10 superstars involved. Personally, I would rather see four preliminary matches, with all four winners facing off in a Fatal Four-Way to end the evening. But then only eight superstars would be involved, and I can't think of any superstars that were completely irrelevant to this challenge. Especially not Jerry Lawler or the Great Khali. But I digress.
To begin the Challenge, we get a rematch from the Extreme Rules Pre-Show, pitting Raw superstars The Miz and Santino Marella against each other. For a match lasting less than five minutes, this match was just fine, and I'm glad to see The Miz didn't have to job to Santino two nights in a row.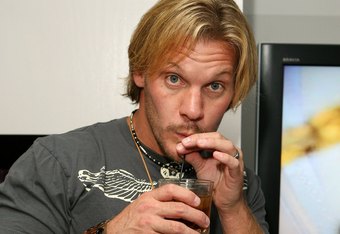 Chad Buchanan/Getty Images
After proving that they really don't care about the Divas division by giving us a Triple Threat Title Match that lasted less than 10 seconds (Layla retains and the Bellas are inexplicably fired), we are treated to the second BTCC match, Chris Jericho vs. The Big Show.
Wait a minute, I could have sworn that The Big Show was on the SmackDown! roster. Oh well, my memory isn't what it used to be. Unique count-out ending, with Jericho getting the victory but not in time to replace The Miz as the BTCC leader. Not a big surprise: Jericho recently announced US tour dates for Fozzy, so I don't imagine he'll be around WWE much longer. Cody Rhodes did not make an appearance, so apparently his program with The Big Show is complete. I wonder if/when they'll honor Show's rematch clause.
The Funkasauras made his weekly appearance, bringing three small kids into the ring to dance with him after he squashed JTG. We were then treated to BTCC match number three, Randy Orton vs. Jack Swagger. Randy Orton is definitely on the SmackDown! roster.
Oh well, I guess the WWE just hopes we don't realize. I mean, as long as he doesn't win, it won't really make a difference... But, to my dismay, Orton does win, does so two seconds faster than The Miz, and is potentially the number one contender for Raw's number one championship. WWE does not offer any explanation.
As if we needed a reminder that WWE creative can't come up with anything solid for Kofi Kingston, R-Truth, the WWE Tag Team Champions, or the tag division as a whole, they decided to put all of these eggs in one basket, resulting in the cracking of multiple eggs that are needed for their tag team division omelets.  I'm not convinced that a Kofi/R-Truth title run is really a breakfast of champions.
Perhaps something exciting will happen with the addition of AW to the mix. Maybe he'll be the spicy peppers this bland omelet needs, or at least add some spice to Epico and Primo, probably the team who most closely resembles the glory days of "tag team specialists," like the Rockers and the Orient Express.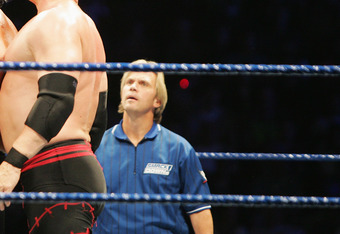 Gaye Gerard/Getty Images
The final two matches of the night were the last two BTCC matches. In what rivaled the Diva's Championship for worst match of the night, Kane and (SmackDown! superstar) The Great Khali fought the longest four minute match of all time, resulting in a no contest. I still don't understand why they treat The Great Khali like he's a legitimate main event caliber superstar.
Daniel Bryan, a SmackDown! superstar that just competed for the World Heavyweight Championship the evening before, was introduced as the first competitor in the final BTCC match. We haven't seen Lord Tensai or Dolph Ziggler yet. His opponent must be one of these guys, giving one of these aspiring competitors a chance to represent Raw in the main event of the next PPV.
So who did we get? Jerry Lawler! This would have made sense if they had regular confrontations, like Bryan used to have with Michael Cole. Bryan makes short work of The King, making Bryan the number one contender for Raw's WWE Championship. Wouldn't it be great if Orton snapped next Monday and RKO'd Lawler for losing so quickly (ultimately letting Bryan take Orton's spot as the number one contender) and then Lawler was "injured" and no longer an announcer? One can always dream.
So I guess this means that branding is now 100 percent irrelevant, right? We simply have two shows that (kind of) have their own titles and used to have different general managers. Every episode of Raw is a "supershow," meaning SmackDown! superstars can compete on Raw pretty much whenever they want. I guess it also means they can shoot for the World Heavyweight Championship on Fridays and the WWE Championship on Mondays. So we can just admit that it's all over, right? I mean, per usual, WWE gives no explanation to the fans.
Like the anonymous Raw general manager and the clause forcing champions to defend their titles at least once every thirty days, WWE chooses to ignore the issue until the fans no longer care or remember. Thanks, WWE, for insulting our intelligence once again. But I guess if the fans weren't so complacent, the WWE couldn't really get away with these things, so maybe I can't be too upset about it. Maybe.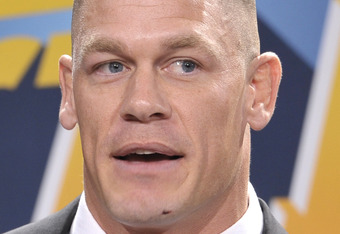 Michael N. Todaro/Getty Images
Cena comes out for the final segment of the show to find out from John Laurinaitis who he will be facing at Over The Limit. After fooling everyone into believing that Cena would be facing Lord Tensai, the proponent of "People Power" clues everyone into the truth: Cena vs. Laurinaitis at the PPV. Laurinaitis, Tensai, and Sakamoto attack Cena, and the show is over.
So, boys and girls, what five lessons have we learned from this week's episode of Raw?
1) Which brand you work for in WWE has essentially no relevance anymore.
2) The WWE Diva's Title and WWE Tag Titles have no relevance at the moment.
3) Lesnar will eventually have a program with Triple H.
4) The Funkasauras and his saucy, disco dance partners are good role models for elementary children.
5) Lord Tensai has some dirt on somebody important, as he remains tied to the Cena/Laurinaitis program for no obvious reason.
Not a bad episode overall, as the WWE is finally shaking up everyone's storylines, finally straying from those that were being built for WrestleMania. The matches were mostly weak, but that's what you get when the focus of the matches are to end as quickly as possible. The WWE has less than three weeks to prepare for Over The Limit. It will be interesting to see where they go from here.