Matt Kemp: Where Does LA Dodger's Start Rank Among Best Starts in MLB History?
May 2, 2012

On a night that saw Bryce Harper and Stephen Strasburg run onto the same major league field for the first time, it was Matt Kemp that once again put his stamp on the moniker of  "best player in the game."
Strasburg was his normal dominant self over the course of seven innings, giving up a lone run while striking out nine Dodgers and walking none.
Harper, who earlier doubled during what was his MLB debut, hit a go-ahead sacrifice fly in the top of the ninth inning to put the Washington Nationals up 3-2.
After adding another run to make it 4-2, the Strasburg/Harper hype machine was warming up in the visitors' locker room until the Dodgers opened the ninth inning with three consecutive hits, eventually tying the game when a wild pitch plated Dee Gordon.
Leading off the bottom of the 10th inning, Kemp promptly deposited the game-winning home run 420 feet over the center-field wall.
As he rounded the bases to the sound of Dodger Stadium chanting "MVP...MVP...MVP," Kemp threw his helmet towards the sky in celebration before being mobbed at home plate by his teammates.
That home run not only sealed the fate of the Nationals on Saturday night, but it was also the continuation of Kemp staking claim to what is arguably one of the best starts to a season in MLB history.
Kemp is only one of three players to have ever hit .400 with 10-plus HR and 25-plus RBI in the month of April.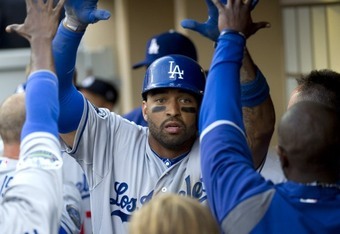 1970 Tony Perez (CIN): .455/10 HR/26 RBI
1997 Larry Walker (COL): .456/11 HR/29 RBI
2012 Matt Kemp (LAD): .417/12 HR/25 RBI
To begin this discussion, let's work solely with those three historic April performances.
Extending Walker's 1997 numbers further, he also produced more extra-base hits (18) and runs (29) than either Kemp or Perez. Based on the numbers, it would appear Walker had the best start to the season of this group.
Attempting to be some kind of voice of reason, we are eliminating Walker from the discussion based on the fact he played 11 of his first 23 games in hitter friendly Coors Field, also pre-humidor.
Left with a Perez vs. Kemp debate and including the runs and extra-base hit totals to the mix, Kemp clearly gets the edge, as his 16 extra-base hits and 24 runs scored are both more than the total Perez (12 XBH, 21 runs) accumulated in 1970.
Others could argue Perez's higher on-base plus slugging (OPS) of 1.428 compared to Kemp's 1.383 is more impressive than Kemp's edge in the counting numbers.
The "greatest month of April" discussion begins and ends with the 2004 version of Barry Bonds.
He amassed what amounts to historic numbers to begin a season, hitting .472 with an OPS of 1.828.
Even though Bonds' counting numbers of 10 home runs, 15 extra-base hits, 22 RBI and 21 runs are all slightly less than Kemp's 2012 totals, it has to be taken in consideration that Bonds put up his totals while being intentionally walked an incredible 18 times.
Unfortunately, if Walker playing his home games in Coors Field is cause for elimination from this discussion, so has to be Bonds' admittance of having taken steroids, albeit "unintentionally."
All that circles us back around to the Perez vs. Kemp debate.
Personally speaking, my vote goes to Kemp. Maybe that's because I was unable to watch Perez play on a daily basis, or maybe it's because I perceive the pre-humidor days of Coors Field and the Bonds steroid scandal hold too much negative weight.
Regardless of which April each of us thinks is the best—including the performances of Walker and Bonds—what we as baseball fans have witnessed over the past month has to be considered among the greatest starts to a season in major league history.
Jim Pratt is a Featured Columnist for Bleacher Report, MLB contributor for MLBDepthCharts and BravesWire. Follow Jim on Twitter, @2OutSacBunt