Amar'e Stoudemire and Knicks Need Jeremy Lin to Play Willis Reed Role
May 1, 2012

Drew Hallowell/Getty Images
In February, when Amar'e Stoudemire and his family were in the throes of grief over the tragic death of Amare's brother Hazell, there was one thing that made them smile: the sudden and stunning rise of Jeremy Lin. Amar'e and the Knicks need a resurrection of "Linsanity" and they need it now.
After a second straight defeat to the Heat, Amar'e let out a season of frustration in a mindless punch through the glass encasing of a fire extinguisher. His season, along with Knick hopes, may have crashed in the process.
Perhaps Amare's heart has been in a metaphorical sling all season, but shots of Amar'e trying to slip surreptitiously out of American Airlines Arena with his bandaged, lacerated hand cradled in a sling make his difficult plight this year that much more palpable.
Stoudemire has struggled with an uncooperative body all season. Once the lockout ended, he learned quickly that he did not have the same lift that had made him one of the most explosive power forwards in the game, so he shed excess muscle weight and started to show signs of resurgent springs.
He was grounded again, though, as a back disk bulged; his frustrations subsequently swelled.
A $100 million contract buys a lot of things, but control over our finite, precarious bodies is not one of them. Stoudemire knows that from on-court frustrations and off-court heartache.
Jeremy Lin is not a panacea for any of this, of course. The Knicks are outmatched against the Heat at more than just the point guard position and the re-entry of a still-mending, out-of-game-shape, de facto rookie, with zero playoff experience is not likely to strike fear into the hearts of the Heat.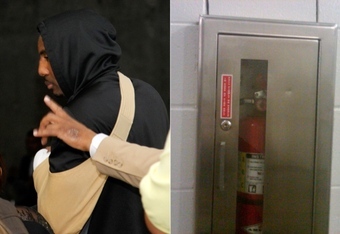 He could, though, lift the spirits of an embarrassed Amar'e (who may have to sit out the rest of the series in a suit), a weary Knick squad and an exasperated fan base. And history says that Lin might not have to do much on the court to create a sea change of momentum.
In the seventh game of the 1970 NBA championship between the Knicks and the Lakers, Knicks fans collectively held their breath wondering whether Knick star Willis Reed, who had been sidelined in Game 6 with a severe thigh injury, would play in the final game of the series.
When Reed hobbled out on the floor for warmups, the MSG faithful erupted with applause. Reed hit two early jumpers but didn't score again for the rest of the game. He didn't need to.
Reed's heroic appearance created an emotional tide that crushed the Lakers in that final game.
With the Knicks in the doldrums and the series slipping away in a hurry, New York needs a game-changer, an x-factor, a seismic momentum shift.
Jeremy Lin could do it. Not necessarily with a stellar game. It might just take one glimpse of that first meteoric rise—when Lin was throwing his body to the hoop, flipping side-spin finishes high off the glass—for Knick fans to get a shot of hope and Knick players to face adversity with yet another string of triumphant team efforts.
There are significant rational reasons why Lin should not test his knee for even one minute of game time in this series. I agree that it is probably too risky for Lin's career, that the likelihood of the Knicks turning it around even with his presence in the lineup is slim at best, and that Goliath usually slays David in real life no matter how huge the heart of the plucky underdog.
But just imagine for a second what it would look like if Lin went in for a stint in a close fourth-quarter battle, and knocked down a three or drove to the hoop for an and-one finish.
If that thought puts a smile on your face, consider how it could make the rest of the Knicks feel, including Amar'e Stoudemire.