5 Reasons to Be Excited for Chris Kreider's 2012-13 Season in New York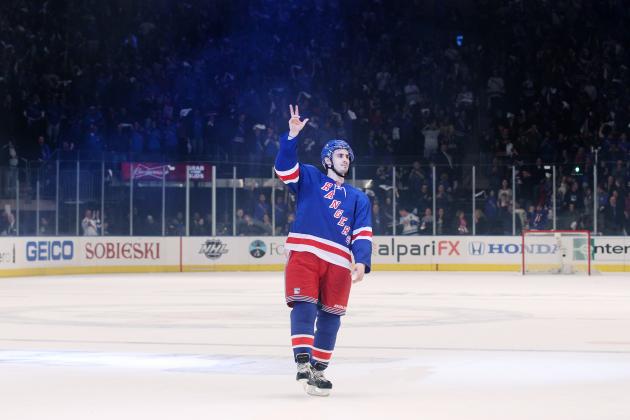 Bruce Bennett/Getty Images

New York Rangers rookie Chris Kreider is no stranger to winning. Perhaps that is why his baptism by fire from college hockey straight into the NHL postseason has been so successful.
In his three years at Boston College he won two NCAA championships, as well as playing on the 2010 gold medal-winning United States World Junior Team (among other stunning accomplishments).
Kreider was signed by the Rangers just days after his latest championship win to a three-year, entry-level deal.
And because he was on the team's reserve at the trade deadline back in February, he was eligible for the playoffs.
With Carl Hagelin's three-game suspension in Round 1, Kreider got his big break to shine. And although shaky to begin with, he is definitely making a name for himself in New York after only playing seven games.
Head coach John Tortorella took a chance and put him on the top line alongside Marian Gaborik and Brad Richards in Game 3 of the Eastern Conference quarterfinals against the Ottawa Senators and he has blossomed ever since. Each game he has been gaining more and more confidence, earning his place in the lineup with two huge goals and an assist in only seven games.
He seems to be catching on quite quickly to Tortorella's style, and the coach should be and is quite pleased with his performance and contributions so far. According to Tortorella (via an ESPNNewYork.com article), "He has no fear. That's what I like about him. The biggest thing is his mindset. He's not here to test the waters. He's here to make a difference."
And this is exactly what the Rangers needed with Hagelin and Brian Boyle out of the lineup. Now that they are both back, Kreider is still playing strong, which will only further assist his teammates.
If he is playing this well this early on, one can only imagine how he will develop and shine once he has the proper time and practice to do so. This is only the exciting beginning of what will hopefully be a long and successful career with New York.
Let's take a look at what we can expect from this rising star in the 2012-2013 season.
Begin Slideshow

»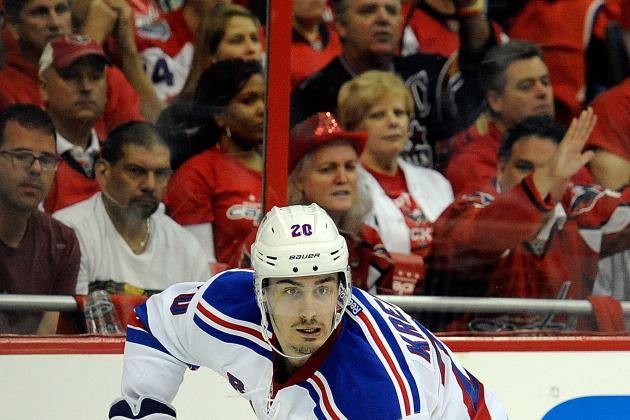 Patrick McDermott/Getty Images

Like his fellow Rangers rookie, Carl Hagelin, Kreider's speed has been gaining notice in the league. Couple that with his 6' 3" and 230-pound physique and you have a deadly combination.
Rangers head coach John Tortorella is reluctant to interfere with Kreider's natural ability at this point in postseason. There are obviously things that he needs to work on, but Tortorella—for right now—is focusing on what Kreider has inherent in him. Via NBC Sports, he said, "We just want his instincts and speed, and then just go out there and play. As I said the other night, forget about what he's doing on the ice, the mental part of the game as far as him trying to make a difference every shift it's really good stuff for a young kid."
Also, a RangersTribune.com article referenced Kreider's speed as well, stating:
Kreider's biggest weapon is obviously his speed, and from his first game to his most recent ones, he's gradually learned when to use that speed and when to use it well. He's been explosive in the neutral zone when the puck is coming his way or even when it is on his stick, he hunts down pucks in the offensive zone with ease and he clearly has the ability to blow past opponents to create scoring chances just as we saw on his goal on Saturday.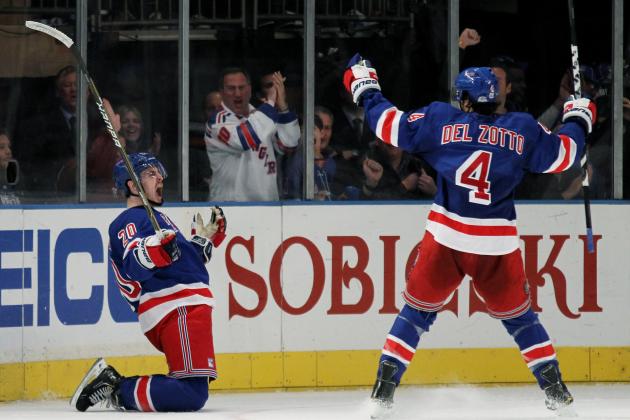 Bruce Bennett/Getty Images

Truth be told, there are some veteran players struggling in the postseason, and then this kid comes in and after two games in his entire NHL career, he makes things look easy, as if he has been playing in the league awhile.
After Game 1 of the Eastern Conference semifinals Saturday, Kreider himself had this to say (via New York Times): "This was only my sixth game, but I feel like I've been around a lot longer. I guess it feels that way because of all the help I've had."
Help or not, he is playing like he has been around for awhile and seemed to very quickly and seamlessly adapt to his teammates, continuing to earn his place on either of the top two Rangers offensive lines.
What is so amazing about this is that if he is playing this well—barely knowing the Rangers system—then one can't even imagine what he will be playing like once he has training camp and a full season under his belt.
If I were Coach Tortorella and the Rangers organization, I would be drooling right now at all the possibilities for this kid going forward.
And Kreider is only one of many young New York Rangers that are only in the beginnings of their career. With things looking this good at such an early start, it appear the Rangers franchise will be a strong force for many years to come.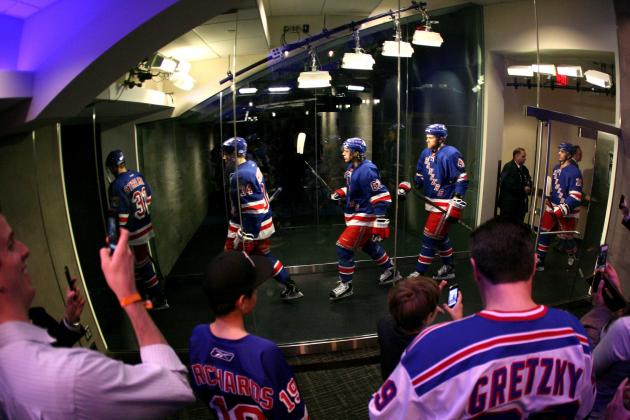 Bruce Bennett/Getty Images

So far so good, but nothing seems to really faze Kreider—not even being thrust into the most important part of the season.
How many times over the years have we seen players come to New York and get caught up in the craziness of it all?
This kid has a great head on his shoulders and, despite all the media attention, is handling himself like a pro. There is no reason to believe he will not remain humble and continue to work hard because he understands what it takes to get to this point and isn't taking anything for granted.
He has first-hand proof of what happens to a player when he gets too big for his britches by watching Washington Capitals captain and superstar Alexander Ovechkin struggle this year.
Even during the current series, Capitals coach Dale Hunter made the bold move to say that he will not be playing Ovi as much, and we all know this is because (superstar or not) you still need to prove yourself worthy to be in the lineup. And imagine if Ovechkin played in New York. What a disaster that would be for him, considering he can't even seem to handle Washington's media and hype.
Kreider is taking it all in stride and keeping his game simple.
He was told to just go out and play hockey and that is exactly what he is doing and doing it well.
"...be has not been overwhelmed between the singing of the national anthem and the sound of the final horn...Kreider's demeanor in the locker room is the same calm he exhibits on the ice," Christopher Botta of the New York Times wrote.
This is huge, because all of this could have gone to his head, but he is grounded as can be.
If he is able to stay calm and keep his cool under this most intense pressure of playoff hockey, just imagine what he can do during the regular season.
Kreider has the natural ability to see a play developing and seems to inherently know where and when to position himself, which is something you cannot be taught.
His hockey smarts can be displayed in a number of ways so far.
One example was in the second period of Game 7 against the Ottawa Senators when he made a diving play along the blue line to keep the puck in the Rangers possession.
Or, in Game 1 of the current series against the Capitals, when he scored the go-ahead goal for the Rangers and then went on to set up Brad Richards' goal.
Incidentally, both goals he has scored have been game-winners.
The fact is, he is scary good at reading a play, and now that is gaining confidence with every game played, he is playing better and better, and the entire league is taking notice.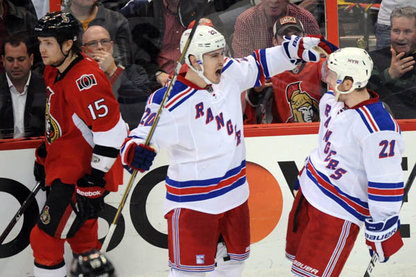 Last but not least for reasons why we should all be excited about Kreider's 2012-2013 season is that he is learning from the absolute best in the league, both in coaching staff and teammates.
Having a captain like Ryan Callahan to be advised by is crucial to any player's development. Callahan is a player that any team would love to have because he so willingly gives 150 percent every single night. And it shows that if he can, everyone should be able to. He makes great plays, hits hard, blocks shots and scores. Plus, he is extremely controlled and doesn't panic in the worst of situations.
Having Callahan as a role model is something that should not be overlooked. Nor should the fact that Kreider also has two-time Stanley Cup winner Ruslan Fedotenko, old Team USA teammate Derek Stepan and veteran and Stanley Cup champion Brad Richards.
And, of course, having a coach like John Tortorella (who also has experience winning a Stanley Cup with the Tampa Bay Lightning) behind you and teaching you the ropes will all contribute to the rise of this budding star on Broadway.