Amar'e Stoudemire Slip-Up Costs Team, No One Feels Worse Than Him
May 1, 2012

Ezra Shaw/Getty Images
You've likely heard about Amar'e Stoudemire and the fire extinguisher by now. 
If you haven't, the short version: After the Knicks' 104-94 Game 2 loss to the Heat, paramedics were rushed to New York's locker room to tend to Stoudemire, who sustained a laceration after punching the glass encasing a fire extinguisher. 
Yes, this sounds crazy. 
And things got a little crazier, with reporters tweeting live updates, taking photos of blood droplets on the floor and providing almost second-by-second updates of what was happening in the hallway at the American Airlines Arena.
In the end, Stoudemire received an unknown amount of stitches and left the arena in a sling with his hand bandaged. He tweeted shortly after the game, apologizing for what happened. (The last tweet he sent out before the incident? A well wish for rookie Iman Shumpert who tore his ACL during the Knicks' Game 1 loss). Unfortunately, an apology isn't going to magically make him available for Game 3.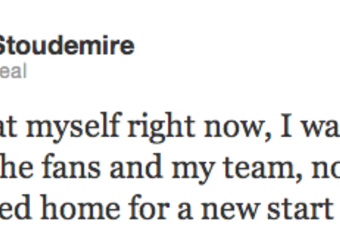 Tyson Chandler told the New York Daily News that Stoudemire is "out" for Game 3, and New York Newsday's Al Iannozzone tweeted the same.
What happens now? 
This was another wacky thing to go down for the Knicks in a strange season. While Stoudemire's teammates have every reason to be frustrated and angry with him for putting them in this position, it's also important to allow him a bit of understanding here.
It's been a rough year for Stoudemire. There have been injuries and he's struggled to find his rhythm. These are basketball things. Off the court, Stoudemire lost his older brother, Hazell, less than three months ago. While the hum of the season lulls you into a sort of time warp, in real life, it takes a lot longer than three months to deal with the pain and grief of losing someone close to you.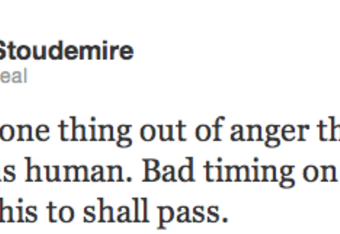 Of course, the decision to punch a fire extinguisher encased in glass was not a sound one; we all know this. It's funny to laugh about Stoudemire finally hitting the glass, or reacting because being down 0-2 to the Heat was an emergency, etc, etc, etc. Yadda, yadda, yadda. These are funny things because they were unexpected things in a whirlwind season of crazy things happening.
The jokes are fine, but while we blame Stoudemire for letting down his team, we should also place ourselves in his size 15s and have a little compassion for a man who has been trying to weather many storms this season and who finally allowed his emotion to get the best of him.