2012 Fantasy Football Rookie Rankings for NFL Football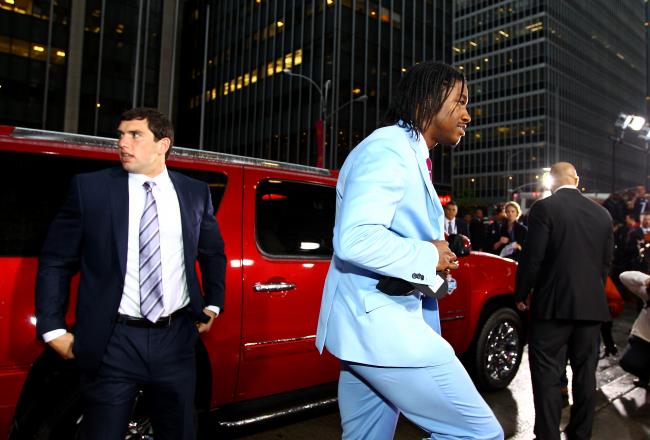 Al Bello/Getty Images
Going into 2012, one has to gauge how the rookies will impact rankings. Obviously, rookies get a bump up in rankings if you play in a dynasty league. As far as the rankings go below, I am going to take the approach of what rookies will have an immediate impact in 2012 and players you should be targeting in your 2012 drafts. I am going to start with our top picks for QBs, RBs, and WRs.
QB Rankings
1) Robert Griffin (QB, WAS)—If I were Indy I would have selected Griffin over Luck, but there is a good argument that Luck has a better head on his shoulders and from a long-term perspective could do better than Griffin. In some cases this argument is a coin flip, but I am certain that Griffin will outperform Luck in 2012. Griffin has the ability to be a top 15 overall QB in 2012. Solid selection as a back-up QB in your leagues for 2012.
2) Andrew Luck (QB, IND)—Indy needed a QB and elected for a QB that can grow with the franchise. In 2012, I foresee Luck going through some growing pains. He does have a veteran WR target in Reggie Wayne who can help him to develop. Overall I don't see Luck cracking into the top 15 QBs for 2012, but he would be a fine bye week filler or injury spot starter for 2012.
3) Brandon Weeden (QB, CLE)—Weeden will be a starting QB in 2012 if he can hold Colt McCoy off from starting. It is all but certain that he will be the starter in Week 1 of the season, but you have to take a wait-and-see approach. In most leagues, Weeden will be on the waiver wire, and in dynasty leagues, he will be stashed into a "practice squad" type position. Keep an eye on him for 2012.
RB Rankings
1) Trent Richardson (RB, CLE)—Richardson is one of the most talented RBs to be drafted in a number of years. He is an instant starter in Cleveland and will be handed a considerable workload for his rookie season. He has upside to be a top-10 RB in 2012, but from a level-headed assessment it is fair to say he will be a top 20 RB in 2012 with upside in following years for dynasty owners. Draft with confidence here and hope for solid upside in 2012. My favorite rookie to target in 2012.
2) Doug Martin (RB, TB)—Tampa Bay is ready for a new RB, and Doug Martin is my sleeper RB for 2012. He has very little competition to become the starting RB in Tampa Bay and has awesome hands for you PPR league players. Due to his ability to catch, Martin becomes a favorite of mine for 2012 production among rookies. From a dynasty perspective, he should develop and become a solid asset in Tampa.
3) David Wilson (RB, NYG)—If Bradshaw can stay healthy, then Wilson won't produce too much in 2012, but if you take an approach that Bradshaw is very likely to miss games in 2012 because of injury, then you have a sneaky RB selection and a rookie with the ability to produce in 2012.
WR Rankings
1) Justin Blackmon (WR, JAX)—Blackmon clearly didn't find a team that has a great QB, but he is an immediate starter in Jacksonville and has opportunity to produce in 2012. Can he be this year's A.J. Green? I honestly believe he won't put up A.J. Green numbers from last year, but he should find 750+ yards and five TDs in 2012.
2) Michael Floyd (WR, ARZ)—Floyd is a super-talented WR but is playing behind Andre Roberts and Larry Fitzgerald. I don't think his 2012 production will be too solid, but looking from a long-term perspective, Floyd has a ton of potential.
3) Kendall Wright (WR, TEN)—Kendall Wright is a sneaky pick for production in 2012. He should start in 2012, and it wouldn't be surprising to see 500+ yards and 4 TDs, which would make him a bye-week filler and injury spot starter.
Overall Rankings for the 2012 Season
1) Trent Richardson—Easy selection for 2012 and will be the top fantasy producer among rookies.
2) Doug Martin—Looking for the PPR upside in his overall yards. Should be over 750+ yards and 5 TDs.
3) Justin Blackmon—Very close to putting him ahead of Doug Martin, but the Jacksonville QB situation keeps him at No. 3 overall for 2012.
4) Robert Griffin—I know many of you are puzzled by him being No. 4, but keep in mind that I have him around No. 15 overall as QB, so Griffin should be your backup QB from a redraft perspective. If you look at him from a dynasty perspective he is #2.
5) Andrew Luck—Again, he falls into the same situation as Griffin: Luck is a backup QB at best in 2012.
6) Michael Floyd—Floyd and Wright will be neck-and-neck with 500+ yards and 4 TDs.
7) Kendall Wright—Same type of production as Floyd.
8) David Wilson—Has tons of upside if Bradshaw becomes injured; otherwise, he will be on your bench.
Overall Rankings for Dynasty
1) Trent Richardson—No doubt that he is the most talented among the rookies and in a situation where he is able to produce fantasy points.
2) Robert Griffin—The upside potential for Griffin could make him a top-10 QB in the NFL, but give him a year or two.
3) Andrew Luck—Has the long-term potential to be one of the best QBs in the NFL, but he will need some time.
4) Justin Blackmon—If Jacksonville could just land a solid QB, which will happen in the future.
5) Doug Martin—PPR RB of the future. Think Ray Rice, but not for a while.
6) Michael Floyd—He needs to be a WR1 or WR2 on a team before we see solid weekly production.
7) Kendall Wright—If he jells well in Tennessee he would shoot up this list.
8) David Wilson—Until we see an injury, he stays low on the list.
Looking for assistance with your 2012 Fantasy Football Draft? Check out the Hatty Waiver Wire Guru Draft Guide
This article is
What is the duplicate article?
Why is this article offensive?
Where is this article plagiarized from?
Why is this article poorly edited?