Chelsea Transfer Rumours: Mario Götze Would Be Welcomed at Stamford Bridge
May 1, 2012
Ian Walton/Getty Images
The recent revitalization of Chelsea under interim coach Roberto Di Matteo has been a welcome one for a club that looked destined to have its worst season in the Roman Abramovich era. But even the most optimistic of fans would have to be blind to miss the glaring holes that run through the Chelsea lineup.
The summer transfer window will be a busy time as always at Stamford Bridge as the annual turnover will be as high as ever, given the need Chelsea have to add both talent and depth in more than a handful of positions and the ever-pressing matter of bringing more youth into this aging side.
Fortunately for the Blues there is one player who fits all the prerequisites and would be sure to get their fans excited about the coming season—Mario Götze.
Götze was the object of Chelsea's intrigue the past two transfer windows, most notably coming into the spotlight in January as the wide player the team needed. The rumors have died down more recently, but never totally gone away. In April, according to The Daily Mail, Abramovich was looking to break the bank with a staggering £40 million deal to bring him in.
The 19-year-old German winger currently plies his trade with back-to-back Bundesliga champions Borussia Dortmund. In only two full seasons with the club he has become a staple in what amounted to the best attack in Germany, providing the kind of playmaking that has allowed the likes of Lucas Barrios, Shinji Kagawa and Robert Lewandowski put up the goal-scoring numbers they did.
He provided 18 assists over 52 games, and eight this season in 22 appearances (0.36 assists per game). That would be the second-highest rate on Chelsea, just behind Juan Mata.
But it is more about what Götze does off the ball that makes him so valuable to this team.
Everything has improved since Di Matteo took over with exception of one role: the wings. One could ultimately make a good case that Andre Villas-Boas' system struggled so much due to the lack of dynamicism and threat the team posed from the wide positions.
The Blues' only natural wide player is Florent Malouda, but he is much more steady in his development and does not possess the kind of unique attribute that the modern wide player must have to be integral in contemporary tactics.
Götze offers Chelsea a true wide threat: someone who is comfortable both with and without the ball, and, when isolated, knowing when to attempt to create a something for the central players and when to pass it and set it up again.
The downfall of the Blues' wing play has not been as much a lack of talent, but more poor decision making. The likes of Daniel Sturridge and Salomon Kalou, when out wide, have been acceptable in most instances as Sturridge has netted 13 goals this season and Kalou five of his own. But the amount of scores these two have left on the field has been frustrating to say the least.
Many have even gone so far as to pin the inconsistencies of the strikers on these two players. Didier Drogba and Fernando Torres have had good games, but often find themselves making well-timed runs and opening space to no end, as they rarely get the service they deserved. The recent flurry of goals by both only goes to prove this point further.
I have often cited that with other teams, having the ball out wide with your winger in a one-on-one situation against the full-back, is the ideal attacking position. But with Chelsea, it is where the play goes to die. With Götze there will be a much more balanced perspective in the attack, making teams have to decide where they are willing to concede space, rather than just defending the middle.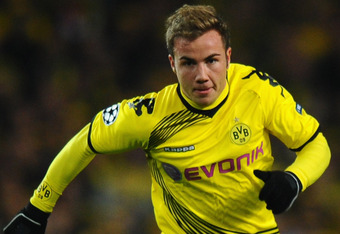 Mike Hewitt/Getty Images
But there is much more to Götze that would have Chelsea fans praising his arrival than just his style of play. To be honest, most fans welcome the arrival of a player in bright-eyed optimism hoping that he will either be the great player he is or rediscover the player he once was.
Even the recent signing of another German, Marko Marin, on paper and in scouting reports seems to be an OK deal at best. But the overly enthusiastic supporter inside of me is ignoring those discrepancies and hoping that he will really develop as a Blue.
However with Götze it is a bit different.
He would be coming in expecting to make something happen right away, but will in no way be disrupting the harmony of the team. It is clear now that Chelsea's failures in the first half of the season boiled down to mismanagement and untrusting players. The disruption caused by this created a hostile atmosphere on the training ground that resonated in games.
The transition from the past to the future was too turbulent for the present to handle and ultimately led to the firing of Villas-Boas. His plan to integrate a new philosophy into a system resistant to change was not helped along by failing to get results.
Götze could be plugged into the Chelsea lineup today and be fine. There will be no egos challenged, no managers questioned and no revision of thought on the behalf of the current players. It would be as simple as making an in-game sub.
It will not be an easy or cheap task to persuade Götze to make a move to west London.
Chelsea's status for Europe next season is still uncertain, while Dortmund is one of the most promising up-and-coming clubs in the world. Not to mention he is the focus of a handful of other big-time names such as Arsenal and Manchester United, who are both in much better positions than Chelsea to be in the Champions League.
But it may be time for daddy Roman to break out the big checkbook again and splurge for what would be his first signing in some years that was meant to help the club this team and not satisfy his own indulgences into what he wants the club to be.
For all my articles, follow me on Twitter: @thecriterionman