NBA Playoffs 2012: Analysis and Full Grades from Thunder-Mavericks Game 2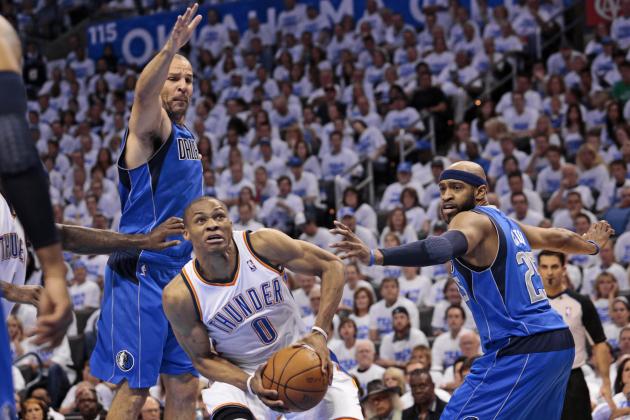 Brett Deering/Getty Images

The Dallas Mavericks had plenty of chances to take control of the series with a win in Game 2 before heading back to Dallas for Game 3.
Dirk Nowitzki and the Mavs missed key open threes. Russell Westbrook and the Thunder didn't miss key open free throws.
Westbrook poured in 29 points and the Thunder sank 37-of-39 free throws, including 6-of-6 in the last minute, to hold serve at home with a 102-99 victory Monday night.
Kevin Durant added 26, but struggled from the field once again shooting just 5-of-17. He made up for it at the free throw line cashing in 14-of-16 chances from the charity stripe.
With just over two minutes remaining, a Vince Carter (five points) bucket put Dallas on top 97-96. Westbrook missed back-to-back jumpers sandwiched between a Jason Kidd turnover.
The ensuing possession saw the Mavs find Nowitzki wide open for a three-pointer on the left wing. Nowitzki had time to set his feet but missed long giving Oklahoma City another chance, still trailing by just one.
When the ball was knocked out of bounds, the Thunder was left to inbound with just 2.5 seconds left on the shot clock. Durant caught the ball in the corner with his back toward the basket, but he was bumped out of bounds by Jason Terry giving the scoring champion a trip to the line.
Durant sank both, followed by a Nowitzki miss. James Harden sank two of his 10 free throws on the night, giving Oklahoma City the 100-97 lead with 25 seconds remaining.
Terry drove for an uncontested layup, but when Dallas failed to steal the inbounds pass, Harden was again fouled. After making both, the Thunder held a 102-98 advantage.
Terry had two chances to force overtime but couldn't find the bottom of the net.
Oklahoma City led by as many as 17 in the first half before Dallas closed the halftime gap to 57-50.
Nowitzki and Kendrick Perkins were each assessed technical fouls in the first half after a brief altercation in which Nowitzki bumped Perkins, who had to be separated from Nowitzki.
Nowitzki led all scorers with 31. Harden pitched in 15 off the bench for the Thunder. Perkins added 13, while Derek Fisher had 11.
Oklahoma City accomplished its goal by defending home court, but it wasn't As all around. Here are the grades for Game 2.
Begin Slideshow

»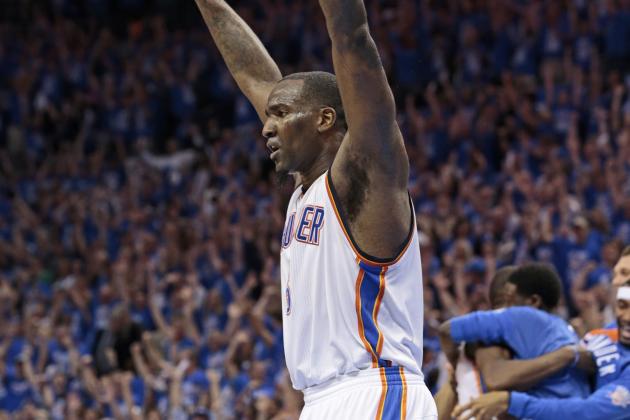 Brett Deering/Getty Images

Russell Westbrook: A
Westbrook put together another tremendous effort offensively and defensively. He limited Jason Terry to just 13 points while guarding him. His 29 points carried the Thunder once again on a night where Kevin Durant failed to get it going. He only committed two turnovers.
The general public may be waiting for Westbrook's selfish moment, but he is disappointing them each time out. At this rate, he's putting himself in position for the Best Point Guard in the League title and the Thunder in position for the NBA title.
Thabo Sefolosha: D
In just 17 minutes on the court, Sefolosha recorded more personal fouls (four) than points (zero), rebounds (one) and assists (two) combined. Sure, he isn't counted on offensively, but having a -14 +/- in limited minutes isn't productive enough in the playoffs.
Kevin Durant: C
A double-double looks good in the box score because Durant registered his sixth double-double in the last two postseasons with 26 points and 10 rebounds. But 5-of-17 doesn't cut it for the league's best scorer three years running.
Durant is settling for too many off-balance or difficult jumpers. He needs to make the game easier and get to the rim where he can finish or dish to teammates. The threes will come.
On a positive, he continues to get to the free throw line at a high rate, but overall he needs to become more efficient from the field.
Serge Ibaka: F
It was a disappointing game and one that was polar opposite from Game 1. Coming off a 22-point effort, Ibaka followed up his best playoff performance with his worst. Two points, four rebounds and one block.
Ibaka found himself in foul trouble for the majority of the game. It's hard to think that Dallas comes down with 12 offensive rebounds if Ibaka is in the lane.
It's games like this that show how Ibaka is still raw and has room to grow physically and mentally.
Kendrick Perkins: A
Perkins made up for Ibaka's no-show with 13 points, including 5-of-5 from the line. He finished with just six rebounds, but stats aren't the driving force in this grade.
It was Perkins' altercation early on with Nowitzki that fueled the Thunder to a 17-point advantage.
It excited the crowd and showed some vulnerability with Nowitzki, who has killed Oklahoma City the past two postseasons. It's what Perkins was largely brought in to do, and it worked to perfection.
Bench: A
If you're surprised Derek Fisher is making an impact in the postseason, you clearly haven't seen this guy when it matters most.
Fisher played his best game with the Thunder yet, shooting 5-of-6 from the field, including a fourth quarter three late, giving Oklahoma City a lead. He was also there to relax Westbrook down the stretch during trying times. It's what he was brought in to do, and he's playing his role to perfection.
Harden, although shooting just 2-of-7, added 15 of his own, adding a team-high five assists.
Nick Collison added 26 minutes playing in Ibaka's absence.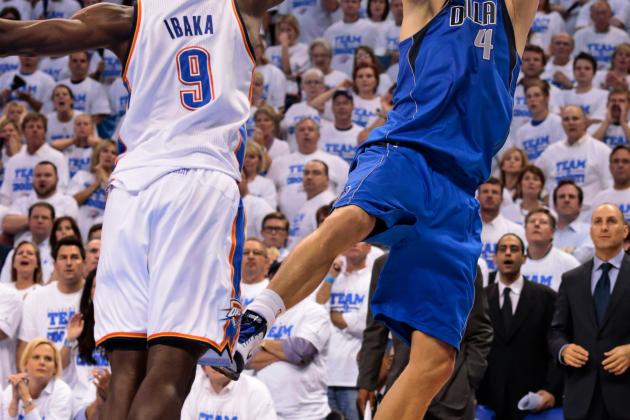 Brett Deering/Getty Images

Jason Kidd: C+
Kidd posted 10 points, seven assists and six rebounds, but he'll be remembered more for the missed opportunities. It seemed like every time he had a chance to pull the Mavericks away with an open three-pointer, he was off the mark. He made just 1-of-6, while more likely than not being more open than a 24-hour White Castle.
And once again, he was unable to contain the younger, more athletic Westbrook. But at this point, not many people can.
Delonte West: B-
West hit multiple fading shots at the end of the shot clock in part of the 17-point comeback in the second and third quarters. He bounced back from an illness to score 13 points in 24 minutes.
Shawn Marion: A
Marion frustrated Durant into another poor shooting night. At this point, all the credit has to go to Marion for Durant's struggles. He also added 15 points and eight rebounds.
Rick Carlisle will take his defense and 15 points every game and has to like his chances. If only he could clone Marion to take on Westbrook as well.
Dirk Nowitzki: A-
You just knew Dirk was going to do everything in his power to get this series even going back to the Big D. He brought his full arsenal, hitting one-legged jumpers from every angle on the floor while hitting all 11 free throws.
Nowitzki finished 10-of-19 for 31 points and six rebounds. But he can't get the full A because Dallas fans will be quick to forget his game and instead remember the wide open three that would've given the Mavericks a two-possession lead with a minute to go. It's a shot that Nowitzki didn't miss last postseason.
Brendan Haywood: F
Two points. No rebounds. Ten minutes. Enough said.
Bench: C-
Dallas got virtually nothing out of Vince Carter besides five points and four fouls. In Game 1, he didn't exactly bring back shades of his Toronto days, but he looked like a dependable player in the playoffs. Monday night? Not so much.
Terry carried over his quiet end to Game 1 into Game 2. He finished with just 13 points compared to 20 in game one.
Ian Mahinmi was a bright spot with nine points and five rebounds in limited minutes off the bench.