WWE RAW Review: Top 5 Things WWE Is Telling Us This Week (April 30)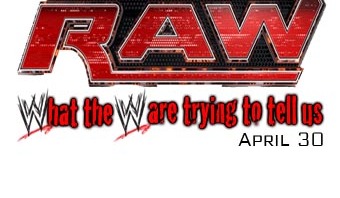 Base image source: wwe.com
This week, Monday Night Raw came to us from Dayton, Ohio. Following a surprisingly great Extreme Rules 2012, this was a Raw that brought us some extraordinary moments.
From surprise opponents, unforeseen twists and a tantalizing new feud, this was an episode which certainly offered us more ups than downs.
While this was a Raw that will leave us scratching our heads until next week, new angles, story lines and revelations have been thrust upon the WWE universe with aplomb.
So what messages are there for us as fans? What does the WWE want us to think this week? Here are five things they are telling us.
PLEASE NOTE: For those of you who still haven't seen this week's episode, please know the following slides contain spoilers.
Begin Slideshow

»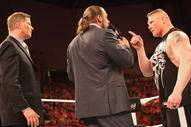 image source: wwe.com
While many predicted a Brock Lesnar and Triple H feud following Extreme Rules, the WWE wanted to make a few things clear last night.
First, the notion that Lesnar is to be truly despised is obvious. His demands and bullying of fellow heel, John Laurinaitis, have only added to a level of heat which is fast approaching white.
Second, the WWE officially let us all in on the plan for the COO and Lesnar to kick off an intense rivalry. With Triple H putting a stop to the contractual additions approved by Johnny Ace and telling Laurinaitis to "shut up," Brock Lesnar proceeded to attack and ultimately "break" Hunter's arm with a kimura lock.
Following this, it became clear that it's not just Triple H against the pain, but the greater WWE.
On the back of beating Cena to a pulp and threatening to put him out of action, disrespecting the man that stands in his corner in the form of Laurinaitis and allegedly breaking Triple H's arm, Lesnar was then run out of the ring by Sheamus, R-Truth, Kofi Kingston and Big Show.
With a painfully clear attitude that he is above all things WWE, Lesnar has created an atmosphere that he has it in for anything and anyone involved in the WWE and will stop at nothing to get what he wants. The WWE is being very clear here.
What we are supposed to think: Brock Lesnar is out only for himself and is the ultimate bad guy. He broke Triple H's arm and in doing so, has declared war on the WWE. He attacked The Game, so, game on. We should all despise him.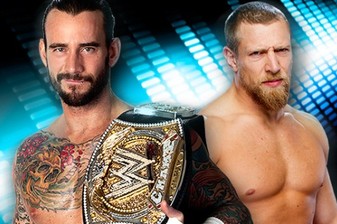 image source: wwe.com
I think many expected Chris Jericho to win the Beat the Clock Challenge to again become the number one contender for CM Punk's title.
Many also cheered and wished for a Randy Orton win.
However, when Daniel Bryan was matched up against Jerry "The King" Lawler in the last contest of the challenge, collective heads turned. Then it happened: Daniel Bryan won in the shortest time and earned a title shot at Over the Limit against CM Punk. I could practically hear the IWC drooling. Or was that just me?
So what does this all mean?
Well, the whole SmackDown and Raw separation doesn't seem to matter any more. It also means that we will finally get to see a feud so many of us have been dying to see, which will probably include some of the best wrestling we are ever likely to see.
But there is one thing that the WWE has made clear here: Daniel Bryan is no longer a main-event fill in; he is now officially in.
Bryan has really built momentum since his heel turn and world heavyweight championship reign. This momentum has picked up even more speed since the 18-second squash at WrestleMania and the fire that is the "YES!" chant.
He seems to have taken his game to another level and despite losing to Sheamus at Extreme Rules in an excellent match, has been given the ultimate nod in a shot at Punk's title.
What we are supposed to think: Daniel Bryan is main event caliber. He is facing CM Punk at Over the Limit and the entire WWE universe (not just the IWC) should take notice. YES! YES! YES! Is there a shirt with that on it that I can buy?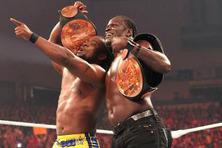 image source: wwe.com
Well, thankfully, Epico and Primo are no longer WWE Tag Team Champions. While it's not them personally being pushed out that pleases me (they are a solid team who deserved better), it's that the WWE gave them nothing but a total lack of respect—hopefully that is the end of that.
The WWE has also given the whole tag team division a total lack of respect and have done so for a long time, so hopefully this can also slowly come to an end.
While the formation of Air Boom had many of us thinking that a re-emergence of the division was happening, Evan Bourne's naughty habits clipped those wings rather swiftly. From there, the division plummeted to new lows.
However, with Truth Boom, Boom Truth, or probably just R-Truth and Kofi Kingston winning the titles from Epico and Primo, is there new hope for WWE tag teams? I think so...God, I hope so!
While the match wasn't on a pay-per-view and was featured unexpectedly on Raw, the belts are now with two established upper-mid card superstars that can work well together and could possibly form the basis of a new push for the tag team division.
With Epico and Primo still to claim a rematch, the USOs and American Perfection waiting in the wings and new FCW stars screaming to be included in the big time, we might have a chance to see more tag team action that is given a real push and the respect it deserves.
By putting the belts on these two men, the WWE has given tag teams a much needed boost and let us all know that we can care about the champions again. We shall see.
What we are supposed to think: R-Truth and Kofi Kingston have nothing of note happening as individuals, so are now the tag team champs. Because we care more about them than we did about Epico and Primo, the tag team division will matter again. At least we hope so.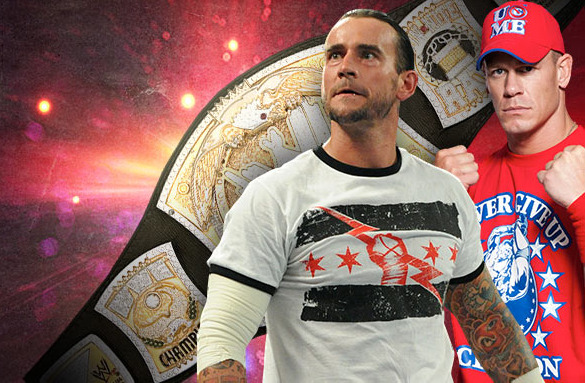 http://www.wrestlingvalley.org
I am personally a big fan of CM Punk and can't wait for his title match against Daniel Bryan. I am also a fan of all his work leading up to and during his title reign.
What I'm not totally pleased with is the WWE's insistence on having the WWE title be of lesser importance than whatever feud John Cena is a part of. Whether it is on Punk or anyone else, the strap should be the leading light.
While I can appreciate that the feud with The Rock was a year in the making and of epic proportions, the WWE could just as easily have had Lesnar go after the title first and Cena second. I understand that Cena currently brings in better ratings than Punk, or anyone else for that matter, but eventually the WWE will need to depend on other stars to carry the load.
I thought we might get to see what they would do without Cena following Extreme Rules, due to his injury, whether it was legitimate or otherwise. It wasn't to be, though, as once again, Cena closed out the show.
So what was more important that seeing the WWE champion square off against the new number one contender and the realization that so many of us will get to see the feud we've been begging for?
The announcement of who John Cena will face at Over the Limit.
While this segment turned out to be quite the curve ball and will no doubt spark plenty of debate, it was still what the WWE booked in to the most important time slot Raw has to offer.
I know the WWE has held auditions for Punk and other stars in this slot, to little or no success. The thing is, though, they will one day soon have to offer another star the tools, story line and feud to truly make a play for this slot. When they do, it should absolutely include the WWE title.
Until that day comes, though, the WWE are quite clear on what they consider the most important angle within the company. While this has merit, I hope they restore the importance of the title in the very near future.
What we are supposed to think: John Cena's story line is of more importance than the WWE title.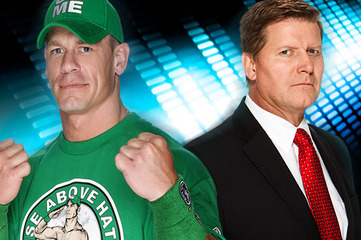 image source: wwe.com
So it's John Cena vs. John Laurinaitis at Over the Limit. Who saw that coming? I didn't. I thought we were supposed to find out that Cena needed time off.
When Lord Tensai came to the ring (I did notice his music hit a little early and cut off Laurinaitis), I figured it was officially the beginning of his big push. Turns out I was wrong. Tensai was there for Cena, not as a challenger, but as an evil henchman for John Laurinaitis.
Once a henchman, always a henchman, right Albert?
Mr. Excitement clubbed Cena from behind and then, with the help of Tensai and Sakamoto, beat down on Cena and his "busted" arm. Seemingly, Laurinaitis has snapped. He then announced that he would be Cena's opponent at Over the Limit. I must say, the WWE threw me here and I'm still unsure what to think.
Logic suggests that Cena is now up against Tensai, Otunga,The Miz and whoever else is aligned with the Raw general manager and not just Laurinaitis himself. I can only imagine that there will be constant attacks on Cena and his arm, in a bid to make light work of Cena at the pay-per-view. Truly, he has his back against the wall...again.
What the WWE is telling us here is that the strange and unexpected can still happen and that we need to tune in next week to make more sense of it all. I think we can expect another rendition of "let's give Cena another mountain to overcome" in a bid to put him over with all the fans again, because they don't want him to be booed.
What we are supposed to think: The WWE wanted to surprise us, and for the most part, succeeded. They are also going to attempt to force us to support Cena again, against the seemingly insurmountable forces of evil. We should all rally around him. Also, Matt Bloom is still just a henchman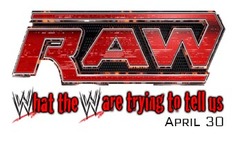 Base image source: wwe.com
A few honorable mentions:
There might be a stable of sorts forming under Abraham Washington.
John Laurinaitis is the scheming, evil suit that has finally snapped and will prove a point.
Chris Jericho and CM Punk seem to have ended their feud...for now.
Despite his apparent injury, John Cena is going nowhere anytime soon.
While there are always many messages and telling angles to be found in WWE broadcasts, some are more obvious than others. What are your thoughts ? Agree or disagree with my suggestions?
While I'm sure I have missed some obvious messages or angles here, these are the five main things I felt WWE wanted us to take home with us. I would love to hear what you think should have made this list if indeed I've missed anything or if you see things differently.
See you next week for another RAW Review: What The WWE Are Trying To Tell Us!