Ohio State Buckeyes Football: Complete Season Predictions with Support
May 1, 2012

Scott Halleran/Getty Images
The Ohio State Buckeyes are looking to bounce back after stumbling through a disastrous 2011 season. Although they are barred from playing for the Big Ten title or a bowl game, they have a great deal of pride and will play hard to satisfy it.
After being the whipping boys for a season, the Buckeyes will have a chip on their shoulder in 2012. Will their game be enough to back them up when the chip is knocked off?
They are certainly going to have their plates full. The defense returns most of its starters, but it will have to contend with the high-flying offenses of Michigan, Wisconsin and Michigan State.
The offense is young but gritty. Quarterback Braxton Miller is the beacon of hope for Ohio State fans. He is developing into a nice double-threat quarterback. During the annual meeting with Michigan last season, he put together some big-yardage hookups with his receivers, though he seemed to be throwing blind at times.Sometimes he is right on the money, and sometimes he is 10 yards off-target.
He will definitely need to tighten up that margin if he wants to see success in the Big Ten.
In the NFL draft, Ohio State lost a couple of stars in tailback Dan Herron and DeVier Posey. It will be interesting to see who steps into those large shoes. Miller will need someone to help him bear the burden.
The biggest trouble is that the Buckeyes will face some of the most crushing defenses in the country. Michigan, Penn State and Michigan State will not let the Scarlet and Gray simply wash over them.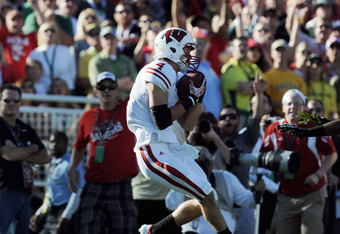 Harry How/Getty Images
In the Wisconsin game, Ohio State will simply be outgunned on offense. Wisconsin has the feared Montee Ball returning, as well as wide receivers Jared Abbrederis and Jeff Duckworth. Bret Bielema will find the best quarterback on his roster to get them the ball.
They will suffer losses in those games. Sheer determination will bring them close to overcoming their hated rivals, the Wolverines, but they will fall short.
Ohio State Buckeyes: 8-4 (4-4)
W: 09-01-12: Miami (OH) RedHawks 7  @ Ohio State Buckeyes 31 
W: 09-08-12: UCF Knights 3  @ Ohio State Buckeyes 45
W: 09-15-12: California Golden Bears 17  @ Ohio State Buckeyes 34
W: 09-22-12: UAB Blazers 14  @ Ohio State Buckeyes 37
L: 09-29-12: Ohio State Buckeyes 20  @ Michigan State Spartans 41
W (OT): 10-06-12: Nebraska Cornhuskers 34  @ Ohio State Buckeyes 38
W: 10-13-12: Ohio State Buckeyes 45  @ Indiana Hoosiers 24
W: 10-20-12: Purdue Boilermakers 17  @ Ohio State Buckeyes 42
L: 10-27-12: Ohio State Buckeyes 20  @ Penn State Nittany Lions 34
W: 11-03-12: Illinois Fighting Illini 14  @ Ohio State Buckeyes 31
L: 11-17-12: Ohio State Buckeyes 24  @ Wisconsin Badgers 44
L (OT): 11-24-12: Michigan Wolverines 42  @ Ohio State Buckeyes 38