New York Knicks: Does This Team Have the Right Chemistry to Win a Championship?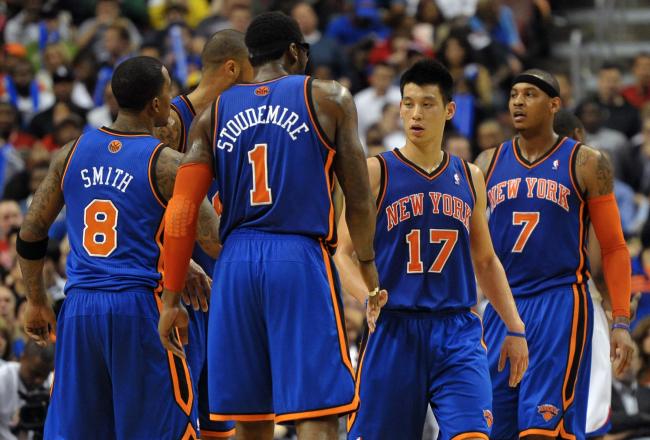 Drew Hallowell/Getty Images
The roller coaster that has been this year's Knicks season has provided us with plenty to ponder. It seems as though we've seen nearly six different iterations of this team, what with injuries and acquisitions always shaking up the roster. That being said, fans have been witness to multiple flashes of brilliance by this team; the problem has been sustaining that brilliance for more than a few games.
So, how can the team find the right mix of offense and defense to become legitimate contenders for the championship?
In order to answer that question, let's assume two things: First, that the Knicks are not making it past the first round this year, and second, that Iman Shumpert, Jeremy Lin and Amar'e Stoudemire will return next year at full strength. Now, the controversy becomes about which five players give the Knicks their best shot at being successful.
First, we must admit to ourselves that as long as Stoudemire and Carmelo Anthony are both on this team, both will be starting. This is the first impediment to chemistry. It's been well documented that the two forwards have a difficult time playing with one another. They like to have the ball in the same areas. They have similar moves to the basket. They are constantly getting in one another's way. Even on those nights where Anthony looks unstoppable, if Amar'e is on the court, you can sense a touch of deference to him in Melo's play. This is not a good sign—the two of them need to be in control of the offense for the Knicks to succeed.
Because of that, the only way for the Knicks to develop the right chemistry to win a championship is for Stoudemire and Anthony to split their time on the court as much as possible. When it comes to crunch time, they both need to be playing—their $100 million contracts basically stipulate that.
Drew Hallowell/Getty Images
But for the first three quarters, it's almost guaranteed that the Knicks will be more successful if Carmelo starts and Stoudemire subs in. If Amar'e is willing to swallow his pride, and accept this role, it will go a long way for the team.
Second, we must select the starting point guard. Lin and Baron Davis had little overlap, and so it's tough to tell which would function better as a starter. But in all likelihood, Davis will not return with the Knicks next year, and that clears the way for Lin to start with Toney Douglas as the backup.
Lin and Anthony have shown that they can both play their game while on the court together. Same goes for Lin and Stoudemire. As point guard, he functions well with nearly every other set of players the Knicks can send out on the floor. Barring any major acquisitions this offseason, Lin is poised to be their starter at point next year.
After that, the rest of the pieces mesh quite well. Tyson Chandler is the likely defensive player of the year, and he can serve as the anchor to a strong interior defense. Shumpert at the shooting guard position provides incredible athleticism and strong perimeter defense. And finally, a combination of Landry Fields and J.R. Smith at the small forward position adds explosiveness and complements Carmelo's game quite well.
This means that Carmelo is going to have to play as the power forward, a position he's relished all year and been successful at when he's been given the opportunity to play it. He's strong enough to guard most forwards, and he is athletic enough to blow by them on offense.
So, in short, yes, the Knicks do have the right chemistry to win a championship. The problem is convincing James Dolan what that requires. He didn't sign Amar'e two summers ago to start games on the bench. Stoudemire should be a superstar in this league, but at the end of the day, this is clearly Carmelo's team. For the time being, Amar'e is going to have to take a backseat.
And if he's willing to do that, we'll all be better off.
This article is
What is the duplicate article?
Why is this article offensive?
Where is this article plagiarized from?
Why is this article poorly edited?

New York Knicks: Like this team?