MLB Free Agency: Why the Brewers Are the Best Place for Roy Oswalt to Land
Use your ← → (arrow) keys to browse more stories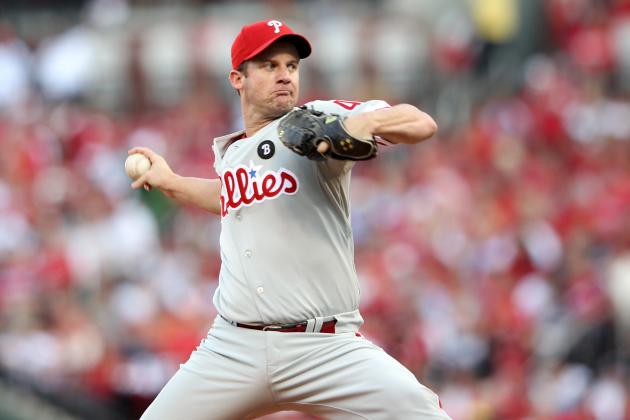 Jamie Squire/Getty Images
Roy Oswalt could be a huge boost for a Brewer team trying to keep up with the St. Louis Cardinals.
A month into the 2012 MLB season and one of the top free agents is still available. Roy Oswalt was pursued by several teams during the offseason, but decided that the offers from the Detroit Tigers, St. Louis Cardinals and Boston Red Sox didn't make him comfortable enough to commit.
With that, Oswalt decided to go on the Roger Clemens plan. In other words, Oswalt will likely sit out half the season and then come to a team on his white horse to save the day for one lucky franchise. However, that franchise better be the right fit.
Nobody really knows what Oswalt wants except for the fact he wants to be comfortable. It's almost a given that all three suitors in the offseason (along with the New York Yankees if the Andy Pettite comeback falls short) will be in the race to acquire Oswalt.
But, as we've learned over the past couple of offseasons, there can always be a mystery team that can swoop in like Mayflower trucks pulling up to your favorite franchise at midnight and hauling the prized possession away.
That team should be the Milwaukee Brewers.
It may seem asinine for Oswalt to join a team that may be second fiddle in the National League Central, but you need to look deeper than that to understand my reasoning.
Despite losing Prince Fielder in the offseason, the Brewers are still hovering around .500. The Crew's lineup is still one of the most potent in the major leagues. However, the pitching has taken a step back from their stellar season one year ago.
Getting Oswalt would make a ton of sense for the Brewers, as they've seen Chris Narveson go down with a torn rotator cuff and Shawn Marcum struggle violently since the playoffs began last season. Adding Oswalt could give the Brewers' rotation the jolt it needs to catch up with the Cardinals.
Which Team Is the Best For Roy Oswalt To Join Later This Season
An arrival to the land of beer and bratwurst would also make sense for Oswalt. He wants to be comfortable, and the National League Central has been the place that he terrorized for 10 seasons with the Houston Astros.
You could argue that the St. Louis Cardinals could be a nice landing spot as well, but they may want to continue developing their young starters (Jaime Garcia and Lance Lynn) while hoping that their two aces (Adam Wainwright and Chris Carpenter) get over their injuries and return to form.
It may seem like a long shot, but I remember a couple seasons ago when the Brewers shocked many in baseball by acquiring C.C. Sabathia from the Cleveland Indians. Getting Oswalt would be an even better move than that was because it would take no prospects to acquire the three-time All-Star.
This would be a marriage that would make sense for both parties. Especially when there is a new second Wild Card spot to be added. If Oswalt joins the Crew and they ride into the playoffs together, this marriage could end up as a happily ever after.