Chicago Bulls: Their Ace in the Hole Lies Within the Bench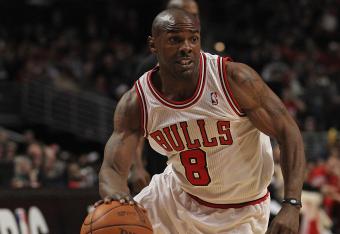 Jonathan Daniel/Getty Images
Now that the storm of frustration over Derrick Rose's torn ACL is slowly blowing over town—with much destruction left behind—Chicagoans find themselves having to shift their focus back on the action that is the Bulls and 76ers series.
Numerous statements have been made about the direction this Bulls season is now headed in—many of them ridiculous notions. While some have predicted complete collapse ahead for the Bulls, others have had a primarily optimistic outlook on the series ahead.
The source of optimism lies in the form of the Bulls' bench.
The "Bench Mob," as they are so regularly called, are famously considered the best bench in the NBA.
Throughout the past two seasons, the 'Mob has been able to single-handedly defeat teams. Much to the delight of Bulls fans, this is a squad that plays for the love of the game.
With Rose gone, the Bulls' bench is expected to play an even bigger role in the fight to a championship.
Throughout the years, fans have become familiarized with Bulls' bench players. We know what to expect from each player, which teams they are capable of beating and teams in which they need assistance from the starters.
However, there is one player whom Bulls' fans have not had the adequate amount of time to get used to.
Jonathan Daniel/Getty Images
The reason the 36 year-old James feels like a stranger is because he has only played in 11 games this year at fourth-string guard.
Yet, in the small sample size that James' statistics provide, he has made the Bulls a better team when he is on the court. In fact, the Bulls offensive production and defensive efficiency are better when he is playing than when C.J. Watson or John Lucas III plays.
However, that just may be the fact that he has played 11 games, but the numbers are still eye opening.
When James is off the court, the Bulls give up 99.8 points per 100 possessions. However, when James enters the game, according to 82games.com, the Bulls give up only 90.7 points per 100 possessions. Additionally, their Effective Field Goal percentage goes up, and the their Effective Field Goal percentage allowed goes from 45.7 percent to 37.6 percent.
The biggest stat that stands out is the Net points that the Bulls score per 100 possessions.
When James is out, the Bulls score a plus-10.2 per 100 possessions, yet, with James is at the point, that shoots up to a plus-21—a difference of a plus-10.8. With Watson in, that number is a minus-10.6, and with Lucas in, it is a plus-7.4.
With his Player Efficiency Rating (PER) being close to 17 when he plays point guard, James is more effective than players like Ray Allen, Mike Conely and Louis Scola.
Before anything is said, yes, this is an extremely small sample size, yet, somehow these numbers are very promising. They show, if anything, that the Bulls can go four players deep and still have a quality player leading the team.
Anyone who watches James play knows that, while the offense technically runs through him, the ball moves well when he is on the court. Because he is veteran, he knows game situations very well and can direct the team accordingly.
Moreover, he is a strong player who is capable of using his strength to drive the ball in the lane effectively, eventually having to draw defenders around him subsequently leaving players open on the perimeter.
Some may call for C.J. Watson to start, others may want Lucas to take over that position. However, with Watson playing poorly recently, and Lucas being inconsistent—especially against competitive teams—it's good to know that the Bulls have someone who they can rely on to stabilize the ship.
In a time like this, somebody like Mike James should be welcomed with open arms.
And possibly playing time as well.
This article is
What is the duplicate article?
Why is this article offensive?
Where is this article plagiarized from?
Why is this article poorly edited?

Chicago Bulls: Like this team?