Champions League Final: 5 Reasons Bayern Can Beat Chelsea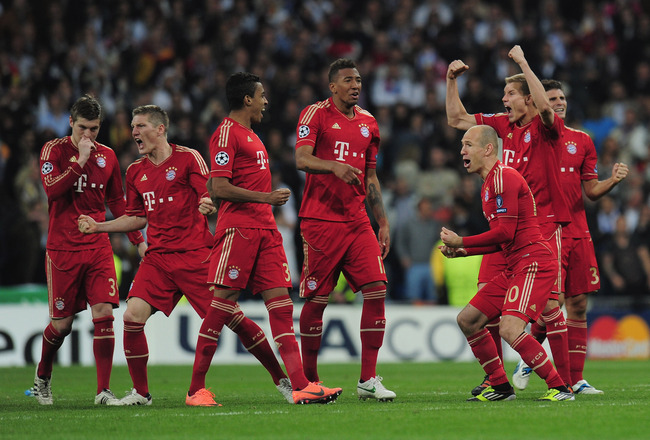 Shaun Botterill/Getty Images
It's the final few would have predicted, but on May 19 at the Allianz Arena Bayern Munich will face Chelsea and do battle for the Champions League.
Chelsea's stoic and heroic performance over two legs against Barcelona in the semifinals will now have Blues fans convinced that they can lift the title for the first time in their history.
Equally, Bayern will think that their vanquishing of Real Madrid in a penalty shootout, plus the fact the final is on their home ground, means that fate is on their side in their quest for a fifth European Cup.
Here are five reasons why Bayern can (repeat: can, not will) win the final.
Chelsea Are Hit Harder by Their Suspensions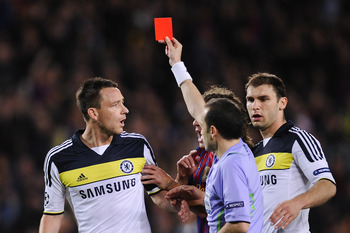 David Ramos/Getty Images
When Chelsea captain John Terry decided to mush Alexis Sanchez in the back of the thigh, he only hoped to give the Barcelona forward a dead leg, not get sent off. However, his foolish red card means he will miss the final.
Versatile defender Branislav Ivanovic and indefatigable midfielder Ramires are two more players who will be banned in Munich, as will Raul Meireles, whose contribution at key times when Chelsea need to keep the ball is often overlooked.
By contrast, Bayern are missing David Alaba, Holger Badstuber and Luiz Gustavo. Alaba, in particular, will be also at the end of what has been an astonishing breakout season, but Bayern boss Jupp Heynckes will be more confident of covering for those losses than his opposite number, Roberto Di Matteo.
Half the Games Left to Play Before the Final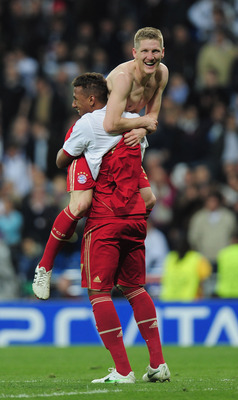 Shaun Botterill/Getty Images
Even though Chelsea have reached the final for the second time in five years, they are still not assured of their place in the competition next season if they do not beat Bayern.
Chelsea still face three Premier League fixtures—away to fellow fourth-place hopefuls Newcastle, away at Liverpool and at home to relegation-battling Blackburn Rovers. On top of that, they also face Liverpool at Wembley this weekend in the FA Cup final.
Contrast that with Bayern, who play Cologne at the weekend with Bayern already assured of their Champions League next season, and Borussia Dortmund crowned champions more than a week ago.
Bayern also have a domestic cup final to attend to on May 12 against Dortmund, but those are their only two matches between now and the final.
'Robbery'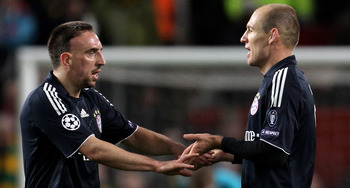 Alex Livesey/Getty Images
Arjen Robben and Franck Ribery are proving again this season why they are perhaps the most fearsome pair of wide men in world football.
They may have both had their problems since the last Champions League they appeared in—Robben with injuries and Ribery's issue of an altogether more unsavoury nature—but both the Dutchman and his French colleague have been turning it on for Bayern in Europe this season.
Between them, they are responsible for 14 of Bayern's goals in the Champions League this season.
When Robben goes up against Ashley Cole—a player he spent one season with at Stamford Bridge—and Ribery faces whomever replaces Ivanovic at right-back, Chelsea's full-backs will have a job on their hands.
Mario Gomez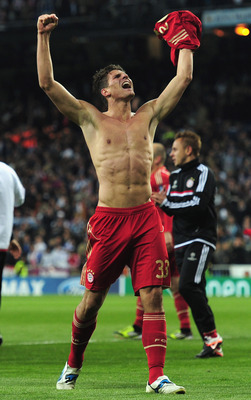 Shaun Botterill/Getty Images
Just the 12 Champions League goals this season for the often-maligned Germany striker, then. If Gomez scores a hat-trick in the final, he will eclipse Lionel Messi and become the competition's top scorer.
What's more, for all the talk of him being profligate in front of goal, Gomez's shooting stats bear up favourably compared with both Messi and Ronaldo.
The Bayern man has fired 12 shots off target in Europe this term compared to Messi's 31 and Ronaldo's 25, while the Bayern man's goals have come from just 29 efforts on target, making him far more clinical than his counterparts from Barcelona (36) and Real Madrid (30).
Chelsea made their way past Barca by being patient in waiting for their chances and taking them when they came. They may find against Bayern that the German side are more than capable of doing the same.
Destiny

Johannes Simon/Getty Images
The Champions League final at the Allianz Arena will be a home fixture for Bayern, though in the eyes of UEFA it is only so because they happened to be in the right half of the draw for the knockout phase.
Because the match is technically on neutral turf, both sides have the same allocation of tickets for their fans: 17,500. The rest will be given out to neutral fans, the media and various chancres who either work for or are guests of the many official sponsors of the competition.
Despite that, Bayern will be playing on familiar turf, and feel it is their destiny to lift the trophy on their own turf.
As Bayern club president Uli Hoeness told the club's general assembly in December 2010 (as quoted by Eurosport's excellent Bundesliga blog 'Never Mind the Ballacks'): ''Meine Herren, the 2012 Champions League final will be at the Allianz Arena and we must be there at all costs.''
Well, here they are, two years after losing the final to Inter Milan at the Santiago Bernabeu, now in the final after wining at the same Spanish ground and 90 minutes away from emulating Inter's 1965 feat of winning the trophy on their patch.
Bayern fans will be hoping those signs all point to them lifting the European Cup for a fifth time in their own city.
Keep Reading

FC Bayern Munich: Like this team?