New York Yankees: Andy Pettitte Up and Down in Latest Minors Start for Bombers
April 30, 2012

Al Messerschmidt/Getty Images
On Monday afternoon, Andy Pettitte made his latest extended spring training start in preparation for getting called up to the Yankees in 2012.
It wasn't the most memorable start that Pettitte has made while in the minors.
Pettitte pitched again for Class A Tampa because his original destination of pitching for Class AA Trenton had inclement weather up in Portland, Maine, so back down to Florida the lefty went.
Pitching against Class A Clearwater of the Phillies, Pettitte went 5.2 innings, allowed 10 hits and six runs, which are not good numbers.
However, he didn't walk a batter and struck out eight, which are very good numbers.
Pettitte threw 96 pitches in the game, 69 of them were for strikes, which again, is a very good ratio and shows that Pettitte has his control.
The 39-year old lefty felt that he struggled early with his fastball command, which is why he was in an early hole, but once the game got going, he felt much better.
While Pettitte is still being targeted for a May 10 target date to get called up for the Yankees, he feels that he is ready now to help the team.
"I feel I'm strong enough and ready to make my next start with [the Yankees]," said Pettitte, who allowed six runs, five earned, over six abbreviated innings in Clearwater. "I feel good and it was another solid day. I felt the quality of pitches were as good as I've had in any of my starts up to now, and I was able to hold my velocity throughout [the outing]. I feel like I'm ready to help the team."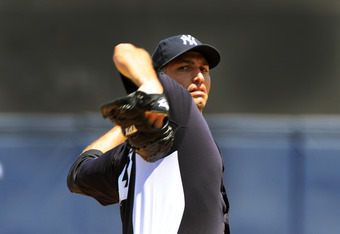 Al Messerschmidt/Getty Images
Pettitte's fastball was clocked in at the 86-88 miles per hour range and continued to do so when he was pitching in the sixth inning.
While Pettitte really wants to be pitching for the Yankees in his next start, he understood that he may need one more start in the minors before getting the call up.
After the start today, giving Pettitte one more appearance in the minors to get tuned up and ready for his call up to the Yankees is the best move for both Pettitte and the Yankees.
Although, if Pettitte feels he is definitely ready, and given how Phil Hughes and Freddy Garcia have been pitching as of late, Joe Girardi and Brian Cashman may have no other option but to call up Pettitte.
Given that Pettitte is attempting a comeback after he was away from baseball for a year, they can't force his return, but they are going to need his veteran leadership and presence on the team going forward.
Stay tuned, Yankees Universe.