Boise State Football: The Ins and Outs, Highs and Lows of the 2012 Schedule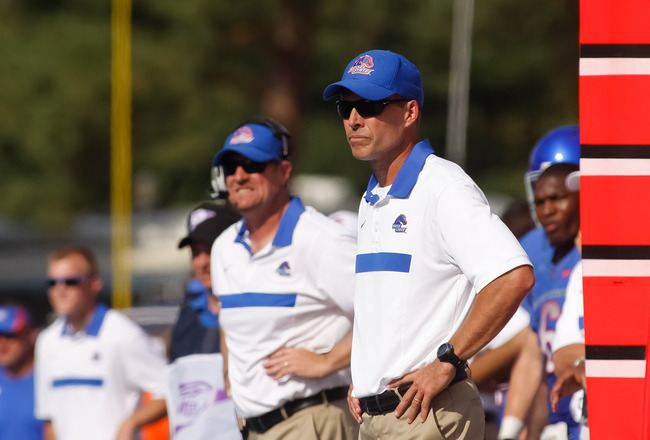 Otto Kitsinger III/Getty Images
Boise State is going through one of the worst rebuilding processes in the country as they only return nine starters from last year's team. Quarterback Kellen Moore is gone. Running back Doug Martin is no longer on the roster. And seven starters from the defense have all graduated and moved on.
The good thing is that the Broncos are in the MWC and the schedule isn't as brutal, which gives them a fighting chance this season. Boise may not experience the same success they have had in recent years, but the drop-off shouldn't be that significant.
As we get closer to kicking off the regular season, here's your 2012 Boise State Broncos complete schedule breakdown.
Easiest Game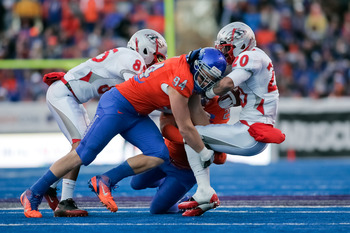 Otto Kitsinger III/Getty Images
The New Mexico Lobos have won three games total in the last three seasons. The outcome of last year's meeting resulted in a 45-0 loss. This matchup may be a little bit closer, but not by much.
On paper this is by far the easiest game for the Broncos.
Toughest Game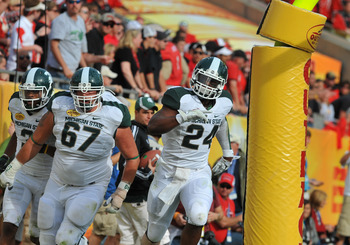 Al Messerschmidt/Getty Images
The toughest game for the Broncos this season will be Week 1 against the Michigan State Spartans. Sure, they're a team that's lost their starting quarterback and their top four receivers, but they do return eight starters from a defense that was ranked sixth in the country.
This is by far the toughest task for the Broncos, but it'll be a great measuring stick early in the year for such a young team.
Potential Blowout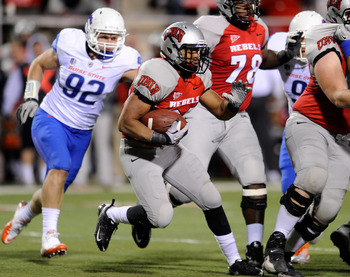 Ethan Miller/Getty Images
UNLV does return eight starters on offense, but I'm not sure that's a good thing considering their scoring offense was ranked 113th in the country. The defense wasn't any better, as only two teams allowed more points than the Rebels did last year. You could put a lot of teams under this category, but I think it's safe to say the Rebels will get blown out.
Potential for Disaster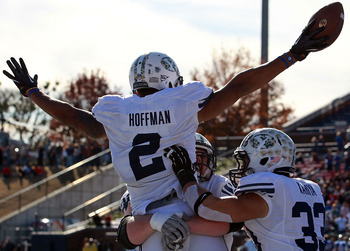 Ronald Martinez/Getty Images
After the huge Week 1 matchup against the Spartans, the BYU Cougars arrive in town to take on the Broncos. This is a team that looked really good last season at times, and they return the majority of their squad that won 10 games. BYU was very balanced last year and it appears that this could be another big year for the program.
Starting the year off possibly 1-2 in the first three games may be what most expected, but it would be a feeling Bronco fans haven't felt in a while.
Most Intriguing Matchup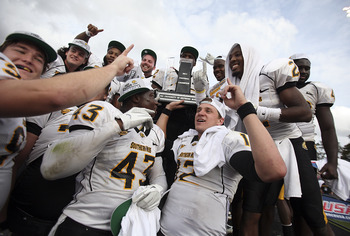 Bob Levey/Getty Images
Southern Miss is a program that's quickly becoming one of the big boys under head coach Larry Fedora. They won the C-USA and 12 games last season and return 11 starters, including six on the offensive side of the ball.
Much like the Broncos, they do have to find out who their quarterback will be and lost quite a bit of depth on the defensive side. Two programs that were beginning to build some major success—which team is closer to taking that next step in a possible rebuilding year?
Trap Game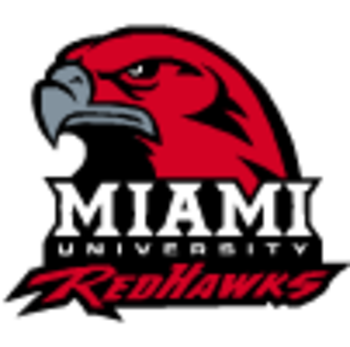 rockytoptalk.com
Miami of Ohio only won four games last season, but they do bring back eight starters on both sides of the ball. This is a team that went to Missouri and only lost by 11 points the first game of the season. The offense was terrible, but the defense could possibly keep them in the game.
Boise State should win this game, especially at home, but with this matchup being right in the middle of the Michigan State and BYU game, it's important the Broncos don't fall for the trap.
Rivalry Game Prediction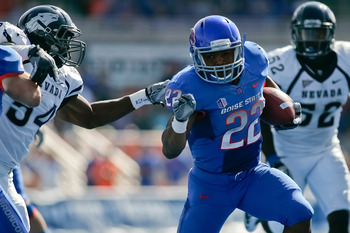 Otto Kitsinger III/Getty Images
Boise State made sure to make up for that missed field goal game by beating the Wolf Pack last season by 20 points. Although, I think Nevada will win this game due to the lack of questions they have coming in.
Nevada has an answer at quarterback: They return a solid running back in Mike Ball. They are a team that's missing playmakers at the receiver position, but they have a few questions answered heading into the year that the Broncos don't. The game is also being played in Mackay Stadium, which gives the Wolf Pack another slight advantage.
This game won't take place for several more months, but if I'm forced to pick now, I'll take Nevada.
Nevada wins: 24-21
Upset Special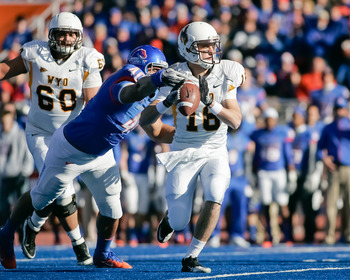 Otto Kitsinger III/Getty Images
Boise State has never lost to Wyoming in the six times they've met, but if there is any time to change that, the Cowboys are in the best position. Wyoming had a defense that showed glimpses of what they were capable of last season. They held Air Force to only 17 points and negative passing yards (-1) for the game and held Boise State to only 13 first-half points.
But returning seven starters on defense isn't the reason I give them a chance in this game, it's because of quarterback Brett Smith. He was a freshman last year, so he should be even better with a year of experience under his belt. He's a dual-threat quarterback who made several big plays for this offense last season. He finished the year with 3,349 total yards.
When you have a big-time playmaker, you have a chance. When the game is being played in Laramie, Wyo., your chances get that much greater.
Heisman Highlight Game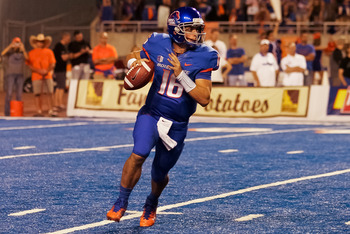 Otto Kitsinger III/Getty Images
Let's be honest, Boise State doesn't play nearly enough top competition to have a Heisman winner. They also don't have a well-known player who would even warrant Heisman consideration early in the season.
But for argument's sake, let's say there is.
The game that player would have to make an impact is Week 1 against the Michigan State Spartans. They're a Top 25 team, they have a fantastic defense and the game is being played on the road. If somebody can truly step up and have a fabulous performance, they maybe, just maybe, they could get some love early in the year.
Must-Win Game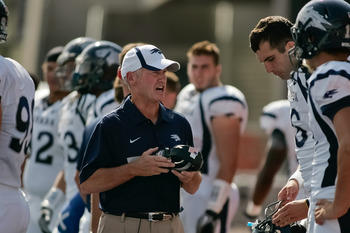 Otto Kitsinger III/Getty Images
It's difficult to pick just one must-win game because even with the questions this team has going into the season, they still have an easy schedule. Not including the Michigan State and BYU matchups, I say if Boise can win at least eight of the remaining 10, it'll be a fantastic season.
You can pick those eight games however you'd like, but at least an 8-4 finish for a team that's replacing nearly every starter is a great season and would show everyone once again how great of a coach Chris Petersen truly is.
Keep Reading

Boise State Football: Like this team?