New York Mets: Tracking Progress of the Top Amateur Draft Picks from 2011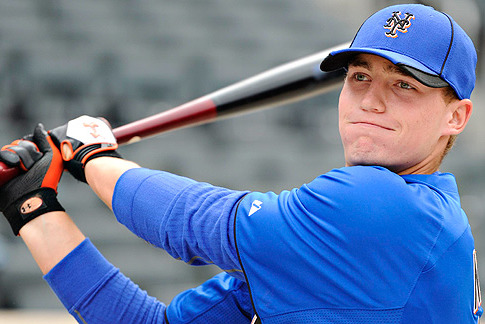 The New York Mets have always been bullish on pitching. So it should come as no surprise that of their 51 picks in the 2011 draft, 27 are pitchers.
Not the first pick, though. That honor went to Brandon Nimmo, a 19-year-old outfielder from Cheyenne, Wyoming. Baseball America ranks him as the Mets' third-best overall prospect and the best among position players in the organization.
Being a first-round pick doesn't guarantee major league success, of course. Anybody remember George Ambrow, Richard Bengton or Steve Chilcott? (Well, maybe you know Chilcott as the first-round pick the Mets chose instead of Reggie Jackson.) Like all teams, Mets history is rife with first-round draft picks whose careers fizzled out before they started.
But then there are first-round picks like Darryl Strawberry, Dwight Gooden and Jon Matlack, all of whom went on to be the National League Rookie of the Year and stardom.
Will Nimmo join them as big-league successes, or will he become another big-league bust?
Too soon to tell with him or any of the 2011 draft choices. But we can tell you how they're doing so far. Here's a list of the top 11 players (including the first-round supplemental selection) chosen by the Mets in the first 10 rounds of the draft.
Begin Slideshow

»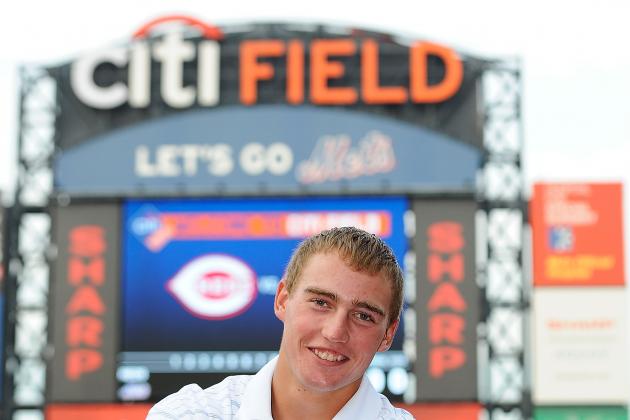 Patrick McDermott/Getty Images

Brandon Nimmo has already chalked up several "firsts" in his fledgling baseball career.
The 19-year-old outfielder was the Mets' first pick (13th overall) in the 2011 draft. He's the first high school player selected in the first round by the Mets since 2007, although technically, he didn't play high school baseball. Nimmo's home state, Wyoming, doesn't offer interscholastic high school baseball, so Nimmo made his mark on the travel circuit with an American Legion team.
His mark was impressive: a .551 batting average with 23 doubles, 16 triples, 14 home runs, 99 RBI and 33 stolen bases in 63 games.
That mark has earned Nimmo his first million. His first two, actually. The Mets signed him for $2.1 million, luring him away from a full scholarship offer from the University of Arkansas.
Don't expect to see a return on that investment until sometime around late 2015 or early 2016. Nimmo spent April in extended spring training and is expected to play for the Brooklyn Cyclones this year. We'll keep you posted.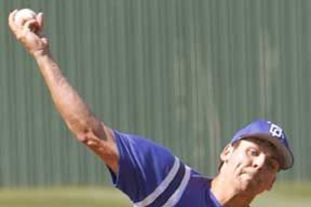 The University of Arkansas can't be very happy with the Mets organization.
First, the Mets handed over a couple of million bucks to Brandon Nimmo to spurn an Arkansas scholarship. Then, with the 44th-overall pick in the 2011 draft, the Mets selected right-hander Michael Fulmer, who had made a commitment to pitch for Arkansas. He signed with the Mets for $937,500.
Mets 2, Razorbacks 0.
The scouting reports indicate that the deal could end up being a bargain. Fulmer was picked as the first-round supplemental selection in exchange for losing pitcher Pedro Feliciano to the New York Yankees. He has good control of his curveball, and at 6'3" and 200 pounds, he can crank up his fastball to the low 90s. He's just 19, so look for more power pitching with more conditioning.
Fulmer is off to a bit of a slow start with the Savannah Sand Gnats, but he has struck out 16 in two appearances. The Mets-centric blog Amazin' Avenue reports that Fulmer looked strong in his last outing and continues to show what got the scouts for the Mets (and the Razorbacks) so excited.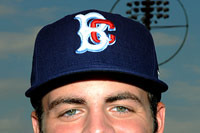 The Mets have always been bullish on pitching. The 2011 draft continued the trend.
The Mets used 27 of their 51 picks on pitchers. One of the most promising is second-round pick (71st overall) Cory Mazzoni, a 22-year-old righty out of North Carolina State.
Mazzoni could very well be the first of the class of 2011 to break onto the major league roster. That's saying a lot for a pitcher who's still making his way through A-ball. He's generating a lot of buzz with his buzzing 97-mph fastball and his early season work.
Writing for espn.com, Kevin Goldstein of Baseball Prospectus named Mazzoni one of 10 breakout prospects for 2012. He's got a 3-0 record for the St. Lucie Mets so far this season, including 11 scoreless innings in his last two starts.
If Logan Verrett manages to make it to CitiField, he will at least be used to being in the spotlight.
His pitching career and life at Baylor is well-documented, including but not limited to the video included here. You can probably find out more about Logan Verrett on YouTube than you can about some of the players on the major league roster.
That isn't to say the publicity is undeserved. Verrett was, without a doubt, the ace of the Baylor Bears pitching staff. The Mets saw enough in their third-round pick (101st overall) to sign him for $425,000.
The 21-year-old, 6'3" right-hander was the opening night starter for the Savannah Sand Gnats, but he's suffered a minor setback. He was placed on the disabled list with a strained right shoulder in late April. It's not clear when he'll return, but he's already resumed throwing.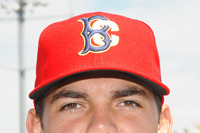 No remarks here about Tyler Pill's ability to throw the pill. We'll leave that to the back pages.
Not that he can't throw. The Mets' fourth-round pick (132nd overall) went 6-1 with a 2.08 ERA in his last year with Cal State Fullerton.
Pill, a 21-year-old right-hander, can hit too. A lefty at the plate, Pill also played in the outfield for the Titans and batted .323.
That part of his career is over. The Mets say they signed him for his pitching prowess.
Seems to be the right choice so far. Pill struck out seven in six scoreless innings in his debut with the Savannah Sand Gnats, and as of May 1, his ERA was 2.11.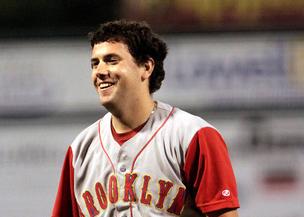 Is there another Doctor K on call for the Mets?
The Mets' fifth-round pick (162nd overall) in the 2011 draft could be one. Jack Leathersich, a burly 5'11", 205-pound southpaw from the University of Massachusetts at Lowell, has been the strikeout king of A-ball since his debut with the Brooklyn Cyclones last summer.
Leathersich fanned 26 batters in 12 1/3 innings in relief in Coney Island last summer. Now pitching in relief for the Savannah Sand Gnats, Leathersich has started this season with 24 strikeouts in 15 innings. No, we don't have those figures backward.
The Mets plan to keep Leathersich in the bullpen in the minors, with an eye toward a possible role as a late-inning reliever or a closer if he progresses to New York.
Frank Viola, his pitching coach in Brooklyn and now in Savannah, is impressed.
"His stuff is incredible," Viola told The Brooklyn Paper last season. "His biggest thing is trying to repeat his delivery. His arm angle changes from pitch to pitch. He needs to be consistent with his fastball, his change-up and curveball. When he does that, he's going to be devastating."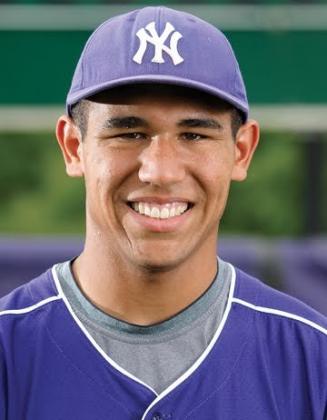 The Mets' sixth pick (192nd overall) in the 2011 draft has dropped off the radar.
Joe Tuschak, a 19-year-old high school centerfielder from Western Pennsylvania, was signed by the Mets for $250,000 last summer and played 32 games for the Gulf Coast League Mets, the usual starting point for high school players.
Tuschak batted just .204. The Mets organization disbanded the GCL Mets last winter for financial reasons (the specter of Bernard Madoff strikes again), and Tuschak became a free agent.
Various Mets blogs said Tuschak would compete for a spot on the Savannah Sand Gnats, but he doesn't appear on this year's roster, or on any other roster in the Mets organization. We'll keep up the search.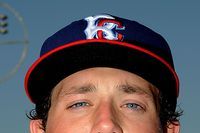 The Mets bagged a Wildcat in the seventh round (222nd pick) of the 2011 draft.
Cole Frenzel, a North Dakota native who migrated to the warmer climes of Arizona for college play, was listed as a third baseman in the draft. But at 6'1" and 220 pounds, the Mets have decided he should cast his big shadow on first base.
Frenzel, 22, batted .238 in 43 games with the Brooklyn Cyclones last summer. He'll need to display the kind of numbers he posted as a Wildcat (.353 BA, 48 RBI) if he hopes to climb the Mets' ladder, but the team continues to speak highly of Frenzel.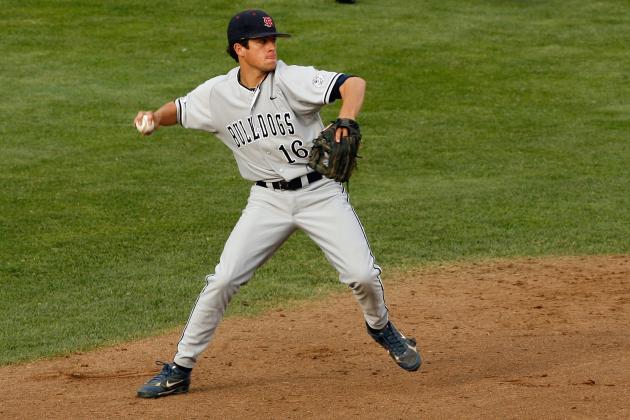 Kevin C. Cox/Getty Images

Joe Dorish, a contributor at Yahoo!, poses this question:
Can Daniel Muno be the Jeremy Lin of the the New York Mets?
Answer: no. At 5'11", Muno is not nearly tall enough.
Kidding aside, there are a lot of people who think the Mets' eighth-round pick (252nd overall) may have some star power.
He was the leadoff hitter for Fresno State during the Bulldogs' improbable 2008 run to the College World Series title. A true freshman that year, Muno hit .330 during the season and .357 in the CWS.
The switch-hitting shortstop continued his solid hitting as soon as he joined the Brooklyn Cyclones after the draft, hitting .355 in 59 games. (Downside: He committed 11 errors in 52 games at short.)
Now with the St. Lucie Mets of the Florida League, Muno, 23, is still showing prowess at the plate. So far this season, he's batting .295, and playing mainly at second base, he's committed just two errors.
Dansanity, anyone?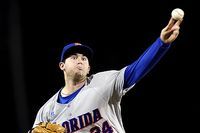 The Mets returned to the mound for the ninth-round pick (282nd overall) in the 2011 draft. They picked a panda.
Actually, they picked a Gator, 21-year-old left-hander Alex Panteliodis. His nickname, The Panda, is in recognition of his ursine frame: 6'2", 235 pounds.
With a 90-plus mph fastball in his arsenal, Panteliodis helped Florida into last year's College World Series championship (they lost to South Carolina) in his junior year. His performances throughout his college career earned him the attention of Mets scouts.
He didn't get to perform at the pro level after the draft, however. He had to sit out the remainder of 2011 with a hip injury.
His pro debut occurred just last month with the Savannah Sand Gnats. He gave up only an unearned run against Augusta and threw five scoreless innings against the same team in his second start.
So far this year, Panteliodis is 2-1 with an ERA of 0.89. Zero-point-eight-nine. We're spelling it out so that no one questions whether it's a typo.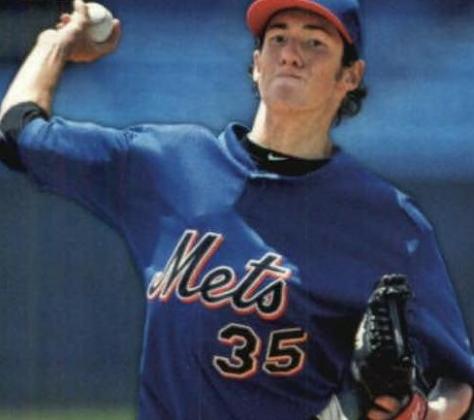 We round out the top selections with the Mets' 10th-round pick (312th overall), Matthew Budgell, a 19-year-old out of Woodbridge High School in Irvine, California.
Like his ninth-round predecessor, Alex Panteliodis, Budgell is a pitcher. Unlike Panteliodis, he's a right-hander.
Like Panteliodis, he's 6'2". Unlike Panteliodis, who tips the scales at 235 pounds, Budgell weighs 150 pounds.
Panteliodis and Budgell share one other trait. They can both fire up fastballs topping 90 mph. Size and power apparently are not mutually exclusive.
Budgell still has to develop some control to go along with that fastball. He went 0-1 with a 5.74 ERA in seven games for the GCL Mets last season. After an extended spring training this year, he'll be back to a short-season squad.
In the meantime, please eat something, Matt.