Stanley Cup Playoffs: Ilya Bryzgalov Is Still the Key for Philadelphia Flyers
April 30, 2012

Paul Bereswill/Getty Images
Scoring has not been a problem for the Philadelphia Flyers during the 2012 Stanley Cup Playoffs.
They have arguably the best forward depth in the league (once again) and have scored less than three goals only once through seven postseason games.
The Flyers, who are averaging nearly five goals per game (4.78) in this year's playoffs, are heavily favored to advance to the Eastern Conference Finals in their series with the New Jersey Devils. 
Claude Giroux is playing like the Conn Smythe favorite by leading the playoffs in scoring, and Danny Briere keeps coming up with crucial goals time after time, like his overtime goal in Game 1 against the Devils.
Their defenseman corps isn't nearly as strong as it was a year ago with Chris Pronger and Andrej Mezsaros out of action, but this group has done a great job at times without their top player.
Despite their high scoring success, the biggest setback for the Philadelphia Flyers, just as it has been for many years, is their goalie situation.
Ilya Bryzgalov's save percentage is well below 90 percent (.873), and he is allowing more than three goals a game (3.71). His save percentage has only been above 90 percent in one playoff game so far (Game 6 against the Pittsburgh Penguins).
He has given up a lot of easy goals this season and has done little to live up to the expectations that come with a nine-year, $51 million contract.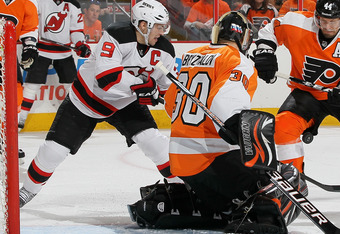 Jim McIsaac/Getty Images
He gave up a soft goal to Zach Parise in the opening minutes of Game 1, and he couldn't help his team maintain the lead later in the game.
Philadelphia scored four goals in the final 45 minutes of their overtime win, including a pair of goals only 37 seconds apart in the second period.
Brzygalov allowed an easy goal to Travis Zajac shortly after, and he let in the tying goal late in the third  after Claude Giroux made it 3-2 for the Flyers in that period.
The Flyers' success on offense has been able to mask their goalie's problems throughout the playoffs.
Few teams could go up 3-0 in a first-round playoff series against any team, let alone the Pittsburgh Penguins, with their goalie allowing 12 goals in those games.
No other remaining playoff team is averaging more than thee goals per game.
Their weak goaltending allowed the Penguins to make a good comeback attempt with their 10-3 win in Game 4, after the Flyers led 3-2 at one point in the the first period in what could have been their series-clinching win.
The Flyers traded away Jeff Carter and Mike Richards in the offseason in order to get the cap space to acquire the Russian goalie.
While general manager Paul Holgren got a great return in those trades that included Wayne Simmonds, Jakub Voracek, Sean Couturier and Brayden Schenn, Bryzgalov has not been the elite goaltender that Philadelphia has hoped for.
He has played more like Antero Niittymaki or Robert Esche, when the Flyers were expecting a netminder like Pekka Rinne or Henrik Lundqvist. 
In fact Bryzgalov's replacement in Phoenix, Mike Smith, has had a much better postseason and has the Coyotes two wins away from the Western Conference Finals.
More inconsistent play from Bryzgalov could cost the Flyers a game or two in this series with the New Jersey Devils Devils, and in the later rounds of the playoffs if they advance.
It's not likely that the Flyers will score four or more goals in every playoff game (especially against the Rangers), but it wouldn't too shocking to see Sergei Bobrovsky relieve his fellow-Russian in the net, after allowing a rash of goals early in a game.  
The goaltending woes of Bryzgalov will be forgotten if the Philadelphia Flyers can win 11 more games on their way to a Stanley Cup Championship.
Getting there in the first place will depend on how much the scorers can carry the load or if their high-profile goalie can limit his mistakes.