Kentucky Derby 2012: TV Info and Horses to Watch for in Big Event
May 1, 2012

Matthew Stockman/Getty Images
The 2012 Kentucky Derby will take place this Saturday, and just like every year, it's sure to be a thrilling race. 
It's the Super Bowl of horse racing if you will, and rarely ever is it a disappointment. Well, unless of course you place a wager on the race and it doesn't hit, but the race itself is always a joy. 
This year marks the 138th Kentucky Derby and per usual, there are several horse names that leave you scratching your head or perhaps give you a slight chuckle. 
That being said, here's all the info you need to watch the event, as well as some big-name horses to keep an eye on for the 2012 Kentucky Derby. 
When: Saturday, May 5
Where: Churchill Downs, Louisville, Ky.
Watch: NBC
TV Coverage 
All day coverage starting at 9:30 a.m. ET on HRTV. NBC Sports will also air coverage beginning at 11:00 a.m. ET. 
The big race itself will be held on NBC, and coverage for that begins at 5:00 p.m. ET and lasts until 7:00 p.m. ET.
Post Time
The post time for the Kentucky Derby is at 6:24 p.m. ET, so be sure to have your TV locked into NBC right then to watch the horses start off the race. 
Post Positions 

The 2012 Kentucky Derby post position draw will be held at Churchill Downs on Wednesday, May 2 at 5:00 p.m. ET.
For those not familiar with horse racing, the post position is what place in the gate the horse and jockey will start. So yes, the reason such and such horse is No. 7 has more meaning than just a number to root for. 
The post position at the Derby is extremely important, as some spots see much more success than others. 
Horses to Watch
Union Rags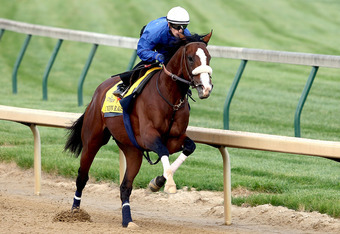 Matthew Stockman/Getty Images
The top favorite for the moment, Union Rags is going to be a hot ticket this weekend and rightfully so. 
Since August of 2011, Union Rags has finished in first place in three prominent races. The most recent race Union Rags competed in was the Florida Derby, where the dazzling horse finished in third.  
Jerry Bossert of the New York Daily News posted his current odds on Monday, April 30 and Union Rags sits at a 9-2 favorite. 
Creative Cause 
Another horse with an impressive résumé, Creative Cause has a strong chance of winning it all this weekend. 
Since July of 2011, Creative Cause has competed in eight races, finishing in first place in four of them. The three-year-old colt has what it takes to win on Saturday, but of course it won't be easy since the competition is very tough. 
Creative Cause sits at 8-1, according to Bossert of the New York Daily News.
Bodemeister 
Besides having one of, if not the, best horse names of the 2012 Kentucky Derby, Bodemeister is a solid sleeper horse for the big race.  
In 2012, Bodemeister has raced twice in preparation for the 138th edition of the Kentucky Derby. The most recent race was the Arkansas Derby, which Bodemeister placed first in, a great sign for the upcoming Kentucky Derby. 
Bossert's  current odds have Bodemeister at 22-1.