London 2012: American Hopefuls to Watch During Olympic Games
April 30, 2012

Matthew Stockman/Getty Images
It's no secret that the United States of America is at the top of the sports world. Team USA led all countries with 110 medals at the 2008 Beijing Olympic Games and the Red, White and Blue is always a prominent fixture in both the summer and winter contests. 
The hope, as always, is to duplicate their success this summer in London. While the Olympics are the Egg McMuffin of all group sporting events, there is still a huge weight on the individuals competing.
These individual athletes strive to represent their beloved country to the best of their ability and this pressure can cause many Olympians to crack under the international spotlight. 
But there are some athletes that represent America with such grit and such valor that they deserve to be honored. That time will come in late summer when fancy medals and spectacular wreaths adorn the strained muscles of an athlete after an incredible performance. 
But for now all we have to do is prepare for that moment when "The Star Spangled Banner" plays victoriously and all of America falls in love with an upstart superstar. 
For now all we can do is predict which athletes will shock us and watch their Olympic journey unfold. Here are some important American Olympic hopefuls to watch in London. 
Note: This article aims to recognize new faces that you should keep an eye out for. That means that you won't find Tyson Gay, Michael Phelps or Misty May-Treanor here. You probably already know those athletes.
Jordan Burroughs, Freestyle Wrestling 
Imagine a golfer winning every event ever for three years and counting. He would be considered some sort of demigod. Perhaps, some would call him the greatest. 
Now switch the sport from golf to freestyle wrestling and the athlete from an unnamed golfer to Jordan Burroughs. 
Burroughs, in a word, is dominant. He has won every tournament he entered since the beginning of the 2009 season. 
He is an up-and-coming superstar who hopes to make his name known in London. It won't be hard for the New Jersey native, as he won gold in the 2011 World Championships in Istanbul, Turkey. He also nabbed first place in the 2011 Pan American games.
That same year he won the NCAA championship, becoming the fourth wrestler ever to win a NCAA championship and World Championship in the same year. 
Jordan Burroughs aims to be extremely exciting in 2012 and the world will be watching.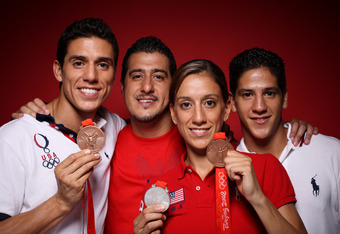 Kristian Dowling/Getty Images
Steven Lopez, Taekwondo
You may never have heard of him but Lopez is the face of Taekwondo in America. He won gold in 2000 at Sydney and nabbed another gold at Athens in 2004. He won gold in every World Championship since 2001, in Jeju, Garmisch, Madrid, Beijing and Copenhagen. 
And just for kicks he also appeared in People Magazine's 50 Most Beautiful People. 
But last Olympics in Beijing, Lopez failed to win a gold. Or a silver for that matter. He went back home with a bronze medal. 
For an athlete that is so used to winning, that must hurt. Lopez will be incredibly hungry in London and watching a man get revenge and go for gold will be a treat.
Ryan Lochte, Swimming 
Perhaps the biggest competition for stud Michael Phelps will be one of his teammates. 
Ryan Lochte helped Phelps win his gold medals in 2008 by participating on the U.S.A. men's relay squad. But now he is ready to step out of Phelps' giant shadow. 
At the 2011 World Aquatics Championships, Lochte won five gold medals and added a bronze to his growing collection.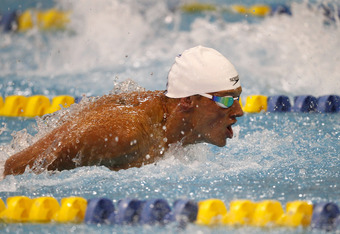 Streeter Lecka/Getty Images
He beat his fellow countryman head-to-head in the 200-meter freestyle and the 200-meter individual medley.  
In addition to that outstanding performance, Lochte was named the 2011 World Swimmer of the Year and 2011 American Swimmer of the Year by Swimming World Magazine. He was also named the best male swimmer for 2011 by FINA Aquatics World Magazine. 
Lochte has the ability and talent to beat an aging Michael Phelps. 
He will splash onto the world stage this summer. 
Maya Moore, Women's Basketball 
This pick is a little out of the ordinary. For starters it is a female in a male-dominated article. But more importantly, Moore competes in a nontraditional Olympic sport. Picking Allyson Felix or Sanya Richards in Track and Field would be a cop-out. 
Instead I'll go with Moore, who dazzled America in her tenure with UConn. The Huskies won Women's March Madness not once but twice. A big part of that success was Moore. She is a gifted champion and proven winner. 
In 2011, her first year in the WNBA, she won Rookie of the Year en route to leading her Minnesota Lynx to the WNBA championship. 
She joins a U.S. team that has dominated its competition in previous Olympics and will settle for nothing less than gold in London.