Why the San Francisco Giants Need Heath Hembree in and Jeremy Affeldt out
April 30, 2012

Ezra Shaw/Getty Images
The San Francisco Giants are off to a 12-10 start after the first 22 games. For the most part, their offense has been as advertised. Buster Posey, Pablo Sandoval, Melky Cabrera, Nate Schierholtz and Emmanuel Burris have all contributed offensively. And Brandon Crawford and Angel Pagan have started to pick things up. Hector Sanchez has turned into a real asset as a part-time catcher, probably more so than the Giants even imagined. 
The Giants' starting pitching has also been as expected, with the exception of Tim Lincecum's rough first three starts. Matt Cain, Madison Bumgarner and even Barry Zito have all been nails. In fact, to everyone's surprise, Zito has clearly been the Giants "ace" to start the year (I hate to write that, only to have him prove me wrong in the near future). And Ryan Vogelsong looks like he'll be the strong No. 4 guy he was in 2011. 
So everything's great, right? I mean, come on, the Giants are hitting a gaudy .261, eighth in the majors. They've hit a respectable 20 homers, which is good enough to put them around the middle of the pack.  
Well, not exactly. 
Besides the Giants' continued inability to hit with runners in scoring position (let's save that for another article), the Giants' biggest current issue and the reason they are only two games over .500 is what has been a strength in the last few years—their bullpen.
While Brian Wilson's loss is a blow, Santiago Casilla proved last year to be more then up to the task. In fact, Casilla's saves tend to be less of an adventure then the Beard's, since Casilla is more of a strike thrower than Mr. Wilson. 
But the rest of the Giants' bullpen has been well below par. As a team, the Giants' bullpen currently ranks 20th among the 30 MLB teams. This after being No. 2 in 2011. While Clay Hensley has been a nice surprise and Sergio Romo (when he gets a rare opportunity) is doing his usual great work, the rest of the Giants' bullpen has been, in a word, lousy.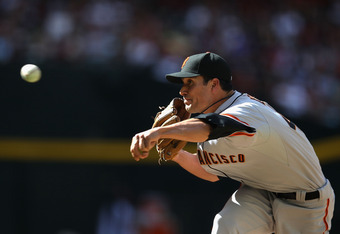 Christian Petersen/Getty Images
The usually reliable Javier Lopez has looked very hittable, with a WHIP of 2.73, Guillermo Mota has been good one moment and terrible the next and Dan Otero was a disaster before being shipped to Fresno. 
But the worst offender has been one Mr. Jeremy Affeldt.  Affeldt has given up 15 hits and four walks in 11 innings and they all seem to have come at the worst possible times. His performance Friday night clearly blew any chance the Giants had of coming back.  
Affeldt had a career year in 2009 with a 1.73 ERA and a WHIP of 1.17 and was deserving of a new contract. But the Giants committed a mortal sin in the world of signing relief pitchers. They gave Affeldt, who had never been anywhere close to this good before (his career-low ERA was 3.33), a three-year deal. And to make matters even worse, they inexplicably picked up his option after a terrible 2010 and a 2011, where his numbers were deceiving. Yes, he had a 2.63 ERA and a career best WHIP of 1.15, but he had the knack of giving up the big hit at the wrong time and lost his job as the No. 1 lefty out of the 'pen to Lopez the previous year. 
We all remember with thanks Affeldt's heroic performance in Philadelphia in the 2010 NLCS, which very well could have been the difference between going and not going to the World Series. We also thank many others like Andres Torres, Pat Burrell, Ramon Ramirez and Freddie Sanchez, who aren't part of the current Giants roster for one reason or another. Yes, Affeldt is a big giver to charity, but what has he done for us lately? Or should I ask, the last three years (since the big contract)? 
The time is far overdue for the Giants to cut their losses and try to find a taker for Affeldt. Someone out there must need left-handed help in the 'pen and will bite on Affeldt's deceptive 2011 stats. Short of that, if he keeps performing the way he has, the Giants need to bite the bullet and cut him loose. 
Heath Hembree was the sensation of the Cactus League and has a fastball that approaches and sometimes surpasses 100 MPH with movement. My scouting reports tell me that Hembree has been completely lights out once again this season. He's 23 years old and the Giants need him now. I understand Bruce Bochy and Brian Sabean not wanting to rush him to the majors, at his tender age, but a guy with that kind of a live arm would be a great asset to the Giants' pen. 
Although Steve Edlefsen was the chosen replacement for Otero, Hembree would have been a far better choice. He could make a real difference in this bullpen. Edlefsen is good, Hembree is better. Hopefully, the Giants will make the move and bring Hembree up sooner than later. This will help the Giants immeasurably.  
That's step one. Step two is to move Affeldt. Maybe the Giants can take a flier on someone like Dontrelle Willis, who has fallen out of favor in Baltimore and could be had for a song. Dave Righetti needs a new project to work on anyway. Willis still has big league stuff and is just 30 years old. Perhaps this homecoming would be a happy one for both the Giants and for Willis.