Manchester United: Why Mapou Yanga-Mbiwa Is a Credible United Signing
April 30, 2012

A transfer to Manchester United would be a dream summer move for Mapou Yanga-Mbiwa, according to International Business Times, who also sees Eden Hazard as on his way to Old Trafford.
We're into the silly season now, and with agents trying to get better deals for their clients and the media needing to fill column space, all sorts of rumours are flying around.
And they will multiply as we move into May and right up to August.
But Sir Alex Ferguson likes to get his business done early, and we have the European Championships coming up, which will disrupt players' routines. Some will shine, and others will flop.
But there will be no shortage of video footage for directors of football to pore over. Prices will escalate for players like Tomas Rosicky, who did well last time.
Last summer, Sir Alex surprised us all with his decisiveness, as he picked up three players of international quality who have developed into better footballers and enhanced United's squad.
The summer before, he stunned everybody by signing the relatively unknown Chicharito, who went on to become one of the hottest strikers in the Premier League, if not Europe.
Sir Alex always has plenty of targets in mind. He has to.
I'm of the mind that some of them are "stalking horses"—either trailed to put other clubs off the scent of who he is really interested in, or as spoilers to ensure that other clubs pay top dollar for the players they covet.
Because he is not the only buyer in the market and since some players are motivated by money, he must have several targets in mind for each position he wants to cover.
In the next few days, I will be revealing the freedom to spend he may have, how many players he could buy and the likely targets.
In the last week or so, Yanga-Mbiwa has emerged as a credible target. There are several reasons why.
The most important one is his versatility. If you look at the last few players Sir Alex has signed, Javier Hernandez is a specialist striker, and David De Gea is similarly a specialist keeper (although he sometimes looks like a sweeper).
But Phil Jones, Chris Smalling and Ashley Young have been signed for their versatility and potential as much as anything.
Nobody is quite sure yet where Jones will end up playing. He has already been likened to the great Duncan Edwards. We may well see him on Monday in a holding midfield role, earmarked to track YaYa Toure. 
He has also played well at both right-back and centre-back, which—given United's injury problems over the last two years—is a pragmatic use for him.
Similarly, Smalling, who can also play right-back or centre-back, looks the most likely of United's backs to be a regular goalscorer.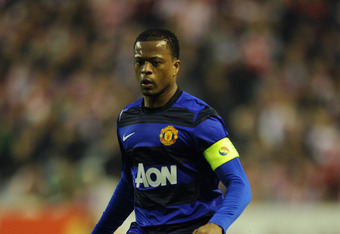 Jasper Juinen/Getty Images
Finally, Young, who is right-footed, has shown for England that he can play left-wing, right-wing, midfield or in the No. 10 role that Steven Gerrard and Wayne Rooney have played. He is also a skilled goalscorer who has developed at United.
So, that brings us back to Yanga-Mbiwa.
He is captain of Montpellier at 22. He can play anywhere across the defence and especially left-back.
United need a successor to Patrice Evra, and in time, Zeki Fryers will fill this role. For the time being, Yanga-Mbiwa can step straight in and give Paddy some well-earned rest next season (he has more appearances than any other United player over the last two seasons).
In due course, he will be able to cover where needed, and in my opinion, even has the talent to play defensive midfield.
John O'Shea, he isn't—but versatile, he is. And most of all, he wants to play for United.