WWE's Tag Team Division Has Taken a Step Backwards
May 2, 2012

For those who care to search, it is possible to find pretty much any WWE pay-per-view event streaming somewhere online.
Like many devoted fans, I discovered a page that streams, in order, every pay-per-view event from 1985 to 2011. I open it on occasion, and if I see something that takes me back, I'll watch it.
The other day I opened it to see WrestleMania X-Seven. The Hardyz were being interviewed prior to their TLC II match with The Dudleyz and Edge and Christian.
What followed was, at the time, one of the most innovative and entertaining matches ever—an instant classic and Match of the Year material.
I was talking to a friend one night about the match that started it all, the Terri Invitational. At No Mercy 1999, The Hardyz defeated Edge and Christian in a ladder-match that, according to Matt Hardy, turned all four men from WWF wrestlers into WWF superstars.
That match—also a classic—wasn't even for the tag team titles. At that time, The Rock 'n' Sock Connection were in the midst of their third title reign, wrestling separately at No Mercy before losing the belts to the Holly Cousins the next night on RAW.
Since then, we've seen the ladder-match elevate to even greater heights with more table-, ladder- and chair-matches in the annual Money in the Bank contest, where things never dreamed of before have been made real in these six to ten man contests.
At the same time, we've also seen the tag team titles take a nose dive in terms of credibility and prestige. The division has only a few legitimate tag teams left to prop it up, and the current champions, Kofi Kingston and R-Truth, were very obviously thrown together at the last minute.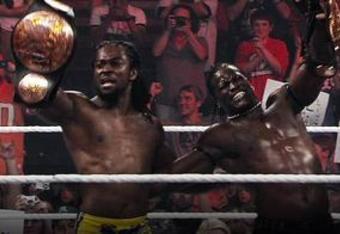 Moreover, they replace the duo of Epico and Primo as champions. The previous champions rarely ever appeared on RAW or SmackDown during their reign, except recently to job to the makeshift tandems of Big Show and Great Khali as well as Zack Ryder and Santino Marella.
Something's got to give in the tag team division. At Money in the Bank, it can and should.
The next step forward for the ladder match and the tag team division is a step back.
WWE is two-and-a-half months out from MitB 2012. That's good. It's time the company lays the foundation for re-establishing the tag team division at the big event.
This is not something that's going to happen overnight. Even the career-changing Terri Invitational ladder-match was the culmination of a best-of-five series.
What they need are four young, athletic and opportunistic teams all hungry for a chance at championship gold. Those teams must square off in a match for the briefcase and a guaranteed tag team title opportunity.
For my money, I love the idea of a match featuring Epico and Primo, The Usos, Darren Young and Titus O'Neil and a fourth, still-to-be-determined tag team—perhaps the returning tandem of Tyson Kidd and Justin Gabriel or the under-appreciated and recently fired team of Curt Hawkins and Tyler Reks (maybe both for a ten-man tag team tilt).
If all those relatively young guys can get enough promo-time to build up believable heat amongst each other and put on a great show with their mix of power and finesse, strength and speed, and the kind of devil-may-care attitude necessary for a truly great ladder-match, it instantly revives the tag team division.
The fans need to be reminded of the great history surrounding the tag team division and the great teams that have held that title in the past. Then, suddenly, watching all of those men struggle and sacrifice to reach for the briefcase makes tag team matches no longer just for bathroom breaks.
If WWE wants to do right for itself and its fans, they'll make this happen.