Manchester City vs. Manchester United: Breaking Down Epic Derby Match
April 30, 2012

Laurence Griffiths/Getty Images
The Monday Derby is being billed as a match for all the ages, creating hype that no clash could ever live up to.
Well, expect for this one. 
Yes, I am ready to jump right on board the hoopla machine that drives immense viewership. The cynicism of such aplomb for a fixture washes away to the realization that this match matters, and it matters immensely. 
Call it Manchestergeddon, a Civil War, or merely a match with title implications, because all would be true. 
Manchester United travels minutes to Etihad Stadium to take on rival City in a fight that will have the home crowd craving every last point from this game. 
The Blues sit just three points shy of the Red Devils, making this the perfect cat and mouse chase headed into a guaranteed classic. 
Manchester City Attack: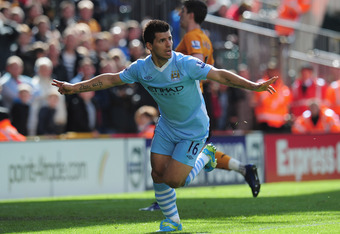 Shaun Botterill/Getty Images
I will not go so far as to call United's defense as suspect heading into the derby, but they certainly teeter on such ends when a team pummels them from start to finish. 
The call of the day from the Blues is to get out and running, creating an unrelenting attack that will force the Devils to earn every last possession. 
Manchester's back line will earn their salary today as Mario Balotelli returns, joining Sergio Agüero and Carlos Tevez in attack. 
Paul Scholes: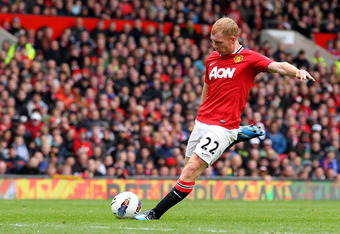 Alex Livesey/Getty Images
There is no match that needs patience, poise and experience more than this one, and Paul Scholes gives a great measure of it all. 
The midfield maestro returned this season to shore up the mess in the middle, and it's times like these that prove his importance. 
Scholes will be a necessity for United during the Derby, and it will be for his ability to temper the Devils and coach from the pitch. 
Prediction: 
Both teams will be at their best, with full knowledge of the gravity of the moment. A win for either brings a near guarantee for domestic glory. 
With that being said, I don't see anything but a draw coming, 1-1. I have every confidence in both sides finding the net, but neither will dominate the proceedings enough to pull ahead. 
We may see late disaster for one of these teams, but in the end, a share of the points is the most likely.