NBA Playoff Predictions 2012: Updated Eastern Conference Odds Following Injuries
April 30, 2012

Jonathan Daniel/Getty Images
The torn ACLs sidelining Derrick Rose and Iman Shumpert were tragic by any measure, but they will certainly wind up benefiting a few teams in the East.
Chances are those opponents would rather beat the Chicago Bulls or New York Knicks at full strength—no one wants to profit from the other guy's injury. Nevertheless, the Philadelphia 76ers now have a real chance of upsetting the those Bulls, and Miami's first-round test against the Knicks is that much easier.
And the playoff implications don't end there. With both guards out for at least the summer, the Bulls could wind up being a preferred opponent in the second round (if they make it that far, of course). Meanwhile, Miami could end its series with New York ahead of schedule and get some rest before its next series. 
Here's a look at the most heavily impacted series.
Chicago Bulls vs. Philadelphia 76ers—First Round
Prior to Rose's injury, the 76ers were as much an underdog as any team in these playoffs. Both clubs have plenty of depth, but the Bulls also had a superstar point guard. That advantage alone threatened to make this series a yawner.
Philadelphia still faces a daunting challenge but not an insurmountable one. The 76ers beat Chicago by 16 in February when Luol Deng and Richard Hamilton sat out with injuries, and it could hope for similar success with Rose out.
Prediction: The Bulls should still win the series, but it could take them seven games.  
Miami Heat vs. New York Knicks—First Round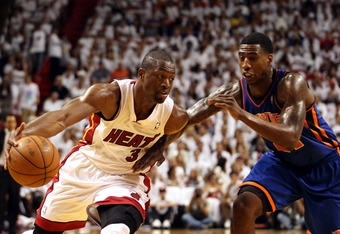 Marc Serota/Getty Images
Even if Jeremy Lin returns by Game 4, Shumpert's absence will cost the Knicks dearly. No one in New York's backcourt was better equipped to guard Dwyane Wade, and that backcourt was thin to begin with. It will continue to be thin for at least Games 2 and 3, and there's no telling how rusty Lin will be should he come back in Game 4.
The chances the series goes any further are slim. They weren't great to begin with, and that was when New York had some depth to fall back on. Shumpert might not seem like a key piece, but his defensive ability alone could have helped the Knicks keep a couple of games close.
Prediction: This could have been a six game series, but now New York is almost a lock to lose in four or five games. It would take a Linsanity-like miracle to change that.  
Chicago Bulls vs. Atlanta Hawks or Boston Celtics—Potential Semifinals
The Bulls might have been challenged by Boston even with Derrick Rose in the fold, but the Celtics would now have a significant advantage at the point. Rajon Rondo will still be facing a formidable defense, but he won't have to worry about staying in front of Rose on the other end of the court.
Meanwhile, if the Atlanta Hawks can build upon their 1-0 lead over the Celtics, they just might make it all the way to the Conference Finals. The Bulls would remain slim favorites over Atlanta but by a much narrower margin.
Prediction: Chicago would drop to the Celtics in no more than six games, but it could still get past Atlanta in six or seven games.