Manchester City vs. Manchester United: Preview, Start Time, Live Stream and More
April 30, 2012

Alex Livesey/Getty Images
The EPL season comes down to this one game to all but decide which half of Manchester the trophy will reside in for the next year—the Red or the Sky Blue.
League leaders Manchester United are set to square off tonight against their neighbors to the northeast, Manchester City, who need a win tonight at home to pull level on points with the champs. The Etihad Stadium will be in a roar as City look to take the upper hand in their bid for their first English title in over 50 years.
Wayne Rooney and company are not going to make it an easy road for City, knowing that a draw will probably be enough to see them win their second straight and become the first-ever club to get out of the teens in number of titles won.
Both clubs' seasons have fluctuated to some degree this season. Their European hopes were dashed early, as neither side was able to progress out of the group stage of Champions League and both were bounced in the third round of the Europa Cup. They also both came up short in domestic cups, being eliminated from the Carling and FA tournaments relatively early given the quality these two teams posses.
But the Barclay's trophy is what both set out for at the beginning of the season and will be decided today. It could not have gotten any better for fans either, who are gifted with what will surely be an epic bout. United will not be forgetting the embarrassing 6-1 drubbing City gave them at Old Trafford earlier in the season and will be looking to get vengeance in the sweetest way possible.
With two games left, the title will not be mathematically decided today, but whomever the result favors will be in the driver's seat with two games left.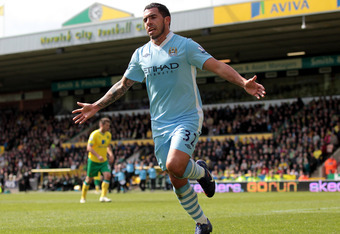 Matthew Lewis/Getty Images
Here is everything you need to know about the match.
Where: Etihad Stadium, Manchester, England
When: Monday, April 30, 3 p.m. EDT
Watch: ESPN, ESPN2, ESPNDeportes
Live Stream: ESPN3.com, ESPN MobileTV
Player to Watch: Carlos Tevez
It is a tough thing for someone in power with all the world watching to man up, swallow their pride and admit a mistake. But Roberto Mancini did (at least to some degree) and welcomed back the much-maligned striker Carlos Tevez to the squad, immediately putting his wayward side back in contention.
The fallout between the Argentinean and his coach was well documented after the two got into a spat during a Champions League match earlier this season. But they have put that behind them for now, as both of their competitive natures usurped the petty differences that existed between them.
They realized that ultimately they both want the same thing—a Premier League title.
Since returning in late March, Tevez has scored four goals in seven games and added another three assists. He may not be the sole reason for the club's return to form, but he is definitely a catalyst aiding an offense that was struggling to get back on the pace they had set at the beginning of the season.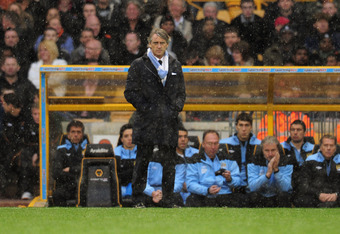 Shaun Botterill/Getty Images
He is a goal threat like few others in the game, able to engineer chances with just his strength alone, as likely to hit the upper 90 from 25 yards out as he is to dribble into the box and place the ball around the keeper.
Being deployed just behind Sergio Aguero as a deep striker, he has functioned the same way Rooney has for United, opening space for the forward to get mismatches and funneling the defense toward the middle, opening the attack down the wings.
Mancini is confident that Tevez will be the one to decide the title: "I think Carlos is destined to score the most important goal in the history of this club," said Mancini. "This is my belief."
If he does score against his old side and City get the win, it will be massive for him and his tense relationship with the club. It will surely help mend the all the problems that existed in the past.
Stats Tell the Story
City has to look to get out to a good start right off the bat. Out of City's 17 games in which they drew or lost, they failed to score first in 12 of them. This favors United who have let in a total of seven goals in the first half against all Premier League competition.
Interesting Trivia
Since the 2000-01 season, United has won six Premier League titles. In those seasons, they have only lost two games in April, 2-1 at Portsmouth (2006-07) and 2-1 at Chelsea (2007-08). They never lost more than one game in April and have already fallen to Wigan this season 1-0.
What They're Saying
Mancini is not short-changing any kind of relevance this match has to his legacy and the club's:
"If we beat United to the title, it would be the biggest achievement of my career," Mancini told reporters.

"That's because it's in England, it's the best championship in Europe. For an Italian manager to win the Premier League would make it better than anything else I have done in the game.

"Winning trophies is important everywhere, whether it is Barcelona, Real Madrid or Manchester City. But when you win with a club like City you change history as well, and that would give me a greater sense of satisfaction.

"For over 40 years they haven't won the league, so if we can do it, it will be better than at a club that's used to winning titles. One of the things that attracted me to City was the chance to change their history. This has always been the way in my football life—I like a challenge."
In the other dugout, a manager who has more than enough experience in this position is looking at his players for inspiration:
"Wayne is 26 now, Danny's 21. You'd think that for the next few years they can only get better. And we hope so. With Danny being fit again and playing consistently, he's developed better.

"Last week we saw something really special. I know there were a lot of references to [Andy] Cole and [Dwight] Yorke, and there were similarities, yes. I thought Welbeck's movement was fantastic last week [against Everton]. Attacking-wise, we were terrific in the second half."
Should these two put on a similar performance as they did against Everton, it will be hard to stop them from finding the back of the net.
For all my articles, follow me on Twitter: @thecriterionman