Worst of the Night: Charlie Furbush Serves Up a Home Run to Jeff Mathis
April 30, 2012

Highlighting a bad performance from the previous night in baseball might seem like a harsh way to start the morning. But look at it this way: If you had a rough night or bad day, here's someone who may have had it worse.
The Seattle Mariners have had a pretty nice road trip thus far. They swept three games in Detroit and won the opener of their weekend series with Toronto, putting together a four-game winning streak.
But it didn't go so well on Saturday and Sunday for the Mariners. As MLB.com's Greg Johns points out, it''s difficult to win when your lineup doesn't score any runs and your bullpen gets blown up. 
Perhaps it's unfair to single out Charlie Furbush when Hisashi Iwakuma and Steve Delabar were roughed up for a combined six runs and five hits in 1.1 innings of work over the weekend. But Furbush had a particularly bad eighth inning on Sunday, turning a close game into a blowout.
Furbush came in after Delabar with two runners on and one out. The Blue Jays then pulled a double steal on Furbush and catcher Miguel Olivo, putting both baserunners in scoring position. Manager Eric Wedge then called for an intentional walk to load the bases, presumably to create a forceout and possibly a double play.
That didn't work so well, as Brett Lawrie hit a two-run double for Toronto. A throwing error by Olivo on a pickup attempt allowed another run to score. 
OK, so Furbush isn't entirely to blame. Those first two runners were charged to Delabar. The third came in to score on an error. No, Furbush didn't put out the fire he was brought in to douse, but he faced a difficult situation.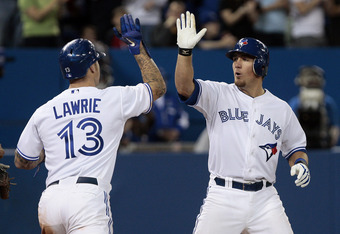 Abelimages/Getty Images
Then Furbush made it worse. He grooved a first-pitch fastball right down the middle of the plate, which Jeff Mathis crushed into the Rogers Centre second deck for a two-run homer. 
You can watch the home run here.
Mathis did hit a total of six home runs over the past two seasons, and he'd already hit one this year. So Furbush isn't the only guy to serve up a long ball to him. Some might say Mathis has "sneaky power." But he's also been one of the worst hitters in baseball over his eight major league seasons, with a cumulative slash average of .196/.259/.307. 
But maybe Furbush knew those numbers and figured he could serve up a meatball to Mathis, presuming that he wouldn't do much with it. Oops. Instead, Mathis blew the game open for the Blue Jays. 
Furbush had pitched rather well in his prior three appearances before Sunday's outing. This isn't a performance that will put his job in jeopardy. Every team would like a lefty out of the bullpen who can throw strikeout stuff. Even the best relievers can have a bad day—especially this season, it seems. But they don't all serve up two-run homers to Jeff Mathis. 
Follow @iancass on Twitter