NBA Playoffs 2012: Ranking Mike Conley Among Top 5 Grizzlies Playoff-Openers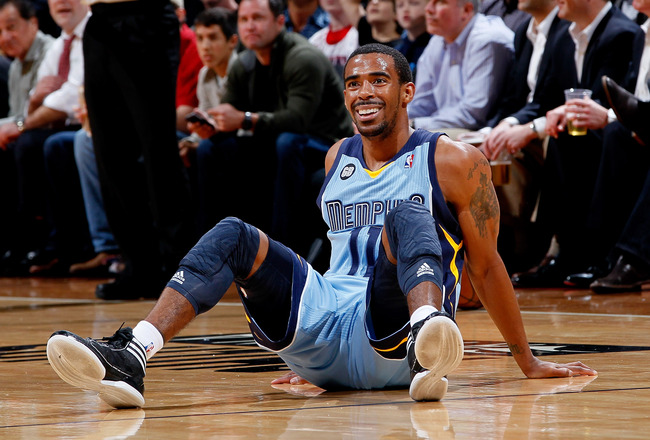 Kevin C. Cox/Getty Images
Memphis Grizzlies fans have plenty of reasons to feel sour after the Grizzlies' Game 1 loss against the Los Angeles Clippers. The Grizzlies blew a 21-point fourth-quarter lead, hitting only one of 10 field goals in the last 8:45 of play. Rudy Gay missed a last-second shot.
Still, Grizzlies fans had something to be happy about. Mike Conley had a very nice game. Conley dished out some terrific assists and knocked down his fair share of three-point shots.
While this game won't go down as one of the proudest moments in Grizzlies playoff history, Conley assures himself a place in Grizzlies history with his performance Sunday night. He had one of the best playoff-opening performances in Grizzlies history.
Follow along to see how Conley's showing stacks up against other standout playoff-opening performances.
5. Pau Gasol: Game 1, First Round @ Dallas Mavericks, 2006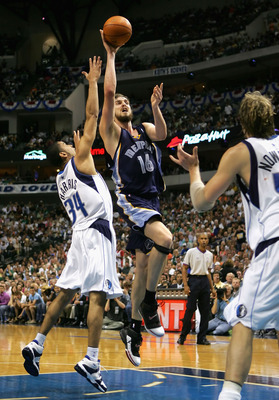 Ronald Martinez/Getty Images
The Grizzlies struggled mightily in the playoffs back when it was Pau Gasol, not Marc, patrolling the inside. Pau carried the team offensively on many occasions since the team didn't have any impressive pure scorers on the perimeter.
The Game 1 loss to the Dallas Mavericks in the opening round series of the 2006 playoffs was one such game. Gasol was the only Grizzlies player to score 20 points, dropping 24 to go with seven rebounds, four assists and two blocks. He led the team in rebounds that game and tied Bobby Jackson for the team lead in assists.
Gasol went 8-of-18 from the field and 8-of-11 from the free-throw line. To show how much he carried the team, he took 29 percent of the team's 62 field goal attempts. No other Grizzlies player took 10 field goal attempts that game.
4. Mike Miller: Game 1, First Round @ Phoenix Suns, 2005
Stephen Dunn/Getty Images
Mike Miller was on the grind in Memphis before the Grizzlies earned the nickname "The Grindhouse." The then-25-year-old had to grind especially hard to try to help keep the Grizzlies in the game as they lost Game 1 of the first round to the Phoenix Suns 114-103.
Miller held up his end of the deal. He scored 19 points on 7-of-10 from the field, including 5-of-7 from three-point range, while also posting four assists and three rebounds.
Miller hit two three-pointers late in the third quarter to bring the Grizzlies within five points, but it wasn't enough as the Grizzlies trailed by double figures much of the fourth quarter.
3. Mike Conley: Game 1, First Round vs. Los Angeles Clippers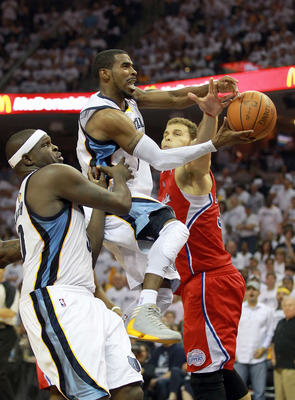 Andy Lyons/Getty Images
Mike Conley wasn't saved from blame in the Grizzlies' collapse in the last nine minutes of Sunday's game. He missed two shots in last five minutes, including one with the Grizzlies leading by six with 1:55 left.
Before that he did a spectacular job. Conley hit five three-point shots en route to 17 points on the game. Also, he dished out eight assists in a solid methodical effort in the halfcourt. Five of his assists set up three-point field goals, including all four of those drained by O.J. Mayo.
Conley's work was the key to the Grizzlies' 11-of-16 onslaught from three-point range. His five three-pointers and five assists on three-pointers led to 30 of the Grizzlies' 99 points.
2. Zach Randolph: Game 1, First Round @ San Antonio Spurs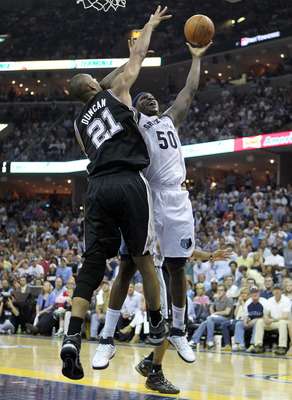 Andy Lyons/Getty Images
Zach Randolph was one of the two players who keyed the Grizzlies' first playoff win in 2011 as they knocked off the San Antonio Spurs 101-98 in Game 1 of the first round in 2011.
Randolph put in solid work on both ends. He scored a game-high 25 points on 10-of-15 from the field. His defensive rebounding was remarkable, as he pulled down 14 boards on that end—37 percent of the rebounds available to his grasp. No Grizzlies player had half as many defensive rebounds as he did.
Only one player had a more outstanding game for the Grizzlies that day.
1. Marc Gasol: Game 1, First Round @ San Antonio Spurs, 2011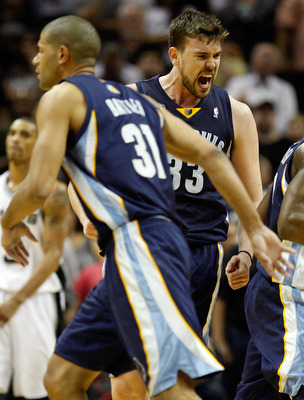 Ronald Martinez/Getty Images
Marc Gasol was almost immaculate in the playoff opener last year against the Spurs. Gasol hit 9-of-10 from the field en route to 24 points, while pulling down nine rebounds. He had a team-high three offensive boards. Also, he had two blocks.
The advanced metrics were even friendlier to Gasol, as he had a 151 offensive rating—meaning that he produced 151 points per 100 possessions.
Not often is there a better offensive performance for a player on a low-scoring team like the Grizzlies.
Keep Reading

Memphis Grizzlies: Like this team?